Regular price
$64.00 USD
Sale price
$38.00 USD
Unit price
per
Sale
Sold out
Welcome to Your Interview Success Path with ALDI 
📖 Written by the experienced career coach Mike Jacobsen, "Interview Success: How To Answer ALDI Questions (With Over 100 Samples Answers)" is your comprehensive guide to acing your job interview at ALDI. This 111-page PDF is packed full of insider tips and tricks and is available for instant download. If you're ready to stand out from the competition and secure your dream job, then this guide is the key to unlock that door.
---
💼 Inside The Guide: A Closer Look
This all-inclusive guide is your secret weapon, engineered with a single purpose: to catapult you to the top of the ALDI interview list. Whether you're an eager first-time job applicant or a seasoned professional exploring a new path, this guide is your trusty companion.
🎯 Understanding the Interviewer's Perspective: The first stop on your interview success journey is understanding what the interviewer seeks. This section deciphers the hidden agendas behind interview questions, enabling you to provide precisely what the interviewer wants to hear.
📝 Structuring Your Answers: Next, we dive into the art of crafting impactful responses. From showcasing your skills and experiences to making a lasting impression, this section will teach you how to structure your answers like a pro.
❌ Avoiding Interview Pitfalls: Steer clear of common mistakes that can tarnish your interview performance! This essential section guides you on what not to do during your ALDI interview, ensuring you don't slip up when it matters most.
🌟 Showcasing Your Skills: Discover how to present your abilities in the best light and make them align with ALDI's needs. This section empowers you to demonstrate that you're not just a great candidate—you're the right candidate for ALDI.
💬 Over 100 Sample Answers: To support your preparation, Mike Jacobsen has generously included a treasure trove of over 100 sample answers to common ALDI interview questions. These ready-to-use responses provide a blueprint to tailor your unique answers.
Your journey through this guide is like taking a masterclass with Mike Jacobsen himself, providing you with comprehensive insights into every facet of the interview process. Each page unravels a layer of the mystery that often surrounds interviews, leaving you equipped and ready to ace your ALDI interview.
---
🔑 Insightful Questions & Detailed Answers
This guide is loaded with thoughtful and thorough explanations of various ALDI interview questions. Here's a sneak peek of some of the questions included in the guide, and why they are crucial:
✅ "Can you tell me a little about yourself?" - This is a classic ice-breaker. Your answer sets the tone for the rest of the interview. It's essential to have a succinct, impactful response.
✅ "Why do you want to work at ALDI?" - Your answer demonstrates your passion for the company and the industry. It helps the interviewer gauge your motivation and long-term commitment to ALDI.
✅ "Can you describe your experience with customer service?" - As a customer-oriented company, ALDI prioritizes top-notch customer service. Your ability to handle customers can be a deciding factor in your selection.
✅ "How do you feel about working in a fast-paced retail environment?" - This question tests your ability to thrive under pressure. It shows your capacity to multitask and adapt to a dynamic work environment.
✅ "What steps would you take to ensure excellent customer service?" - Your response to this question showcases your approach towards maintaining ALDI's high service standards.
Each question is dissected in detail, providing you with a clear understanding of what's expected and how best to deliver your answer.
---
💼 Why Choose This Guide
🔸 Experience: Written by Mike Jacobsen, an experienced career coach, you're getting first-hand insights from a seasoned professional.
🔸 Detailed: This guide is a detailed, comprehensive resource covering a wide spectrum of potential interview questions and answers.
🔸 Instant Access: With this guide in PDF format, you get instant access. You can start preparing right away, even on the go!
🔸 Practical: This guide focuses on practical, implementable advice. You won't just learn what to say, but how to say it effectively.
---
Make The Leap Today
"Interview Success: How To Answer ALDI Questions" isn't just a guide; it's a ticket to your future with ALDI. The time is now. Make the leap today and transform your interview performance into a memorable one. Don't just answer questions; answer them with confidence and conviction. Get your copy now and let your journey towards interview success begin. 🚀
💥 GET YOUR COPY TODAY AND RECEIVE OUR BEST-SELLING GUIDE AS A LIMITED-TIME BONUS! 🛒

Remember, the best time to start preparing was yesterday, the second best time is NOW! Grab your instant download today and step confidently into your interview. Good luck!
Improve your chances of a successful career with ALDI! Get your own copy of our ALDI Careers Interview Guide today and unleash your potential.
Plus, if you buy today, you'll also receive our popular guide, "How To Answer The Most Popular Interview Questions (Now with over 250 sample answers!)" at no extra cost (regularly priced at £49). Don't miss out on this great opportunity!
View full details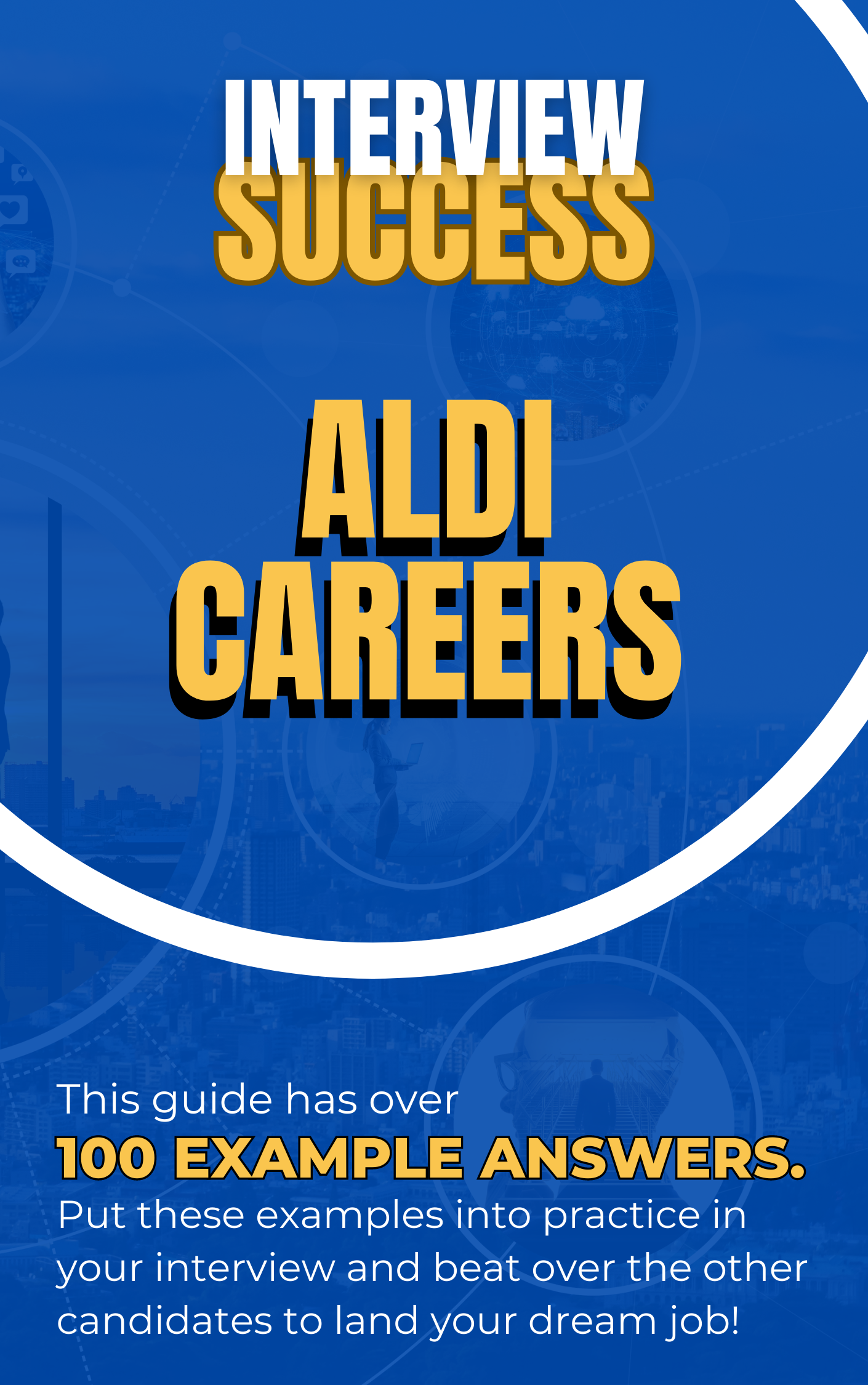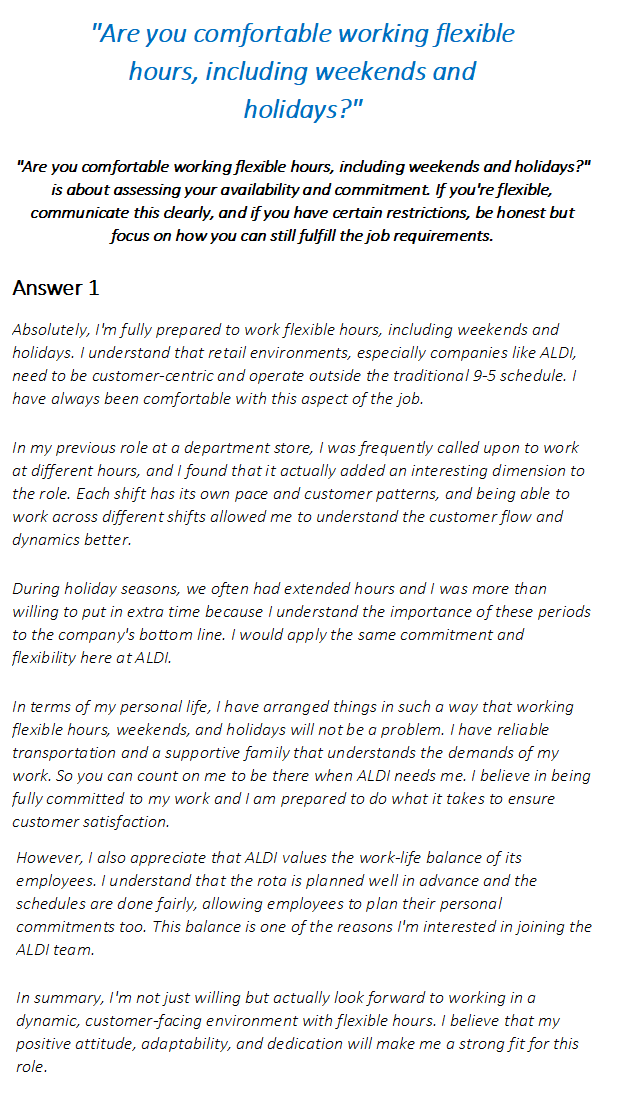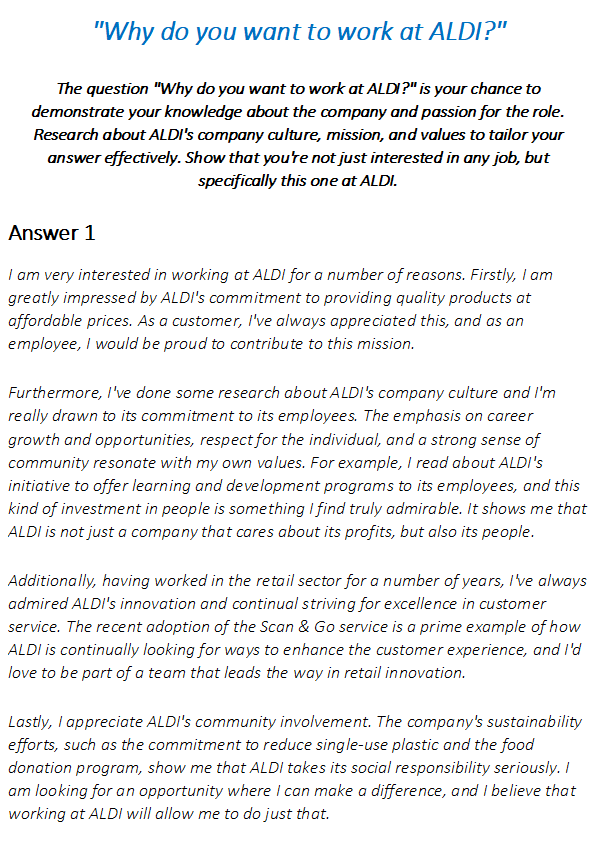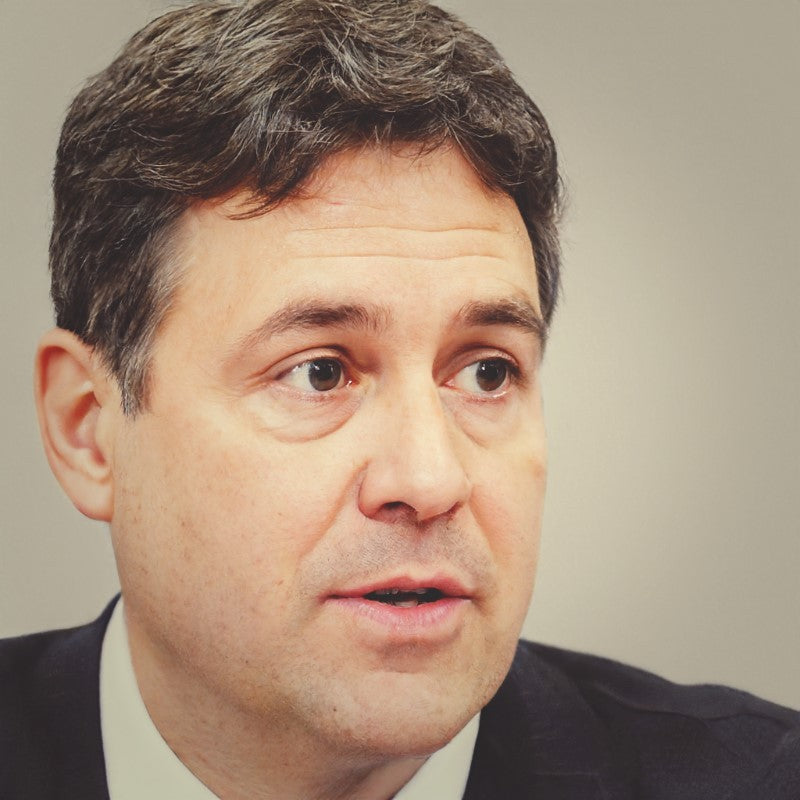 At Interview Detectives, we are led by Mike Jacobsen, a highly experienced recruitment consultant with nearly 30 years of professional expertise. With a deep understanding of the hiring landscape, Mike brings invaluable insights and knowledge to our platform. His extensive background in recruitment enables us to provide you with tailored interview guides and application tips that align with current industry trends. With Interview Detectives, you gain access to proven strategies and techniques to enhance your job application success. Trust in Mike's wealth of experience and embark on your journey towards career triumph.
Need Assistance? Connect with Mike on LinkedIn