Regular price
$64.00 USD
Sale price
$38.00 USD
Unit price
per
Sale
Sold out
 Interview Success: How To Answer Architect Interview Questions (With Over 100 Sample Answers) 🏢
🚀 Get ready to ace your architect interviews and land your dream job in the world of architecture! 🚀
Are you a passionate architect seeking to excel in your job interviews? Do you want to master the art of impressing interviewers with confident and well-structured answers? Look no further! Our comprehensive guide is here to equip you with the knowledge and techniques needed to succeed in architect interviews. 🎯
---
📚 Preparing For Your Architect Interview 📚

Before stepping into the interview room, it's crucial to be fully prepared. The architecture job market is competitive, and nailing your interview is the key to standing out from the crowd. In this section, we'll guide you through the essential steps to ensure you are ready to shine during your interview. From researching the company to practicing common interview questions, we've got you covered. 💪
---
📖 What's Inside the Guide? 📖

Our guide comprises over 100 pages of valuable insights, sample answers, and expert tips. Here's a sneak peek at the main categories covered in the guide: 🕵️‍♂️

✅ Understanding What the Interviewer Is Looking For Unravel the mystery behind what interviewers want to hear in your answers. Learn how to align your responses with their expectations, making you a standout candidate.

✅ Structuring Your Answers for Maximum Impact Discover the secret to delivering well-organized and compelling responses that leave a lasting impression on the interviewers.

✅ Avoiding Common Interview Pitfalls Learn from the mistakes of others and avoid common pitfalls that could cost you the job opportunity.

✅ Mastering the Art of Personal Storytelling Harness the power of storytelling to create memorable answers that showcase your skills and experiences.

✅ Handling Behavioral and Situational Questions Prepare for those challenging behavioral and situational questions with confidence, knowing you have the perfect responses up your sleeve.

✅ Exploring Technical and Design-Based Questions Delve into the world of technical and design questions and learn how to impress interviewers with your in-depth knowledge.

✅ Handling Stress and Nerves Like a Pro Discover valuable techniques to stay calm, composed, and confident even in high-pressure interview situations.

✅ Tailoring Your Answers to the Company Learn how to adapt your responses to fit the specific values and culture of the company you're interviewing with.
---
🔎 Sneak Peek: A Look Behind the Cover 🔎
Let's give you a glimpse of some of the architect interview questions and sample answers you'll find in the guide:

🔹 "Can you tell me a little about yourself?" This question may seem simple, but it sets the tone for the rest of the interview. Mastering this answer helps you introduce yourself effectively and highlight your most relevant skills and experiences.

🔹 "Why did you choose architecture as a profession?" Understanding your motivation for choosing architecture shows the interviewer your passion and commitment to the field. A thoughtful response will leave a lasting impression.

🔹 "How do you approach a new project?" This question assesses your project management skills and how you tackle new challenges. Showcase your planning and organization abilities in your answer.

🔹 "What software and tools are you proficient in?" Modern architects rely on various software and tools. Highlight your technical skills and familiarity with industry-standard software in your response.

🔹 "Describe a challenging project and how you overcame it." Your ability to handle challenges and find creative solutions is vital. Share a real-life example of overcoming a tough project to demonstrate your problem-solving skills.

The guide goes into depth on each question, explaining why interviewers ask them and what they hope to learn from your response. Armed with these insights, you'll feel confident and ready to tackle any interview question that comes your way. 💼
---
👥 Meet the Authors 👥

The creators of this comprehensive guide are industry experts committed to your success:
👉 Mike Jacobsen - A seasoned career coach with years of experience helping professionals excel in their job search. Mike's coaching techniques have led to numerous successful job placements.
👉 Emily Turner - An experienced and accomplished architect with a successful track record of designing innovative and sustainable projects. Emily's expertise in the architectural field adds a unique perspective to this guide.

📥 Instant Download 📥
The Interview Success guide is available in PDF format, allowing you to download it instantly upon purchase. Begin your journey towards acing your architect interviews today and take a confident step towards building your dream career! 🏆
💥 GET YOUR COPY TODAY AND RECEIVE OUR BEST-SELLING GUIDE AS A LIMITED-TIME BONUS! 🛒
Remember, the best time to start preparing was yesterday, the second best time is NOW! Grab your instant download today and step confidently into your interview. Good luck!

Improve your chances of a successful career! Get your own copy of our Architect Interview Guide today and unleash your potential.
Plus, if you buy today, you'll also receive our popular guide, "How To Answer The Most Popular Interview Questions (Now with over 250 sample answers!)" at no extra cost (regularly priced at £49). Don't miss out on this great opportunity!
View full details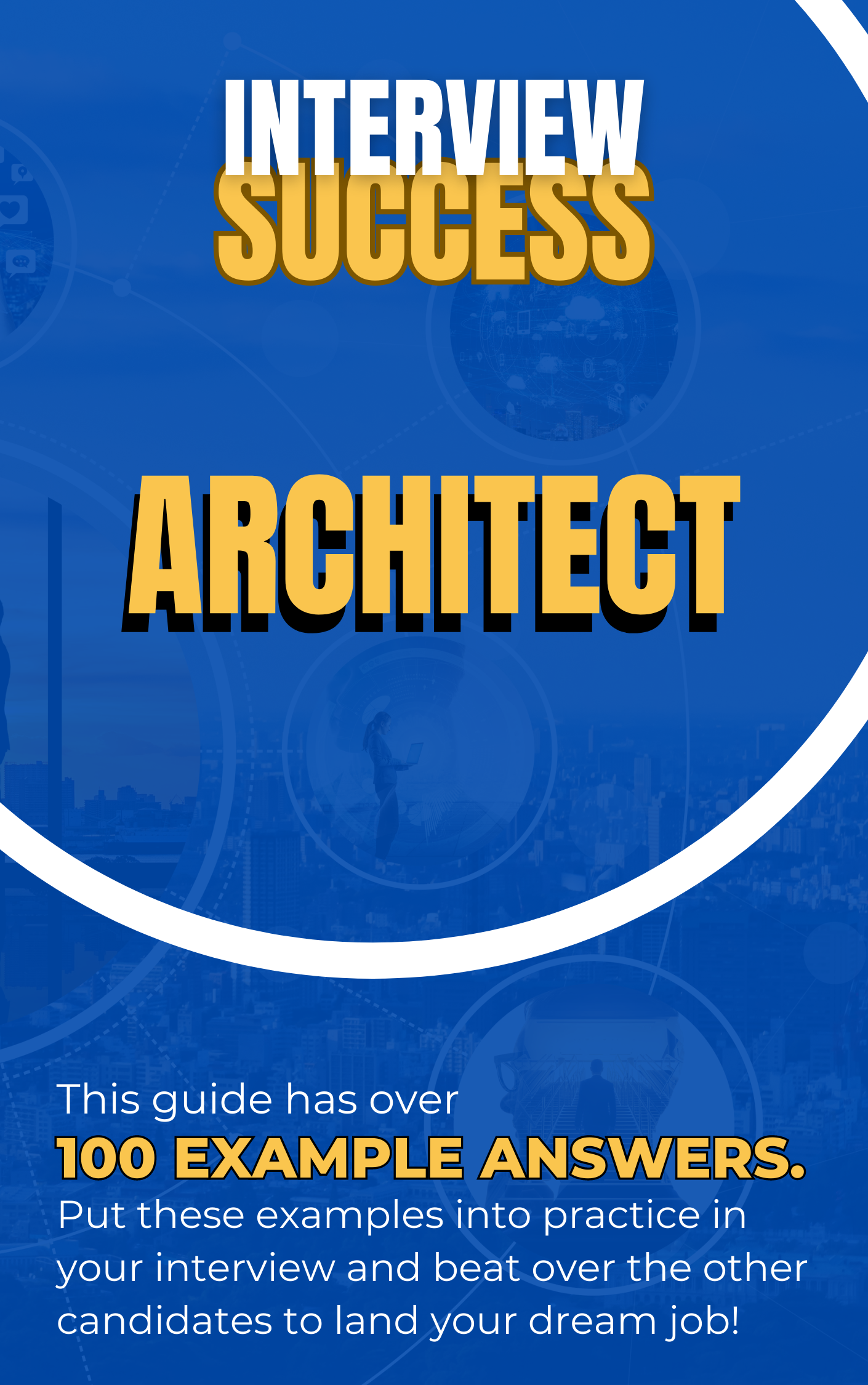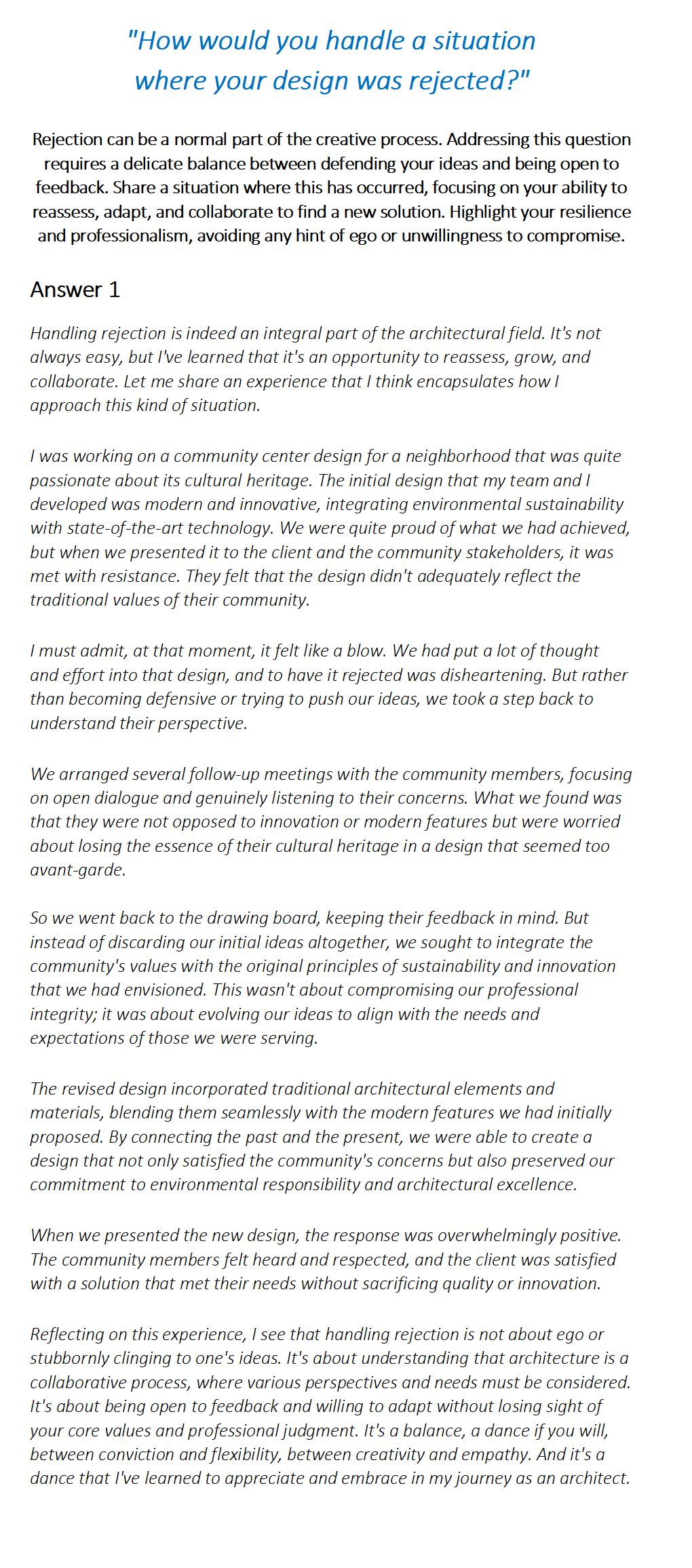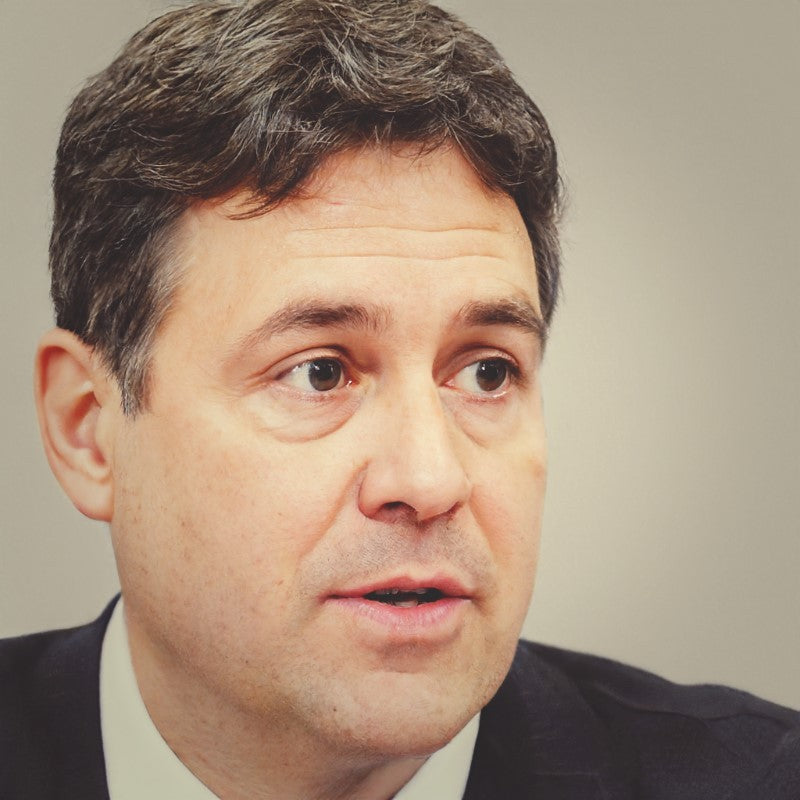 At Interview Detectives, we are led by Mike Jacobsen, a highly experienced recruitment consultant with nearly 30 years of professional expertise. With a deep understanding of the hiring landscape, Mike brings invaluable insights and knowledge to our platform. His extensive background in recruitment enables us to provide you with tailored interview guides and application tips that align with current industry trends. With Interview Detectives, you gain access to proven strategies and techniques to enhance your job application success. Trust in Mike's wealth of experience and embark on your journey towards career triumph.
Need Assistance? Connect with Mike on LinkedIn