Regular price
$63.00 USD
Sale price
$38.00 USD
Unit price
per
Sale
Sold out
Interview Success: How To Answer Art Director Interview Questions ✨
Congratulations!  You've landed an interview for an Art Director position. You know you have the skills and the vision, but how do you convey that in an interview? Our guide "Interview Success: How To Answer Art Director Interview Questions" is your answer!
🌟 With over 100 pages of detailed advice, examples, and proven strategies, this guide, written by experienced career coach Mike Jacobsen and seasoned Art Director Alex Harrington, will ensure you walk into your interview with confidence and leave a lasting impression.
---
🚀 Preparing For Your Art Director Interview 

The Art Director role is multidimensional. It requires not only a high level of creativity and design proficiency but also leadership skills, project management ability, and the finesse to work with diverse teams and clients. The interview for such a role can be challenging, and preparation is 🔑.
The questions will likely touch upon a wide range of topics - your design philosophy, how you handle deadlines, how you lead a team, how you've navigated past challenges. This guide provides in-depth advice and sample answers for each of these areas.
Our aim is to help you understand what the interviewer is looking for and equip you with the best strategies to deliver impactful responses.
---
🎯 What's Inside The Guide 

"Interview Success: How To Answer Art Director Interview Questions" offers much more than just questions and answers. Here's what you'll find inside:
✅ Detailed understanding of What The Interviewer Is Looking For When Asking Any Question

✅ Guidelines on How Best to Structure Your Answers

✅ Tips on How NOT To Answer Interview Questions

✅ An extensive list of Interview Questions & Sample answers

✅ Strategies for staying updated with the latest design trends

✅ Effective ways to deal with creative blocks

✅ Advice on delivering a project from conception to completion

✅ Techniques for incorporating feedback from team members or clients into your designs

✅ Suggestions for fostering collaboration within your team

✅ Ways to handle a situation where your team disagrees with your creative direction

✅ Examples of innovative projects and how they were executed
---
🧩 A Sneak Peek at the Questions 
Our guide includes a comprehensive array of potential interview questions, but here's a glimpse of five key questions just to whet your appetite:

🎨 "What is your management style?" Art Directors are leaders. They need to inspire their team, guide them, and help bring a creative vision to life. This question is designed to explore your leadership approach. Are you a micromanager, or do you prefer to give your team creative freedom? How do you handle conflict within the team? How do you ensure every member of your team feels heard and valued? Your answer will help interviewers understand if your management style aligns with their company culture and team dynamics.

🖌️ "How do you deal with creative blocks?" Creativity isn't a constant; every creative professional experiences blocks. Interviewers are keen to understand how you navigate these inevitable dry spells. Do you have specific strategies or techniques that help you rekindle your creativity? Your answer demonstrates your resilience and ability to keep delivering, even when creativity doesn't flow naturally.

👥 "How have you incorporated feedback from team members or clients into your designs?" This question tests your flexibility and openness to other perspectives. As an Art Director, it's vital to balance your creative vision with the needs of your team and client. Have you been able to adapt your designs based on feedback? Have you used constructive criticism as an opportunity to learn and grow? Your answer offers insight into your collaboration skills and client-management strategy.

⏱️ "How do you handle the pressure of tight deadlines?" Art direction often involves time constraints and fast turnarounds. Interviewers ask this question to assess your stress management and organisational skills. Do you have strategies to ensure that projects stay on track, even under tight deadlines? Have you managed to deliver high-quality work in a crunch? Your answer will demonstrate your ability to maintain composure and performance in high-pressure situations.

📣 "How do you motivate your team during a demanding project?" High-stress projects can take a toll on a team's morale. This question probes into your team management and motivational skills. How do you keep your team's spirit high? How do you ensure each member feels appreciated and inspired to give their best? Your answer will showcase your capacity to foster a positive, energetic work environment, even amidst demanding situations.
---
🎨 About the Authors 

Interview Success: How To Answer Art Director Interview Questions is penned by Mike Jacobsen and Alex Harrington.
🌐 Mike Jacobsen is a respected career coach with a decade of experience helping professionals ace job interviews. His deep understanding of the hiring process and his knack for teaching others how to navigate it is instrumental in the creation of this guide.
🎨 Alex Harrington is an award-winning Art Director with 20 years of experience in the field. Alex has been on both sides of the interview table and brings a wealth of practical insights into the specificities and expectations of an Art Director interview.
---
📩 Download Now! 📩

"Interview Success: How To Answer Art Director Interview Questions" is available for instant download in PDF format. Secure your chance to make an outstanding impression at your Art Director interview! 🌟
Get the guide today and step into your interview with confidence and poise! 💼
💥 GET YOUR COPY TODAY AND RECEIVE OUR BEST-SELLING GUIDE AS A LIMITED-TIME BONUS! 🛒
Remember, the best time to start preparing was yesterday, the second best time is NOW! Grab your instant download today and step confidently into your interview. Good luck!

Improve your chances of a successful career! Get your own copy of our Art Director Interview Guide today and unleash your potential.
Plus, if you buy today, you'll also receive our popular guide, "How To Answer The Most Popular Interview Questions (Now with over 250 sample answers!)" at no extra cost (regularly priced at £49). Don't miss out on this great opportunity!
View full details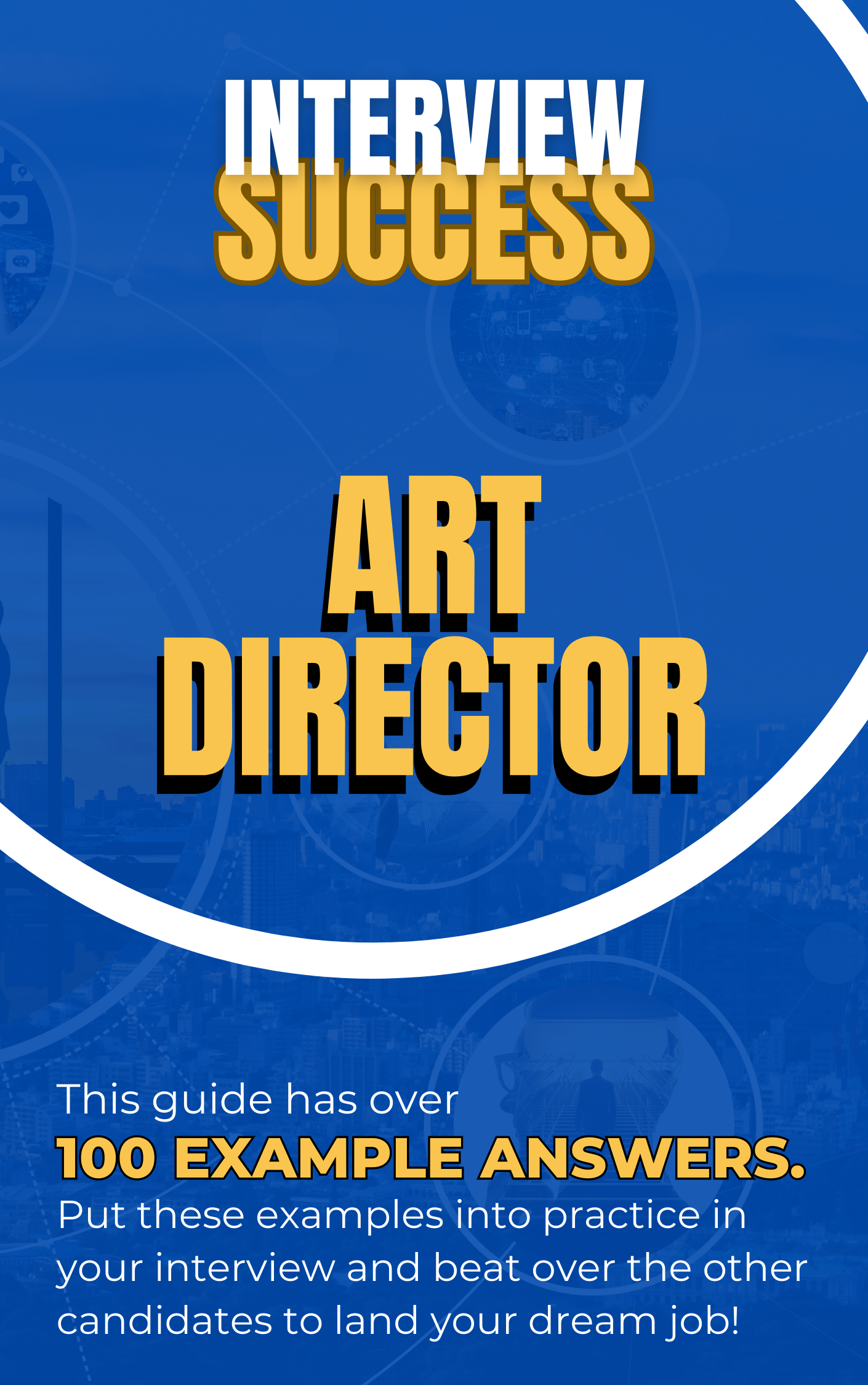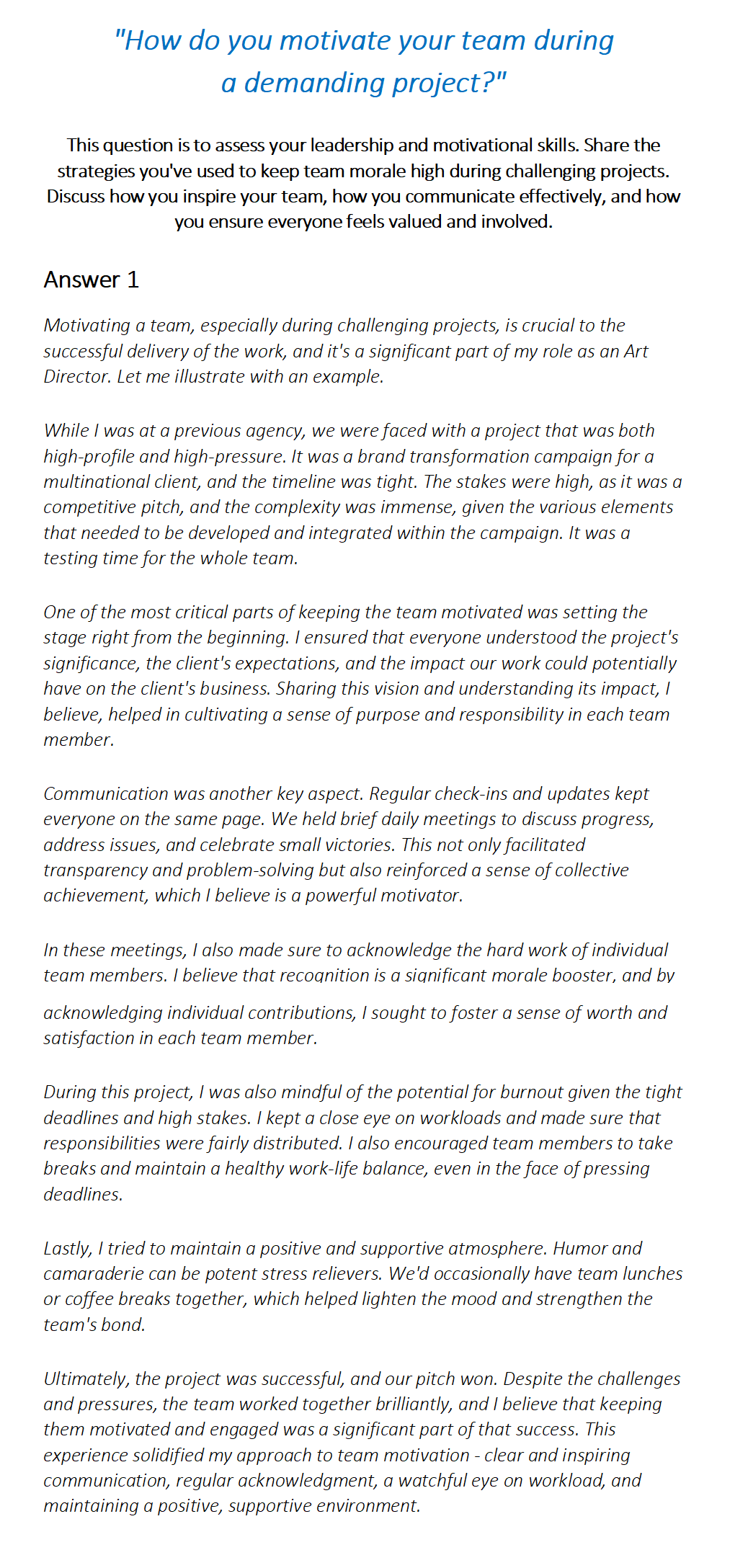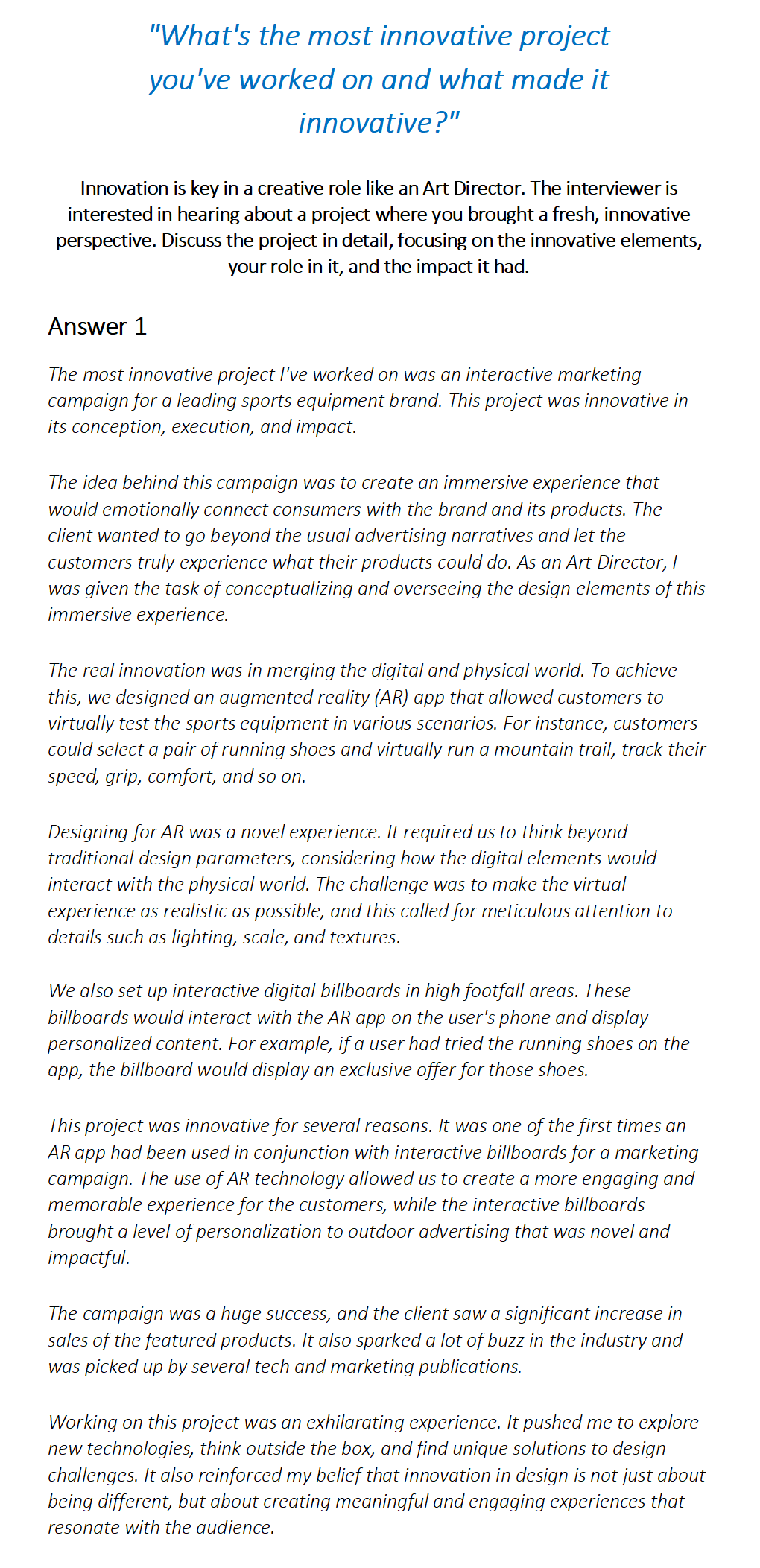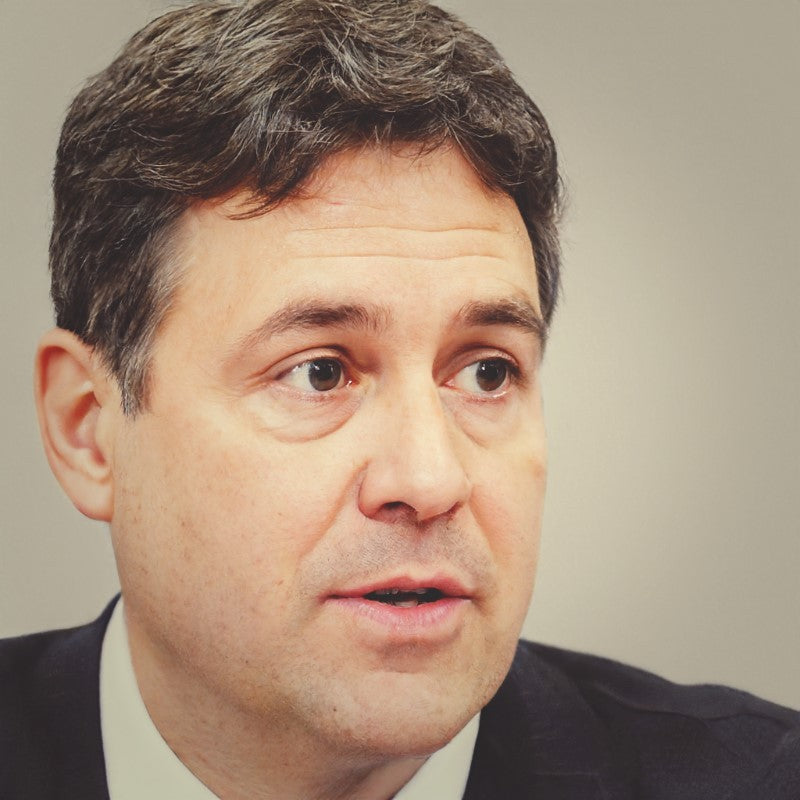 At Interview Detectives, we are led by Mike Jacobsen, a highly experienced recruitment consultant with nearly 30 years of professional expertise. With a deep understanding of the hiring landscape, Mike brings invaluable insights and knowledge to our platform. His extensive background in recruitment enables us to provide you with tailored interview guides and application tips that align with current industry trends. With Interview Detectives, you gain access to proven strategies and techniques to enhance your job application success. Trust in Mike's wealth of experience and embark on your journey towards career triumph.
Need Assistance? Connect with Mike on LinkedIn