Regular price
$63.00 USD
Sale price
$38.00 USD
Unit price
per
Sale
Sold out
📚 Interview Success: How To Answer Barclays Bank Interview Questions (With Over 100 Sample Answers) 📚
💼 Are you preparing for an important interview with Barclays Bank? Do you want to stand out from other candidates and increase your chances of landing that dream job? Look no further! The "Interview Success" guide is here to equip you with the skills and knowledge you need to ace your Barclays Bank interview.
🎯 In collaboration with renowned career coach Mike Jacobsen and John Tierney, an experienced Barclays employee, we have created a comprehensive guide that will help you confidently tackle any question that comes your way. With over 100 sample answers, you'll be well-prepared to impress your interviewers and showcase your suitability for the role.
🏦 The guide spans over 100 pages and is available in PDF format for instant download.  
---
🔍 What's inside the guide...
📖 What The Interviewer Is Looking For When Asking Any Question Gain deep insights into the minds of interviewers and understand what they seek in your responses. Discover the key qualities and skills Barclays Bank values in its candidates.
📖 How Best to Structure Your Answers Learn the art of crafting structured and impactful answers. We'll guide you through the most effective ways to organize your thoughts, ensuring your responses are clear, concise, and compelling.
📖 How NOT To Answer Interview Questions Avoid common pitfalls and mistakes that can derail your interview performance. We'll share examples of what to avoid and provide tips to help you steer clear of these interview traps.
📖 Are you still struggling with interview preparation? If you've been grappling with interview preparation, this section is here to support you. We'll address common challenges and provide strategies to overcome them, boosting your confidence and preparation.
📖 Interview Questions & Sample Answers Now, the heart of the guide: a comprehensive collection of interview questions specifically tailored for Barclays Bank. Each question is accompanied by a detailed sample answer that illustrates the key points you should cover.
---
🫣

Here's a sneak peek at just a few of the questions you'll find



🔹 "Can you tell me a little about yourself?" This question allows the interviewer to assess your communication skills and get a sense of your background and experiences. Crafting a compelling response will set a positive tone for the rest of the interview.

🔹 "Why did you apply for this role at Barclays Bank?" Barclays Bank wants to understand your motivations and how well you align with their values. Your answer should demonstrate your genuine interest in the position and highlight your relevant skills and experiences.

🔹 "What interests you most about the banking industry?" This question gauges your knowledge of the banking industry and your passion for the field. A well-crafted response will showcase your understanding of the industry's dynamics and your enthusiasm for the opportunities it presents.

🔹 "How do you handle high-pressure situations?" Barclays Bank is looking for candidates who can thrive in demanding environments. Your answer should showcase your ability to stay calm, make sound decisions, and maintain productivity when the pressure is on.

🔹 "Describe a time when you provided excellent customer service." Customer service is of utmost importance to Barclays Bank. This question allows you to showcase your interpersonal skills, problem-solving abilities, and commitment to delivering exceptional customer experiences.

These are just a few examples of the questions and answers you'll find in the guide. Each question is carefully selected to help you excel in your Barclays Bank interview. Get ready to impress your interviewers and secure that coveted position!
---
💥 GET YOUR COPY TODAY AND RECEIVE OUR BEST-SELLING GUIDE AS A LIMITED-TIME BONUS! 🛒


🔥 Your future with Barclays Bank starts here! Invest in your success today by getting your copy of "Interview Success: How To Answer Barclays Bank Interview Questions (With Over 100 Sample Answers)"!
Remember, the best time to start preparing was yesterday, the second best time is NOW! Grab your instant download today and step confidently into your interview. Good luck!

Improve your chances of a successful career! Get your own copy of our Barclays Interview Guide today and unleash your potential.
Plus, if you buy today, you'll also receive our popular guide, "How To Answer The Most Popular Interview Questions (Now with over 250 sample answers!)" at no extra cost (regularly priced at £49). Don't miss out on this great opportunity!
View full details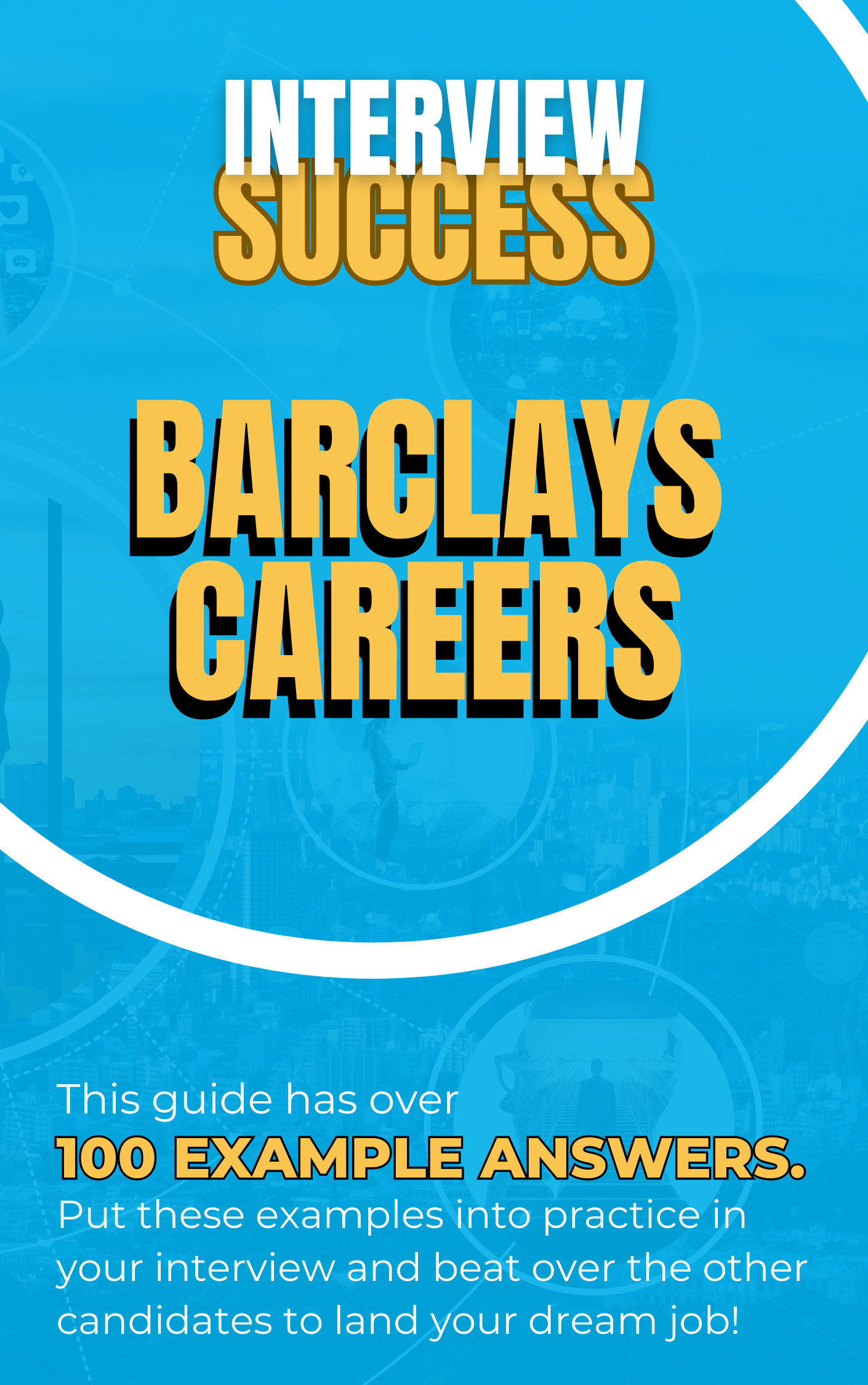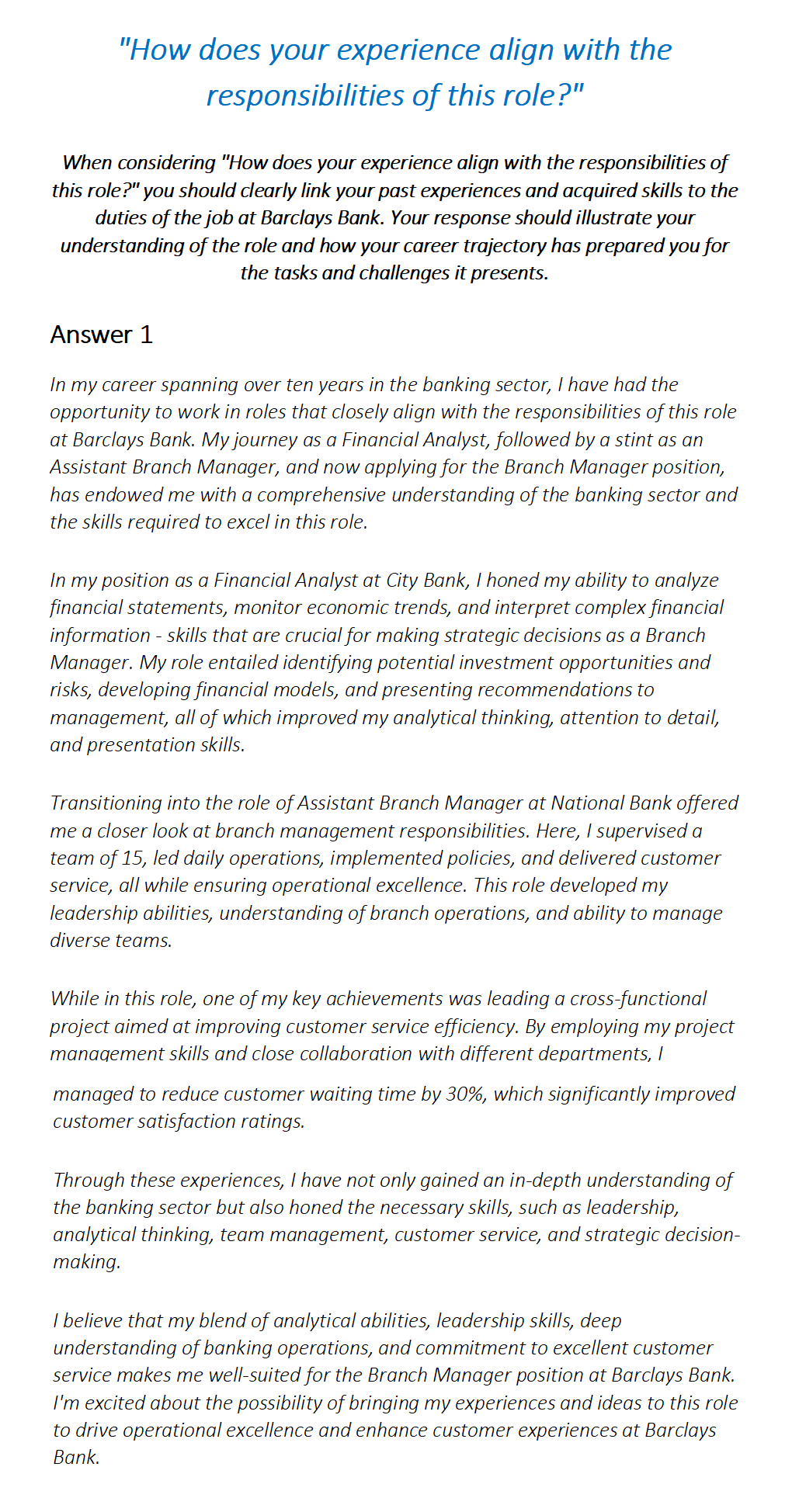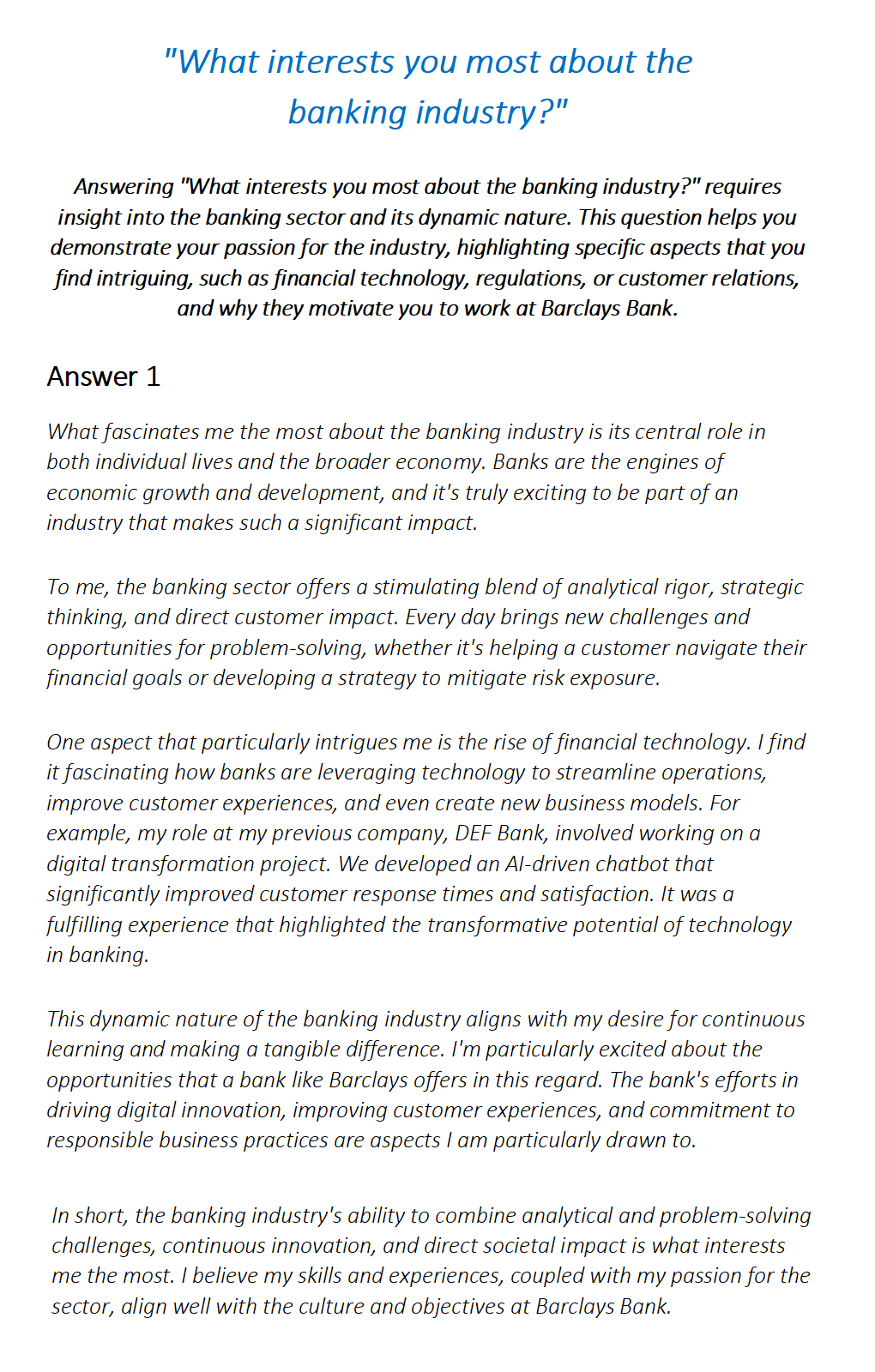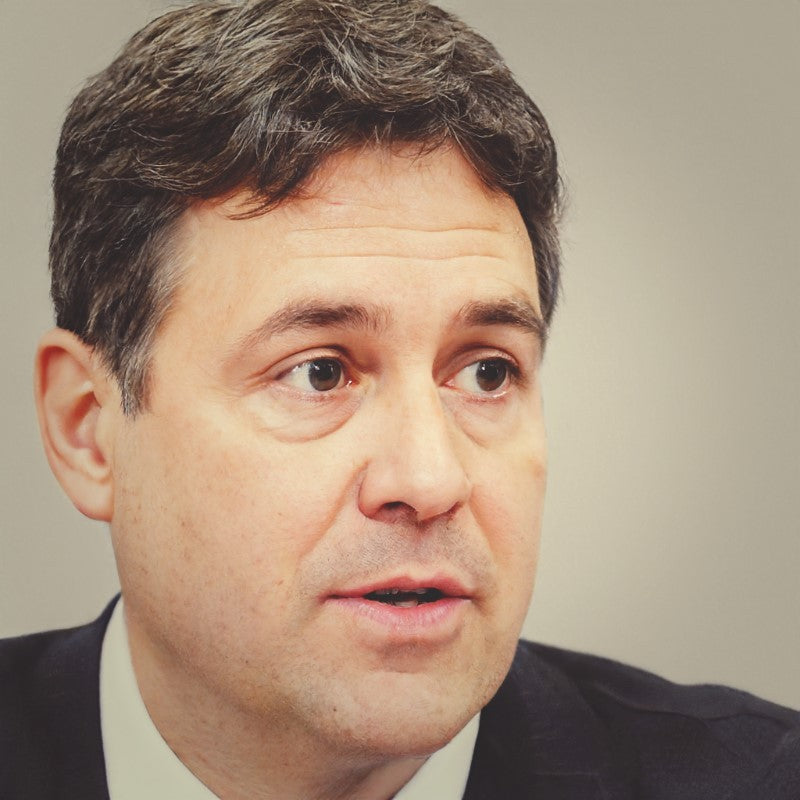 At Interview Detectives, we are led by Mike Jacobsen, a highly experienced recruitment consultant with nearly 30 years of professional expertise. With a deep understanding of the hiring landscape, Mike brings invaluable insights and knowledge to our platform. His extensive background in recruitment enables us to provide you with tailored interview guides and application tips that align with current industry trends. With Interview Detectives, you gain access to proven strategies and techniques to enhance your job application success. Trust in Mike's wealth of experience and embark on your journey towards career triumph.
Need Assistance? Connect with Mike on LinkedIn