Regular price
$63.00 USD
Sale price
$38.00 USD
Unit price
per
Sale
Sold out
🃏 Ace Your Civil Engineering Interview with our Exclusive Guide  
You've got the skills, the qualifications, and the passion for civil engineering. But are you confident in conveying your abilities in an interview setting? Let Interview Success: How To Answer Civil Engineer Questions (With Over 100 Samples Answers) be your secret weapon. This comprehensive guide, expertly crafted by Mike Jacobsen, an experienced career coach, will give you the tools to impress your future employers and land that dream job!
This 115-page PDF guide, available for instant download, is packed full of invaluable insights, expert advice, and practical examples designed to help you confidently navigate the civil engineering interview process.


📝 Contents Overview 📝
The guide is structured to cover all possible areas that might arise during your interview. Starting with an understanding of what the interviewer is seeking, the guide dives deep into how to structure your answers effectively, the pitfalls to avoid, and even tackles questions you can ask at the end of your interview. It helps you prepare for a wide range of questions, from discussing your proficiency in software tools, demonstrating your understanding of project management within a civil engineering context, to explaining your professional development goals.


🔍 Preview of Key Questions and Why They Matter 🔍
In this guide, Mike Jacobsen provides deep insight into pivotal questions, crafting responses that are not only accurate but highlight your core skills and experiences. Let's delve into a handful of these key questions:
🚀 "Can you explain your understanding of project management within a civil engineering context?" This question is crucial because it provides an opportunity to demonstrate your strategic thinking and how you integrate various aspects of civil engineering into successful project execution.
💡 "Describe a time when you had to solve a problem related to a civil engineering project. What was the problem and how did you approach it?" Interviewers ask this question to understand your problem-solving skills and how you handle pressure or unexpected challenges. A well-crafted answer can reveal your ability to think on your feet and make sound decisions.
💻 "What software and technical tools are you proficient in?" In this tech-driven era, demonstrating your familiarity with relevant software and tools is a must. This question allows you to showcase your technical prowess and your ability to stay updated with the latest advancements.
🔧 "Tell me about a time when you made a mistake on a project. How did you handle it?" Nobody's perfect. Interviewers use this question to gauge your ability to take responsibility, learn from mistakes, and rectify situations. Your response can demonstrate your integrity and resilience.
❤️ "Why are you interested in working with our company as a civil engineer?"  This is your chance to demonstrate your passion for the role and the company. It also shows that you've done your homework and align with the company's mission and values.
Mike ensures every response not only answers the question effectively but weaves in relevant experiences and skills, making your answer compelling and authentic. With this guide, you're well equipped to present yourself as the ideal candidate for any civil engineering role.


🎈 Why Choose "Interview Success: How To Answer Civil Engineer Questions"? 🎈
When it comes to acing your civil engineering interview, this guide is your best ally. Here's why:
✅ In-Depth Coverage: With over 100 sample answers, we ensure that you're never caught off guard, no matter the question.
✅ Practical Approach: This isn't a book of theory. Every sample answer is a practical, real-world example that you can adapt to fit your own experiences.
✅ Instant Access: The guide is available as an instant PDF download. No need to wait - you can start preparing immediately.
✅ Expertly Crafted: Mike Jacobsen brings his years of experience as a career coach to the table, offering tried-and-tested advice and guidance.
✅ Bespoke for Civil Engineers: This guide isn't a generic interview manual. It's tailored to civil engineering interviews, making it extremely relevant and targeted.
Get your hands on Interview Success: How To Answer Civil Engineer Questions (With Over 100 Samples Answers) today and transform your interview preparation. With this guide, you'll walk into every civil engineering interview with confidence, equipped with the right answers to impress your interviewers and secure the job you deserve!
💥 GET YOUR COPY TODAY AND RECEIVE OUR BEST-SELLING GUIDE AS A LIMITED-TIME BONUS! 🛒
Improve your chances of a successful career in Civil Engineering! Get your own copy of our Civil Engineer Interview Guide today and unleash your potential.
Plus, if you buy today, you'll also receive our popular guide, "How To Answer The Most Popular Interview Questions (Now with over 250 sample answers!)" at no extra cost (regularly priced at £49). Don't miss out on this great opportunity!
View full details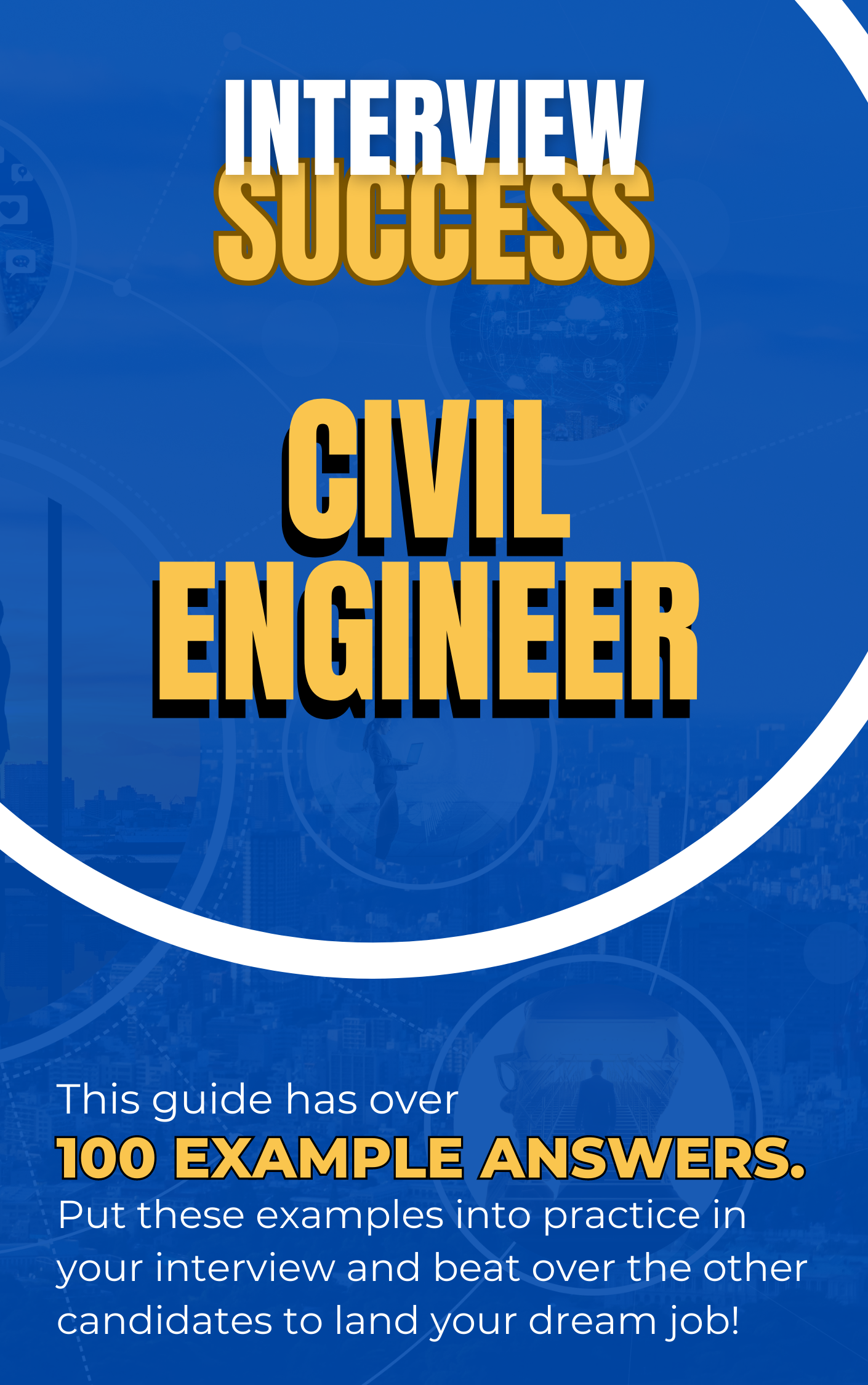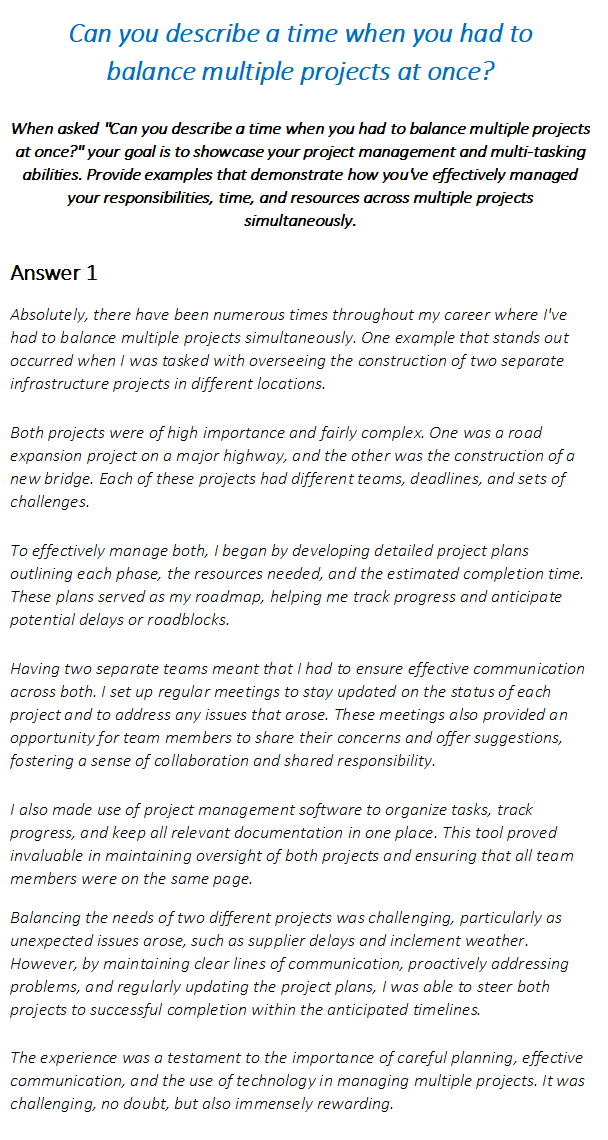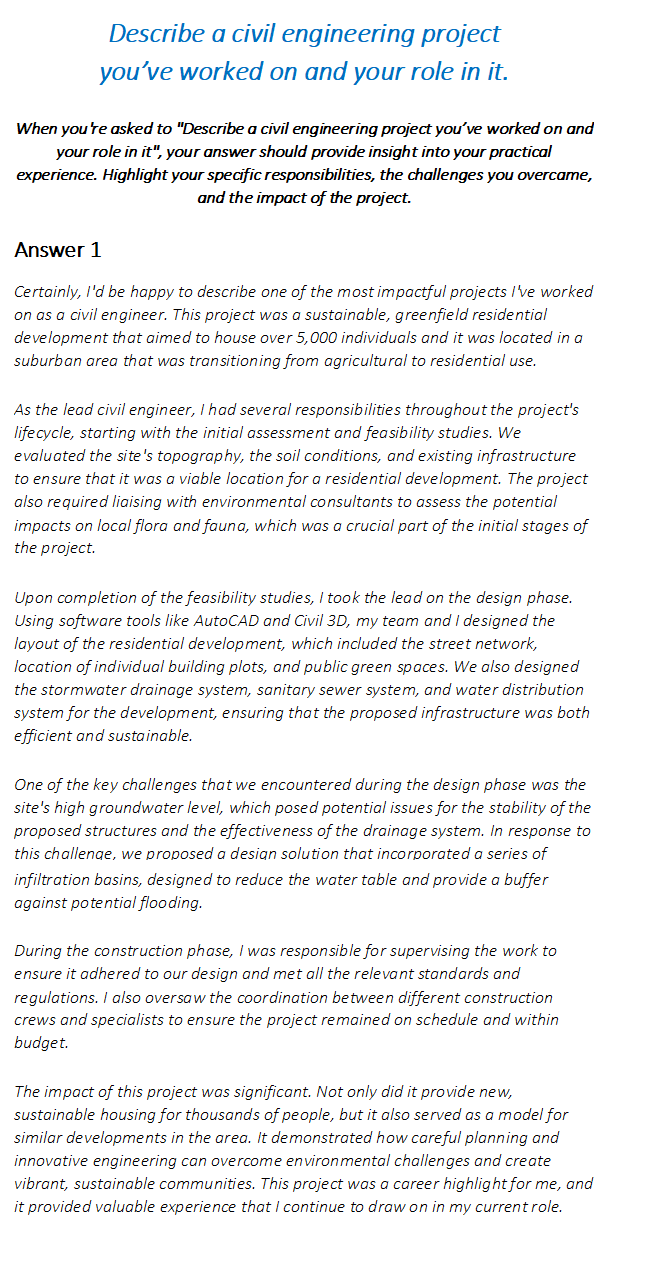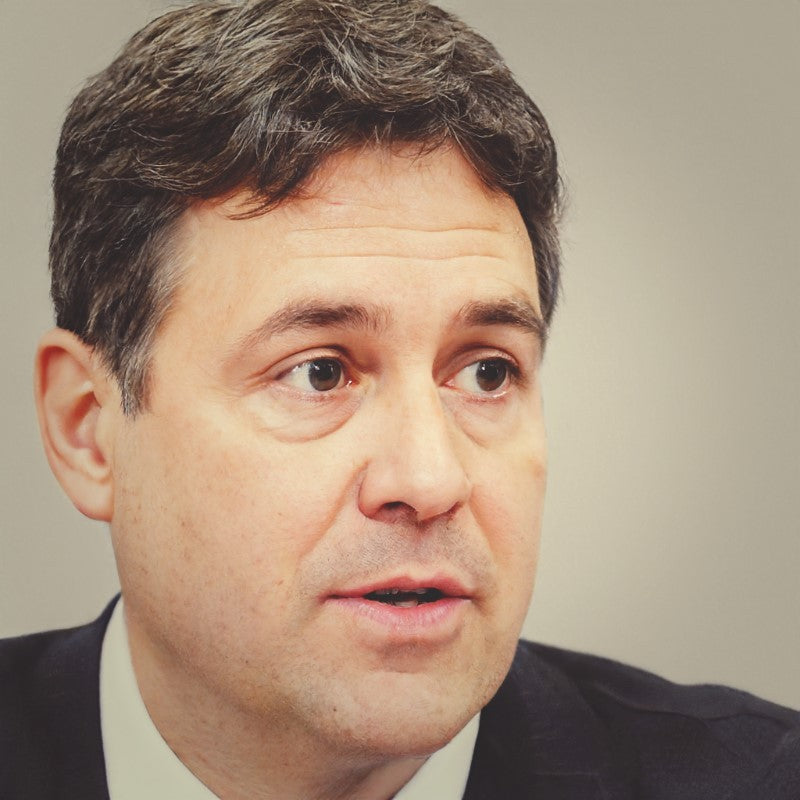 At Interview Detectives, we are led by Mike Jacobsen, a highly experienced recruitment consultant with nearly 30 years of professional expertise. With a deep understanding of the hiring landscape, Mike brings invaluable insights and knowledge to our platform. His extensive background in recruitment enables us to provide you with tailored interview guides and application tips that align with current industry trends. With Interview Detectives, you gain access to proven strategies and techniques to enhance your job application success. Trust in Mike's wealth of experience and embark on your journey towards career triumph.
Need Assistance? Connect with Mike on LinkedIn