Regular price
$64.00 USD
Sale price
$38.00 USD
Unit price
per
Sale
Sold out
Interview Success: How To Answer Compliance Officer Questions (With Over 100 Sample Answers) by Mike Jacobsen!
🎉📘
Are you aspiring to kickstart or advance your career in compliance? Maybe you're feeling a bit anxious about the upcoming interview? Well, fear not. With Mike Jacobsen's expertly crafted guide, you'll be fully prepared to shine through the toughest of compliance interviews.
Having assisted countless professionals in acing their interviews, Mike Jacobsen is a seasoned career coach who knows exactly what it takes to impress in a compliance officer interview. He's now sharing all his knowledge with you, condensed in an easy-to-follow, instantly downloadable guide of 113 power-packed pages.


💼 What's Inside the Guide? 💼
Drawing from his years of experience, Mike Jacobsen provides in-depth insights on what interviewers look for and how to structure your responses for maximum impact. Even more, you'll learn about common pitfalls to avoid, ensuring your answers shine in the best light.
Then, the guide dives deep into a curated collection of common compliance officer interview questions, providing detailed, professionally crafted answers for each. You'll find guidance on tackling both general questions like, "Can you tell me a little about yourself?" to role-specific ones such as, "Can you describe a time when you identified a compliance issue in your previous role?"
But that's not all. You'll also explore questions related to navigating complex regulatory frameworks, dealing with compliance breaches, handling conflicts between business objectives and compliance requirements, and so much more.


🚀 Why Choose This Guide? 🚀
With over 100 sample answers, this guide offers a comprehensive look into the compliance officer interview process. It's not just about providing answers. It's about understanding the thought process behind each answer, the interview strategy, and how to customize these answers to your unique experiences.


🌟 Written by Mike Jacobsen 🌟
This guide is crafted by none other than Mike Jacobsen, a highly experienced career coach who has been helping professionals ace their interviews for many years. His deep understanding of the industry and sharp insight into what hiring managers are looking for make this guide an invaluable resource for any aspiring compliance officer.


📥 Instant Download 📥
No need to wait for shipping or go to a bookstore. This guide is available for instant download. Just click on the purchase button, and you'll get immediate access to this powerful resource. Whether you want to read it on your laptop, tablet, or print it out, it's ready whenever you are!


💡 Embark on a Comprehensive Journey Through Compliance Interviews 💡
This guide is more than a simple Q&A. It takes a deep dive into the intricacies of compliance officer interviews, providing strategic answers and enlightening explanations. Here's a sneak peek into the roadmap:
✅ "Can you tell me a little about yourself?" This classic icebreaker is more than a casual introduction. It's your chance to set the tone for the interview and make a great first impression. This guide offers tips on crafting a compelling narrative about your professional journey.
✅ "What drew you to the compliance field?" Your motivation is key to your performance. In the guide, we help you highlight your passion for the field, dedication to maintaining integrity, and commitment to staying updated with dynamic regulations.
✅ "Can you describe a time when you identified a compliance issue in your previous role?" Stories are a powerful tool to demonstrate your expertise. Our guide outlines how to structure your response to this question using the STAR (Situation, Task, Action, Result) method to highlight your problem-solving skills.
✅ "What are the most significant compliance risks you anticipate facing in this position?" Proactive risk assessment is critical in a compliance role. This question gauges your understanding of potential challenges and your ability to formulate preventive strategies. We delve into crafting a response that shows your foresight and planning.
✅ "Tell us about your experience in developing and implementing compliance programs." This question is about showcasing your practical experience. We guide you on how to articulate your hands-on involvement, strategic thought process, and impact made through effective compliance programs.
Interview Success: How To Answer Compliance Officer Questions (With Over 100 Sample Answers) is your ultimate companion for securing your next compliance officer role. Don't leave your success to chance - be prepared, be confident, and nail that interview!


💼What's Next?💼
Embark on your journey towards interview success! Click on the 'Buy Now' button, receive your guide instantly, and start preparing today for the career you've always wanted! 🎉👍


💥

 

GET YOUR COPY TODAY AND RECEIVE OUR BEST-SELLING GUIDE AS A LIMITED-TIME BONUS!

 

🛒
Improve your chances of a successful career in Compliance! Get your own copy of our Compliance Officer Interview Guide today and unleash your potential.
Plus, if you buy today, you'll also receive our popular guide, "How To Answer The Most Popular Interview Questions (with over 100 sample answers!)" at no extra cost (regularly priced at £49). Don't miss out on this great opportunity!
View full details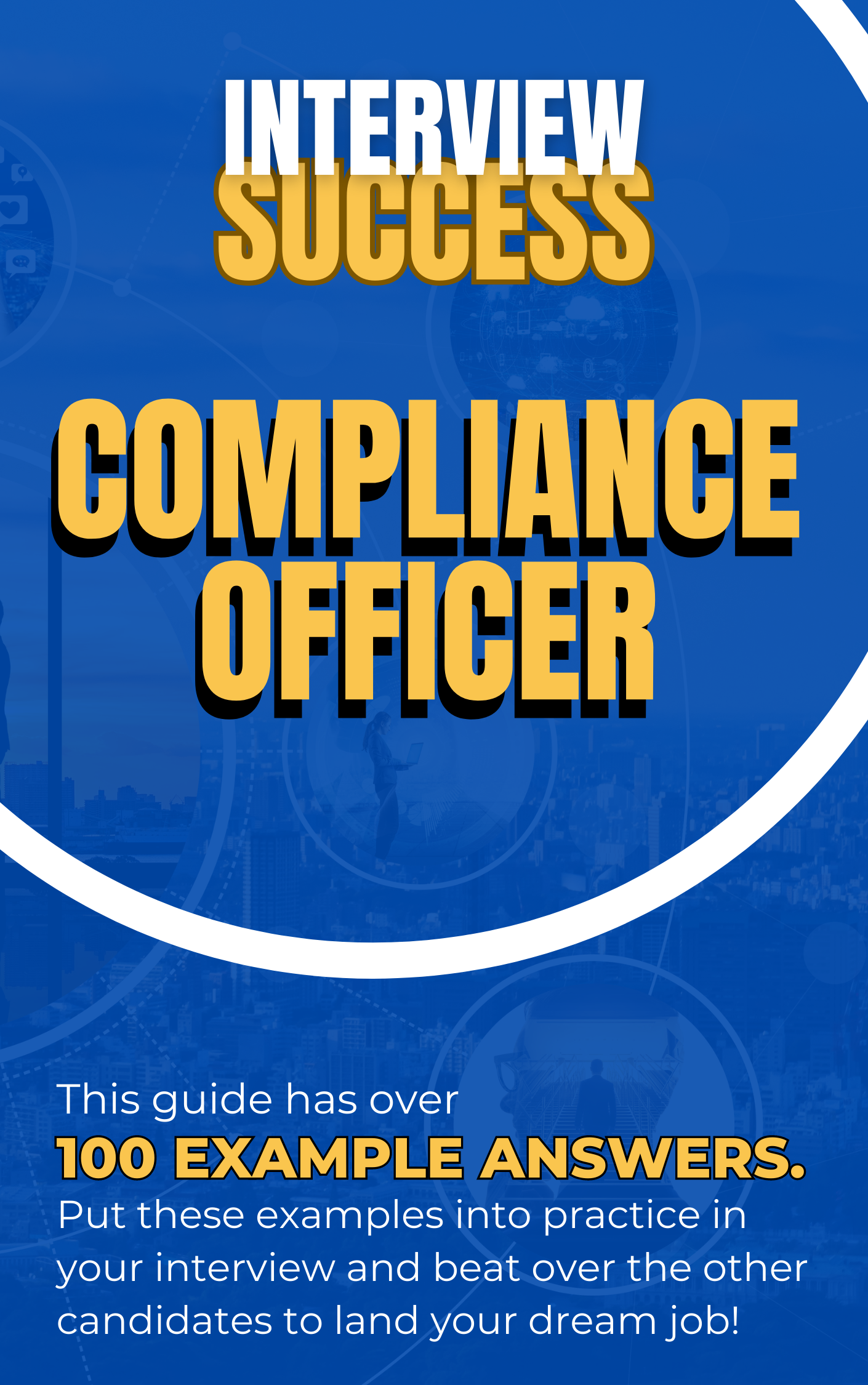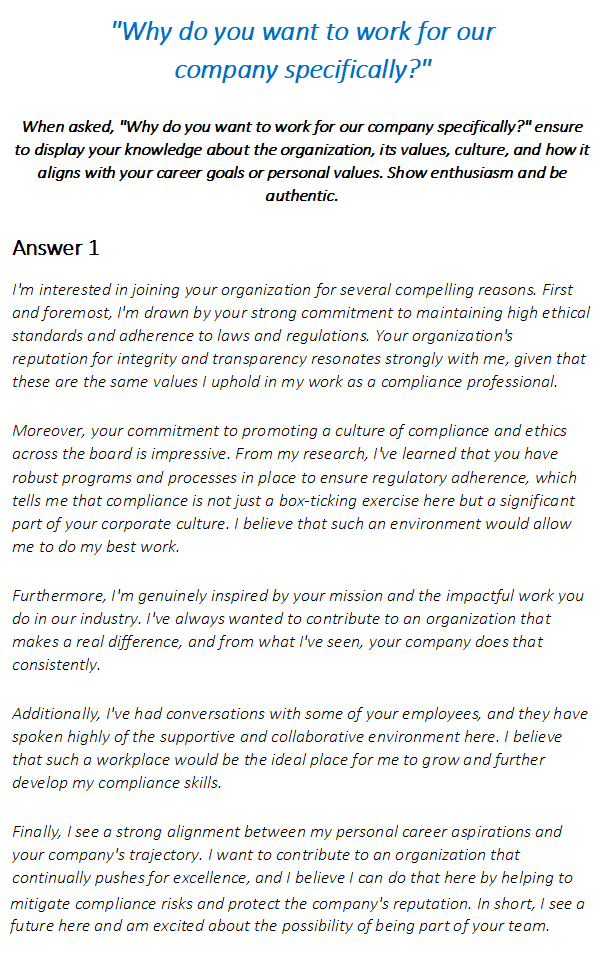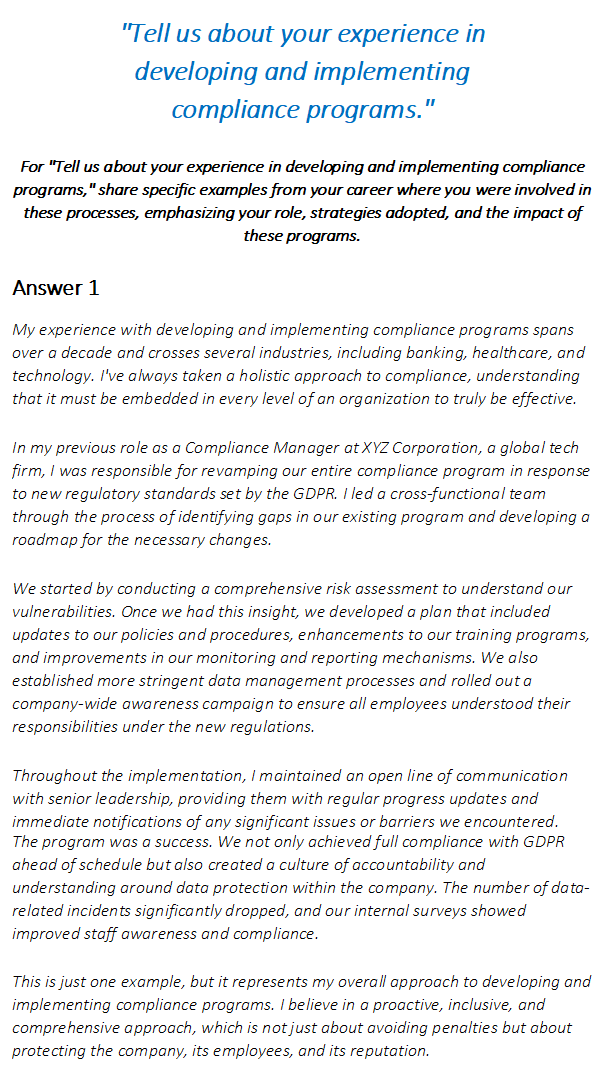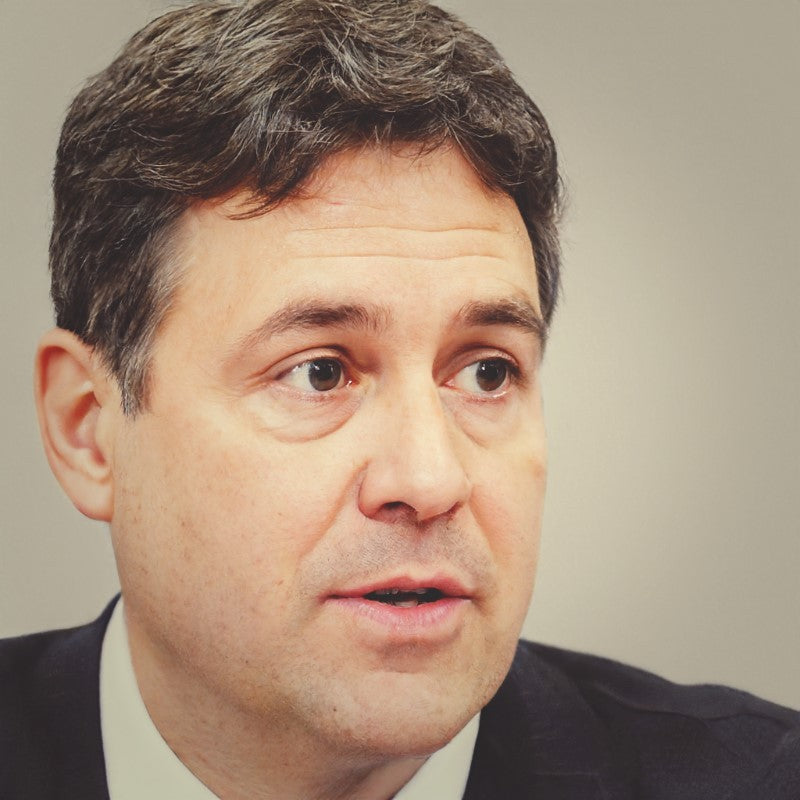 At Interview Detectives, we are led by Mike Jacobsen, a highly experienced recruitment consultant with nearly 30 years of professional expertise. With a deep understanding of the hiring landscape, Mike brings invaluable insights and knowledge to our platform. His extensive background in recruitment enables us to provide you with tailored interview guides and application tips that align with current industry trends. With Interview Detectives, you gain access to proven strategies and techniques to enhance your job application success. Trust in Mike's wealth of experience and embark on your journey towards career triumph.
Need Assistance? Connect with Mike on LinkedIn