Regular price
$63.00 USD
Sale price
$38.00 USD
Unit price
per
Sale
Sold out
🚀Interview Success: How To Answer Content Writer Interview Questions (With Over 100 Sample Answers)
---
✨ Interviewing For the Role: Content Writer
Writing is an art, a skill, and a career. As a content writer, you are tasked with creating engaging and value-adding pieces for various platforms. But before you can start weaving words, you need to face the dreaded job interview. This process can be intimidating, especially if you don't know what questions to expect. That's why we have created this comprehensive guide to help you ace any content writing interview!
---
🎁 What's Inside the Guide?
Unpack the secrets to interviewing success with this extensive guide, crafted by experienced career coach, Mike Jacobsen, and a seasoned content writer, Jane Smith. Here are just a few of the valuable sections you will discover in this 100+ page PDF guide:
✅ Understanding the Interviewer's Perspective: This section dissects what exactly an interviewer is looking for when they pose a question, helping you to frame your responses effectively.
✅ Structuring Your Answers: Learn how to organize your thoughts and deliver compelling answers that hit all the right notes.
✅ Common Interview Pitfalls: Get familiar with common mistakes made during interviews and how to avoid them.
✅ Over 100 Sample Questions and Answers: This section breaks down common questions, provides sample answers, and explains the reasoning behind them.
✅ Critical Thinking and Teamwork: These sections explore how to demonstrate your problem-solving and collaborative skills through concrete examples.
✅ Personalized Advice for Your Situation: The guide also includes questions to ask the interviewer, helping you to stand out as a thoughtful and proactive candidate.
---
👀 A Sneak Peek Inside the Guide
As a teaser of what to expect from the guide, here are 5 questions from the book, and an explanation of why they are essential for your interview success:
1️⃣ "Can you describe your content writing process?": This question seeks to understand how you manage your tasks and organize your work.
2️⃣ "How do you handle writer's block?": The interviewer wants to know your problem-solving skills and resilience in the face of challenges.
3️⃣ "What types of content are you most comfortable creating?": This question assesses your expertise and flexibility in producing different kinds of content.
4️⃣ "How do you balance creativity with business objectives in your writing?": This query seeks to determine if you can align your creative talent with the strategic goals of the company.
5️⃣ "Why should we hire you?": This ultimate question allows you to showcase your unique skills and explain why you are the perfect fit for the role.
---
📖 About the Authors
Mike Jacobsen is a seasoned career coach with over a decade of experience in helping professionals navigate job interviews successfully. His insights into the hiring process and his practical approach to interview prep have helped countless individuals land their dream jobs.
Jane Teeboild is an experienced content writer with a portfolio that spans multiple industries and content types. Her first-hand experience in job interviews and deep understanding of the content writing field offer a unique perspective to the advice in this guide.
---
📥 Instant Download and Lifetime Access
The moment you purchase "Interview Success: How To Answer Content Writer Interview Questions," you gain instant access to the guide. With 100+ pages of actionable advice in an easy-to-read PDF format, you can prepare for your content writing interview anywhere, anytime.
---
🎯 Take Control of Your Interview Today!
Don't let the fear of the unknown prevent you from securing your dream job. Get ahead of the competition with "Interview Success: How To Answer Content Writer Interview Questions (With Over 100 Sample Answers)." Say goodbye to interview jitters and hello to confidence, preparation, and success. Let's conquer your next interview together! 🎉
💥 GET YOUR COPY TODAY AND RECEIVE OUR BEST-SELLING GUIDE AS A LIMITED-TIME BONUS! 🛒

Remember, the best time to start preparing was yesterday, the second best time is NOW! Grab your instant download today and step confidently into your interview. Good luck!

Improve your chances of a successful career! Get your own copy of our Content Writer Interview Guide today and unleash your potential.
Plus, if you buy today, you'll also receive our popular guide, "How To Answer The Most Popular Interview Questions (Now with over 250 sample answers!)" at no extra cost (regularly priced at £49). Don't miss out on this great opportunity!
View full details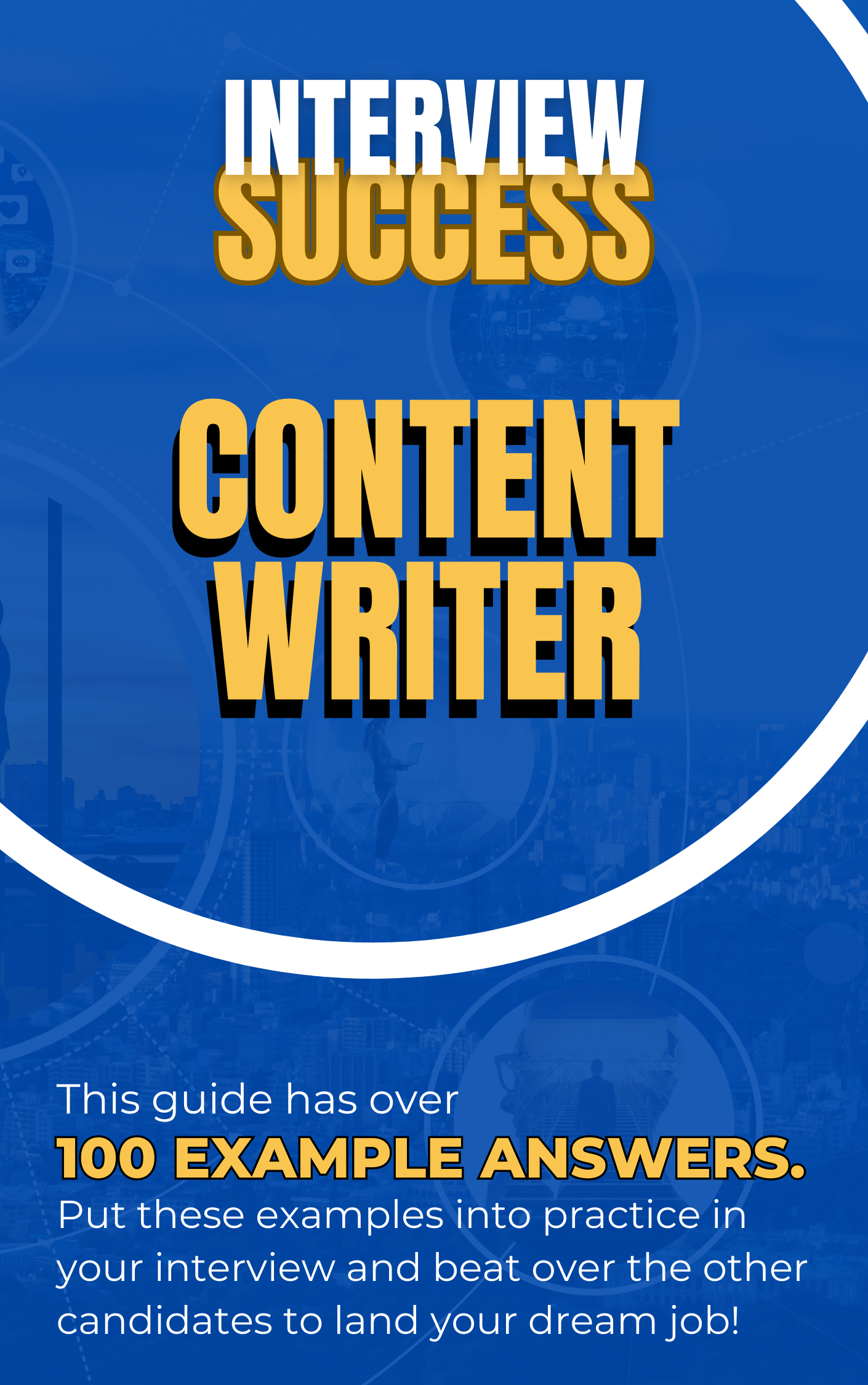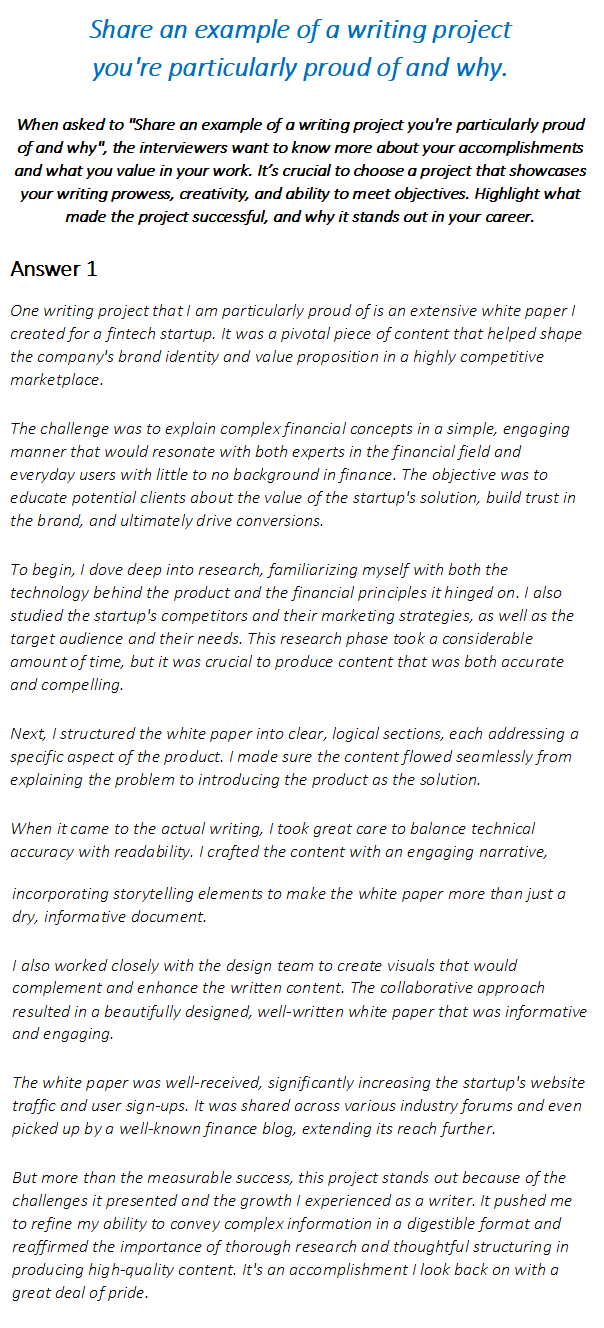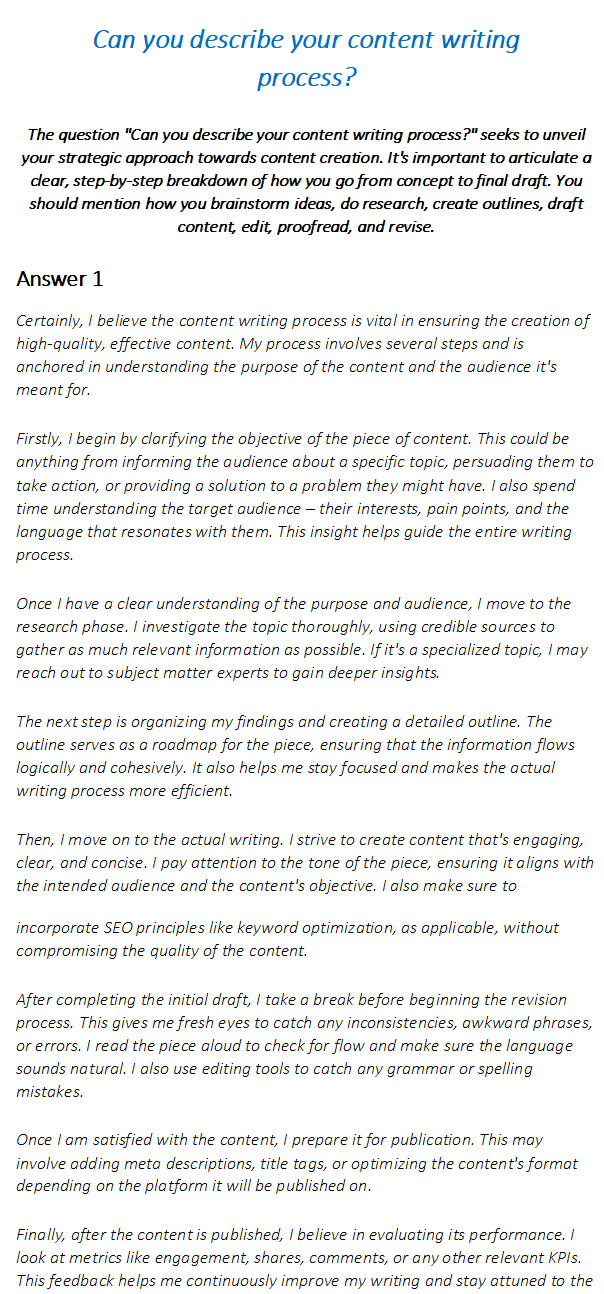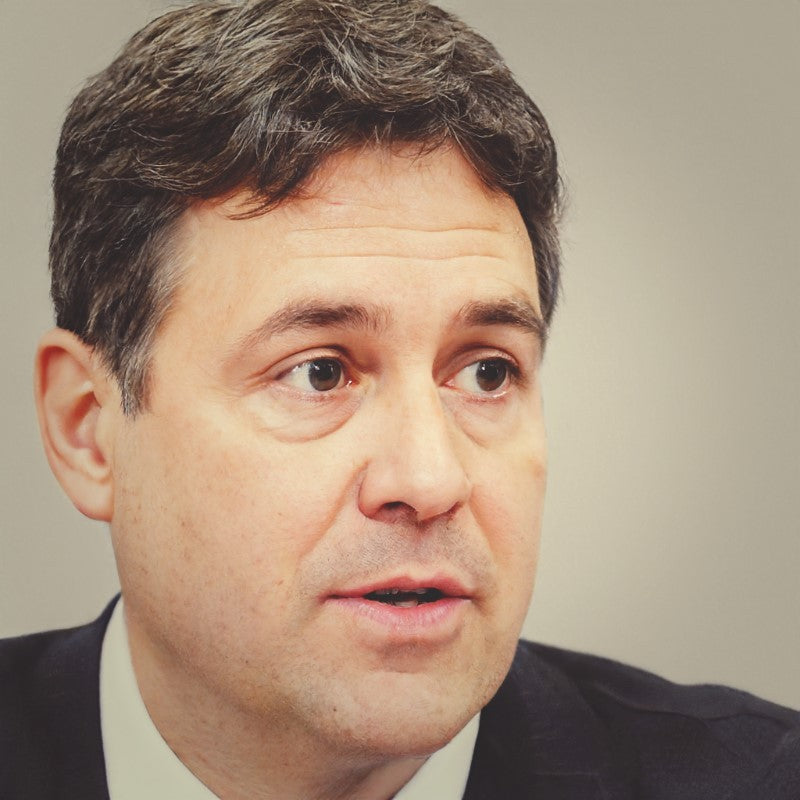 At Interview Detectives, we are led by Mike Jacobsen, a highly experienced recruitment consultant with nearly 30 years of professional expertise. With a deep understanding of the hiring landscape, Mike brings invaluable insights and knowledge to our platform. His extensive background in recruitment enables us to provide you with tailored interview guides and application tips that align with current industry trends. With Interview Detectives, you gain access to proven strategies and techniques to enhance your job application success. Trust in Mike's wealth of experience and embark on your journey towards career triumph.
Need Assistance? Connect with Mike on LinkedIn