Regular price
$63.00 USD
Sale price
$38.00 USD
Unit price
per
Sale
Sold out
 Welcome to the Ultimate Dental Hygienist Interview Success Guide!
Are you an aspiring Dental Hygienist looking to excel in your next job interview? Interview Success: How To Answer Dental Hygienist Interview Questions (With Over 100 Samples Answers) is here to turn your dream job into reality!
---
🎓 Preparing For Your Dental Hygienist Interview

The job of a Dental Hygienist is not only about having the right skills and knowledge; it's also about portraying these qualities in an interview setting. The role requires precision, empathy, understanding of dental technology, and a passion for patient care. This guide, created by industry experts, will provide you with the knowledge and confidence you need to succeed in the hot seat. You'll learn exactly what interviewers are looking for, what questions to expect, and how to structure your answers. Prepare to impress your future employer!
---
✅ What's Inside the Guide

Discover an in-depth look into everything you'll need to nail your Dental Hygienist interview. This comprehensive guide includes:

✅ What The Interviewer Is Looking For When Asking Any Question – Know the hidden meaning behind each question.

✅ How Best to Structure Your Answers – Learn the techniques to present your experience convincingly.

✅ How NOT To Answer Interview Questions – Avoid the pitfalls that can make or break your interview.

✅ Interview Questions & Sample Answers – A massive compilation of questions and how to answer them effectively.

✅ Strategies for Various Scenarios – Including handling difficult patients, dental software, patient education, handling stress, and more!
---
📖 Sneak Peek: A look under the cover
Get a glimpse at some pivotal questions that you may encounter in your Dental Hygienist interview and why they're important:

1️⃣ "Why did you choose to become a Dental Hygienist?" – This question probes into your intrinsic motivation for choosing this profession. Answering it well shows that your passion and understanding of the role go beyond the surface, reflecting a genuine commitment to dental care and patient well-being.

2️⃣ "Describe a time when you had to deal with a difficult patient. How did you handle the situation?" – With this question, the interviewer assesses your interpersonal skills, emotional intelligence, and ability to maintain professionalism under challenging circumstances. Your answer will provide insights into your patient-management techniques and adaptability.

3️⃣ "What dental software are you comfortable using?" – Technological proficiency is vital in modern dental practices. This question tests your familiarity with dental software systems, reflecting your readiness to integrate into the workplace smoothly. It also shows that you keep pace with technological advancements in the dental field.

4️⃣ "Can you explain how you ensure patient education about oral hygiene?" – This question emphasizes your ability to communicate complex medical information in a way that patients can easily understand. It reflects your dedication to empowering patients with knowledge to manage their oral health, reinforcing the trust and relationship between patient and provider.

5️⃣ "How do you handle the pressure and stress associated with the job?" – Being a Dental Hygienist can be a demanding role. This question assesses how you manage stress, prioritize tasks, and maintain quality care even under pressure. Your answer demonstrates resilience, organization, and a calm and collected demeanor, vital traits for success in this role.

These questions target different aspects of your role as a Dental Hygienist. Our guide provides a detailed explanation and well-crafted answers that will help you shine during the interview. Gain the confidence you need to impress your future employer.
---
🧑‍🏫 Meet the Authors

Mike Jacobsen is an experienced career coach with a track record of transforming careers. He understands what recruiters are looking for and how to tailor your responses to resonate with them.
Dr. Sarah Lewis, an experienced Dental Hygienist, brings real-world insights from her extensive career in the dental field. Her insider knowledge adds valuable context and depth to the guide.
---
🎉 Take Control of Your Dental Hygienist Career Today!

Are you ready to embark on a fulfilling journey towards your dream Dental Hygienist career? With Interview Success: How To Answer Dental Hygienist Interview Questions (With Over 100 Samples Answers), you have a comprehensive guide tailored to make you shine in your interview.
Don't leave your success to chance. Invest in yourself with a guide that provides:
✅ Professional Insights – Straight from experienced professionals in the field.
✅ Detailed Explanations – Understand not just the answers but the reasons behind them.
✅ Instant Accessibility – In a user-friendly PDF format, available for download now.
✅ Ongoing Support – Our team is here for any questions or additional guidance.
Your dream job is within reach, and this guide is the key to unlocking it.


💥 GET YOUR COPY TODAY AND RECEIVE OUR BEST-SELLING GUIDE AS A LIMITED-TIME BONUS! 🛒
Remember, the best time to start preparing was yesterday, the second best time is NOW! Grab your instant download today and step confidently into your interview. Good luck!

Improve your chances of a successful career! Get your own copy of our Dental Hygienist Interview Guide today and unleash your potential.
Plus, if you buy today, you'll also receive our popular guide, "How To Answer The Most Popular Interview Questions (Now with over 250 sample answers!)" at no extra cost (regularly priced at £49). Don't miss out on this great opportunity!
View full details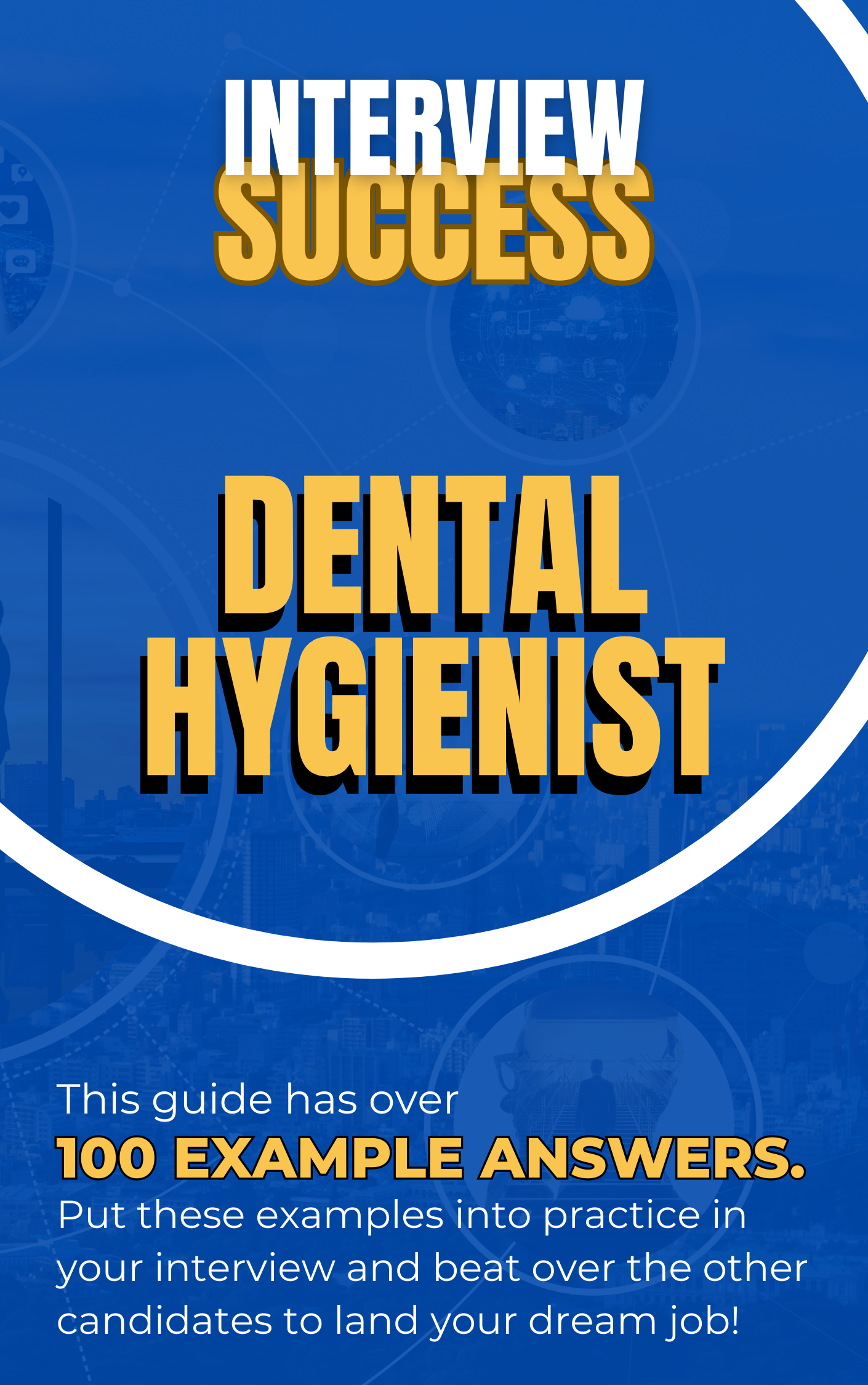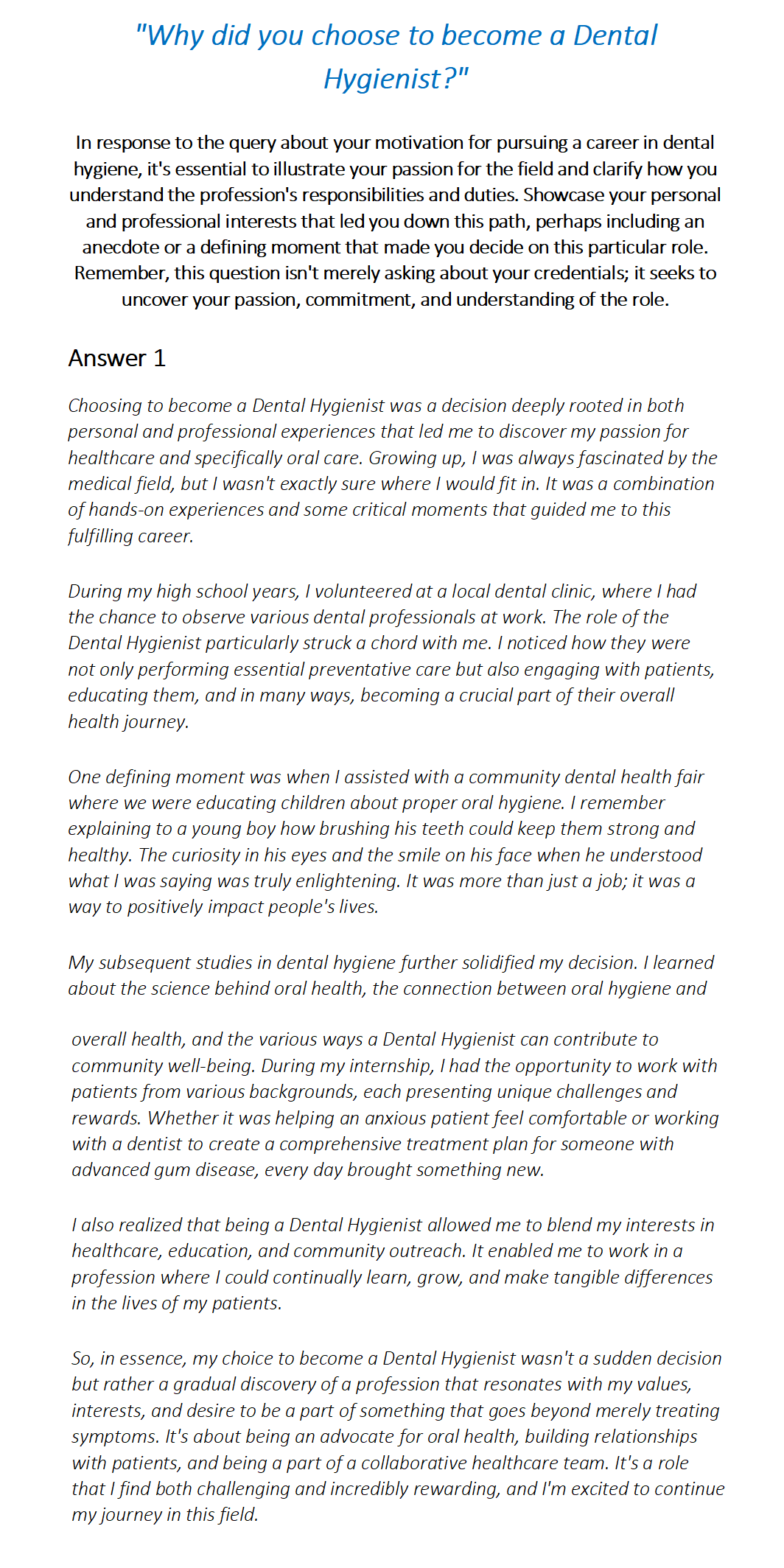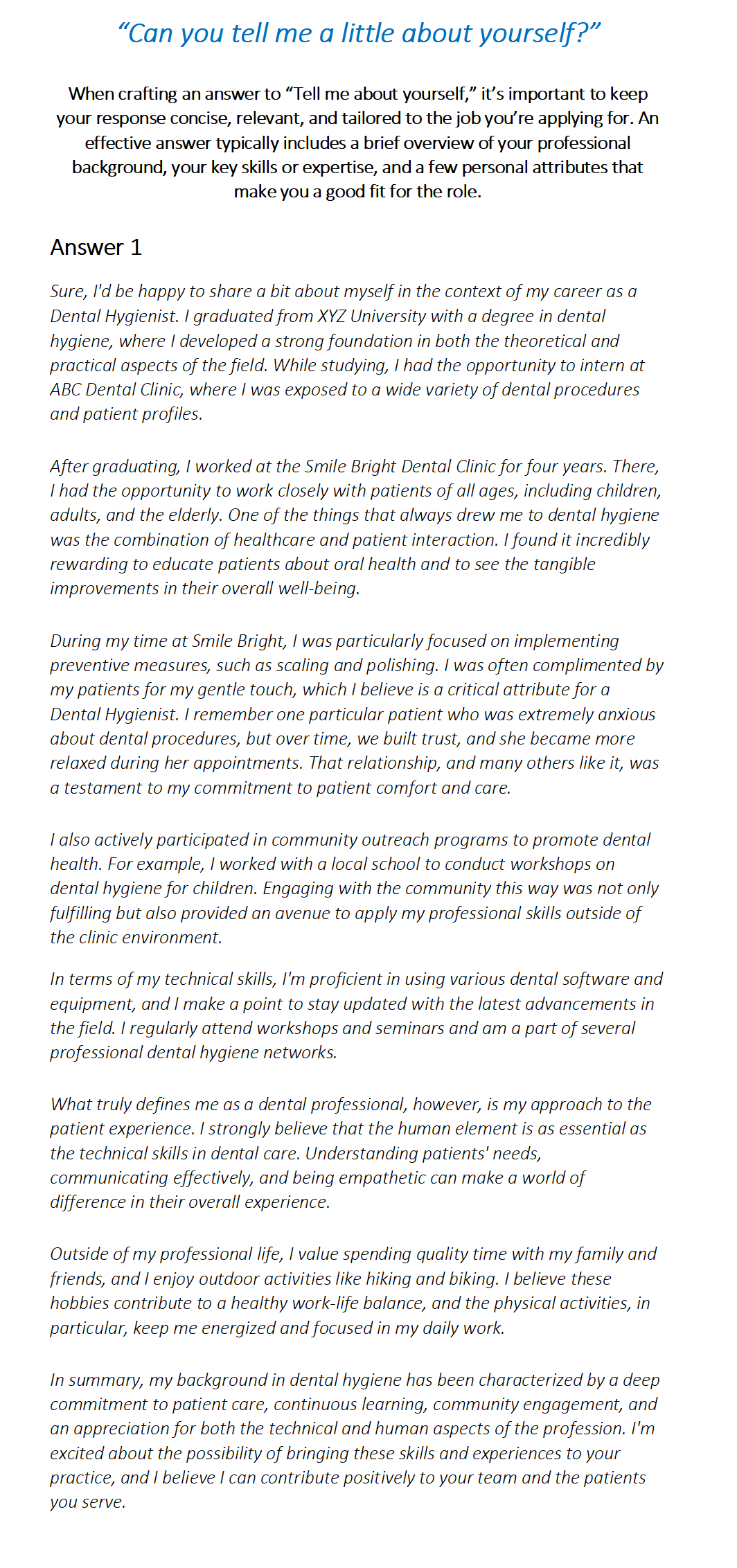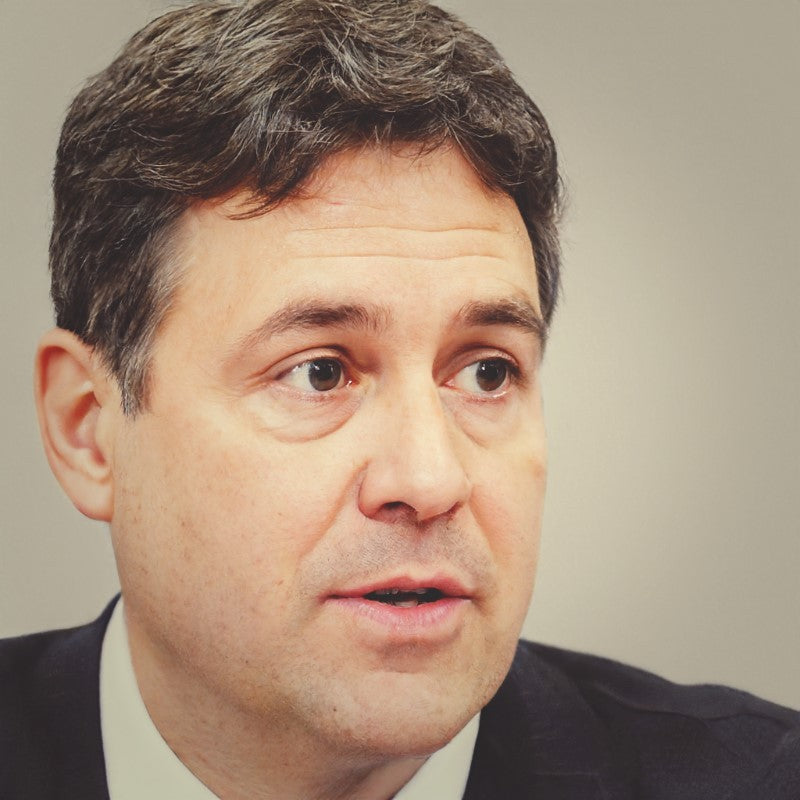 At Interview Detectives, we are led by Mike Jacobsen, a highly experienced recruitment consultant with nearly 30 years of professional expertise. With a deep understanding of the hiring landscape, Mike brings invaluable insights and knowledge to our platform. His extensive background in recruitment enables us to provide you with tailored interview guides and application tips that align with current industry trends. With Interview Detectives, you gain access to proven strategies and techniques to enhance your job application success. Trust in Mike's wealth of experience and embark on your journey towards career triumph.
Need Assistance? Connect with Mike on LinkedIn