Regular price
$63.00 USD
Sale price
$38.00 USD
Unit price
per
Sale
Sold out
📣 ANNOUNCING: "Interview Success: How To Answer Event Coordinator Interview Questions (With Over 100 Sample Answers)" 📚
Navigating the path to your dream job as an Event Coordinator can be a daunting task, but we're here to help. With this comprehensive guide, co-authored by experienced career coach Mike Jacobsen and seasoned Event Coordinator Jessica Reynolds, you'll gain insider knowledge and tools to ace your next job interview.
---
💼 Navigating the Event Coordinator Job Interview 💼
Interviews can be nerve-wracking, but knowledge is power. Event coordinators must demonstrate their ability to plan, organize, and manage events, all while balancing budgets and handling the unexpected. This guide is specifically designed to help you anticipate and address the questions that will come up in an Event Coordinator interview, highlighting your skills, expertise, and suitability for the role.
---
🔍 Dive into What's Inside the Guide 🔍
✅ Comprehensive introduction to the Event Coordinator job interview
✅ Understanding what interviewers are looking for
✅ Strategies for structuring your answers for maximum impact
✅ Common pitfalls to avoid in your responses
✅ A massive 100+ sample answer bank
✅ Tips for preparing questions to ask the interviewer
With our guide, you'll not only learn how to answer questions but also understand why these questions are asked and what responses interviewers want to hear.
---
🔑 Sneak Peek at the Guide's Questions 🔑
Here are just a few of the critical questions you'll find in our guide, along with explanations of why they matter:
1️⃣ "Can you tell me a little about yourself?" This question is often the first one asked and sets the tone for the entire interview. Making a strong impression here is vital.
2️⃣ "Why are you interested in event coordination?" Here, the interviewer wants to understand your motivation and passion for the field.
3️⃣ "What relevant experience do you have in the event planning industry?" Demonstrating your past experience is crucial to showcasing your capabilities and suitability for the role.
4️⃣ "How do you handle pressure or stressful situations during events?" This question gauges your problem-solving abilities and resilience, both essential skills for event coordination.
5️⃣ "Can you give an example of a time when an event didn't go as planned and how you handled it?" Real-life examples of how you manage challenges provide concrete proof of your skills in action.
---
👥 Meet the Authors 👥
Mike Jacobsen is a seasoned career coach with over a decade of experience guiding job-seekers to success. His sharp insights into what recruiters want, coupled with his knack for effective communication, make him a trusted resource in the job-hunting arena.
Jessica Reynolds has been an Event Coordinator for several high-profile companies, executing both corporate and social events of all sizes. Her first-hand industry knowledge and experience provide the practical perspective in this guide.
---
🎁 Bonus Material! 🎁
In addition to 100+ pages of valuable content, you'll get exclusive access to a section on evaluating your event's success and addressing the ever-important "Do you have any questions for us?" question. This guide is in PDF format, ready for instant download, so you can start preparing for your interview immediately.
---
🔒 Your Investment is Secure 🔒
We're confident that "Interview Success: How To Answer Event Coordinator Interview Questions (With Over 100 Sample Answers)" will provide invaluable assistance in your job hunt. Let us guide you to interview success and help you land your dream Event Coordinator role.
Take the first step on your path to success. Get your copy now!
💥 GET YOUR COPY TODAY AND RECEIVE OUR BEST-SELLING GUIDE AS A LIMITED-TIME BONUS! 🛒

Remember, the best time to start preparing was yesterday, the second best time is NOW! Grab your instant download today and step confidently into your interview. Good luck!

Improve your chances of a successful career! Get your own copy of our Event Coordinator Interview Guide today and unleash your potential.
Plus, if you buy today, you'll also receive our popular guide, "How To Answer The Most Popular Interview Questions (Now with over 250 sample answers!)" at no extra cost (regularly priced at £49). Don't miss out on this great opportunity!
View full details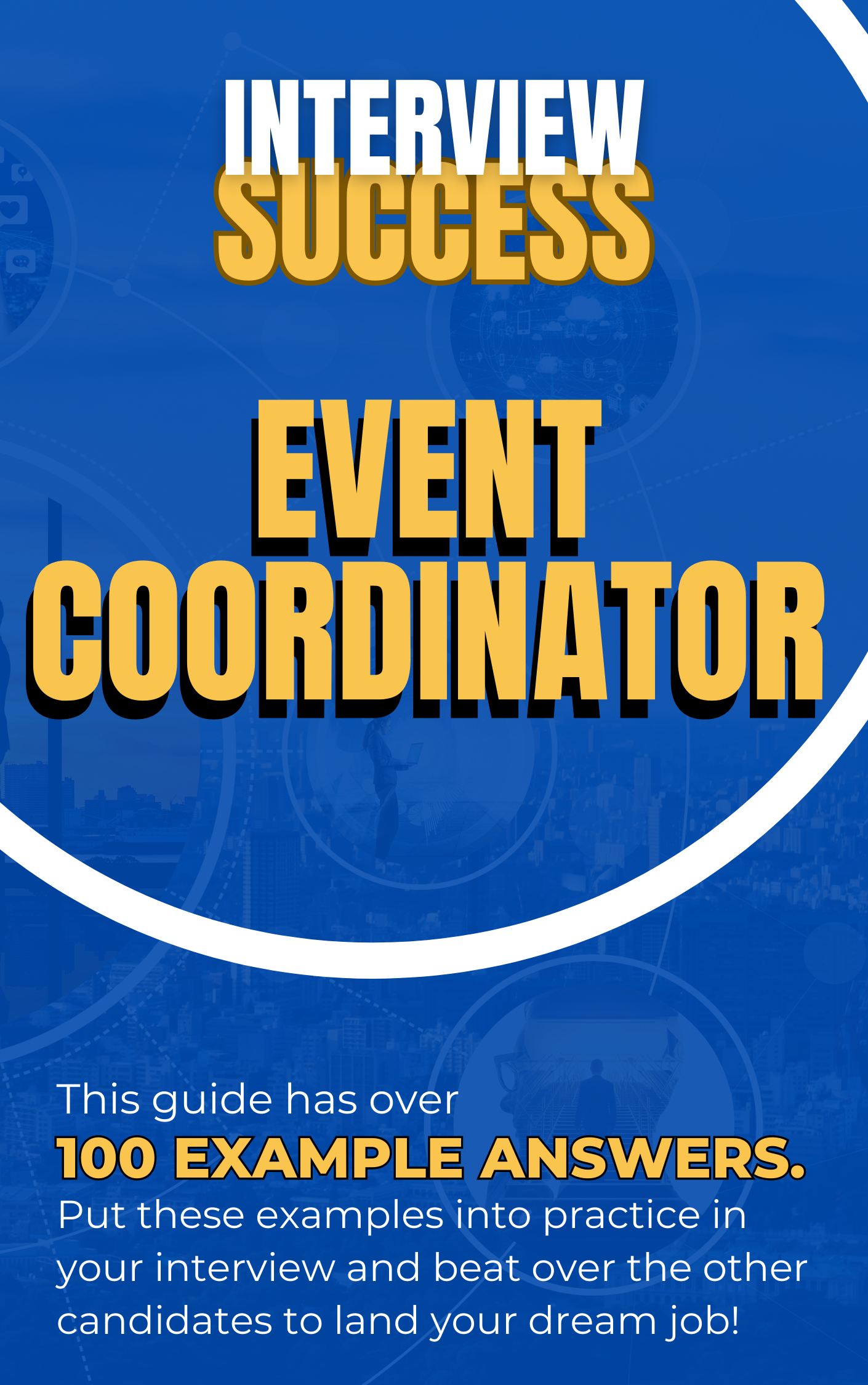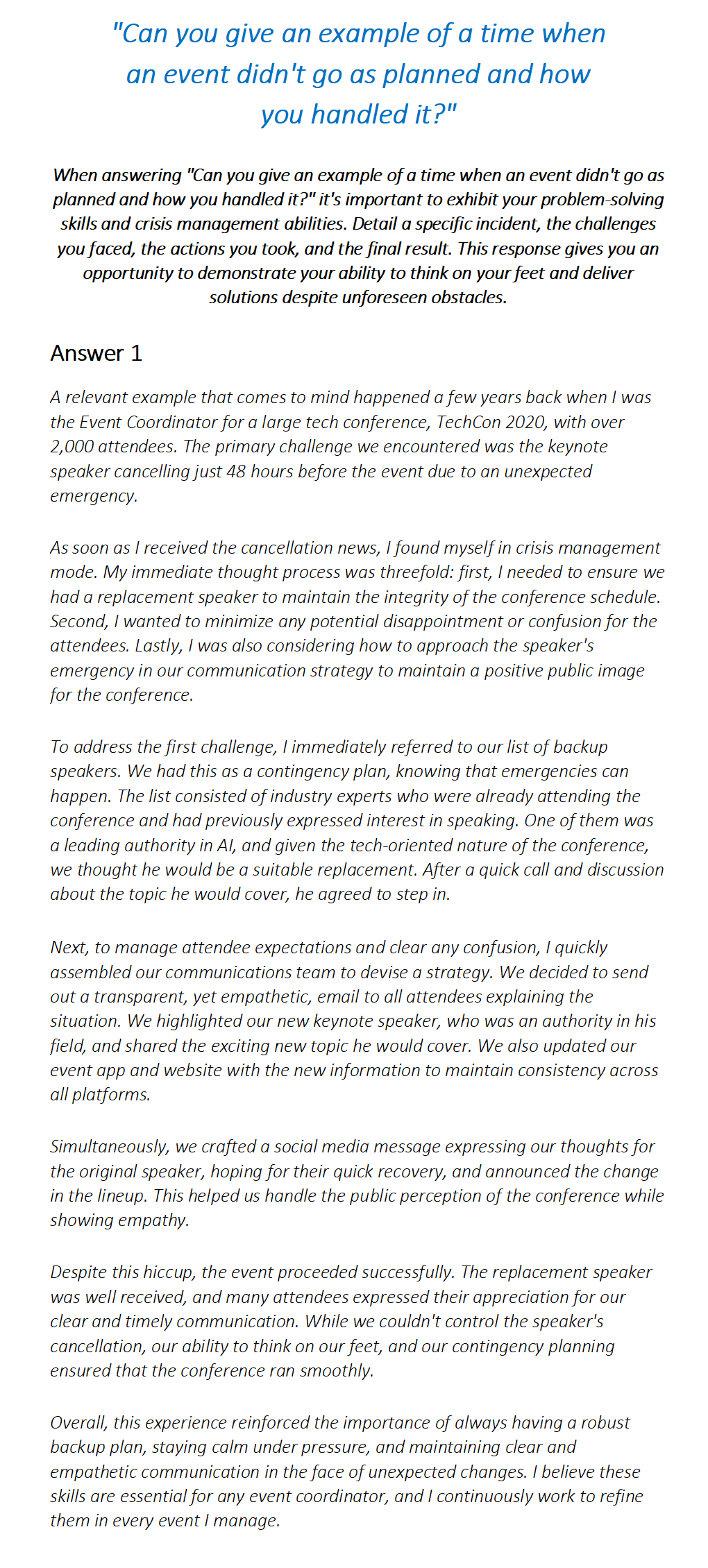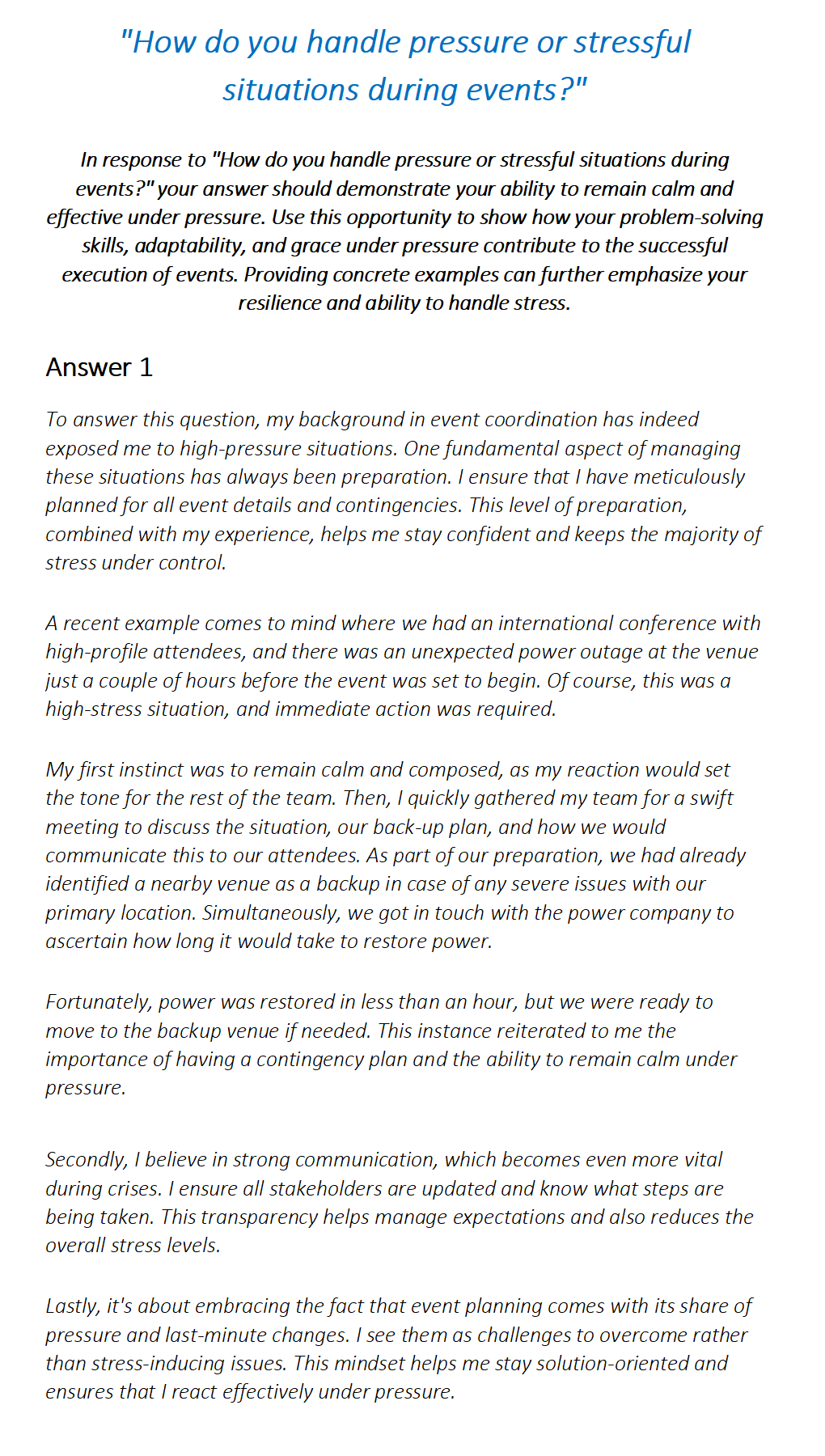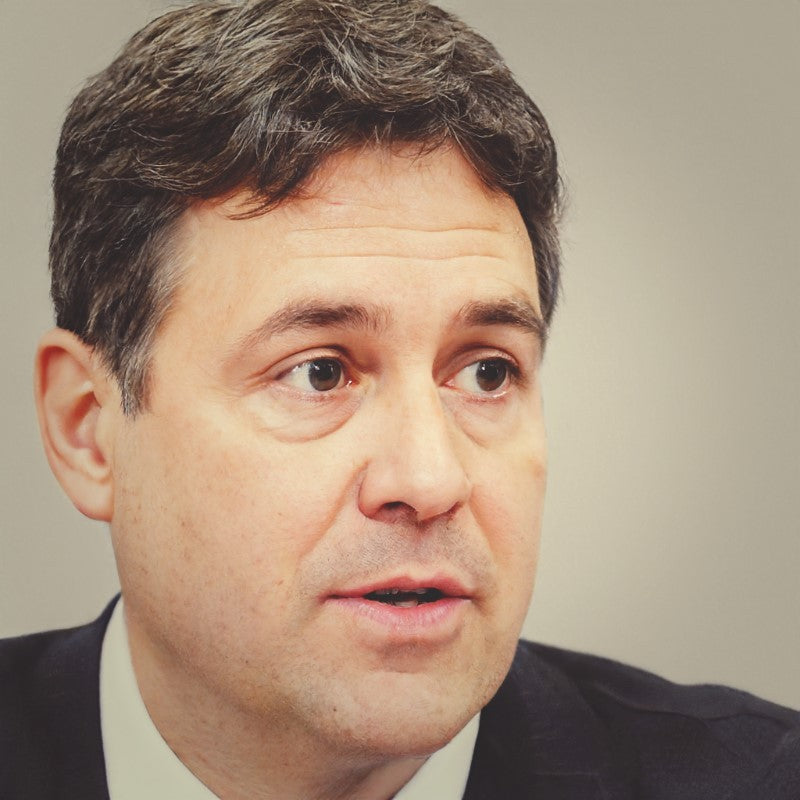 At Interview Detectives, we are led by Mike Jacobsen, a highly experienced recruitment consultant with nearly 30 years of professional expertise. With a deep understanding of the hiring landscape, Mike brings invaluable insights and knowledge to our platform. His extensive background in recruitment enables us to provide you with tailored interview guides and application tips that align with current industry trends. With Interview Detectives, you gain access to proven strategies and techniques to enhance your job application success. Trust in Mike's wealth of experience and embark on your journey towards career triumph.
Need Assistance? Connect with Mike on LinkedIn