Regular price
$63.00 USD
Sale price
$38.00 USD
Unit price
per
Sale
Sold out
Enter Your Fashion Designer Interview with Confidence! 💥
Welcome, future fashion icon! If you're ready to dazzle the fashion world but the interview process feels like a thorn in your side, we've got the perfect remedy. Our guide, "Interview Success: How To Answer Fashion Designer Interview Questions (With Over 100 Sample Answers)" is your secret weapon to navigating the labyrinth of fashion designer interviews.
This comprehensive guide, penned by experts with extensive experience in the industry, is your backstage pass to mastering every interview question thrown your way. With over 100 pages of insights, sample answers, and expert tips, you'll be prepared for every curveball, leaving your interviewers with no choice but to stand in awe of your passion, dedication, and talent.
---
📝 Preparing For Your Fashion Designer Interview

Knowing the right answer isn't always enough. It's about how you communicate your thoughts, showcase your experience, and convey your passion for fashion. Our guide not only provides sample answers but also illustrates what interviewers are really looking for, how to structure your answers, and crucially, how not to answer questions.
Understanding what lies behind each question will empower you to offer thoughtful, well-structured answers that resonate with interviewers. With our guide in your arsenal, you'll enter the interview room with an air of confidence and leave a lasting impression.
---
🎁 Inside the Guide: Over 100 Pages of Interview Success
The key to acing any interview lies in being well-prepared. In this guide, you'll find over 100 pages designed to ensure you're ready to tackle any question with poise and confidence. We've divided the guide into different segments, each focusing on critical aspects of the interview process:

✅ What The Interviewer Is Looking For When Asking Any Question
This section sheds light on the intentions behind interviewers' questions, helping you understand their perspective and align your answers accordingly.

✅ How Best to Structure Your Answers
Every question you face is an opportunity to highlight your skills and suitability for the role. We guide you on how to structure your responses for maximum impact.

✅ How NOT To Answer Interview Questions
Avoid common pitfalls and damaging faux pas with our tips on what not to do during your interview.

✅ Interview Questions & Sample answers
This comprehensive section presents a vast collection of potential questions, complete with expertly crafted sample answers.

From understanding your passion for fashion to demonstrating your technical knowledge and ability to handle feedback, this guide covers it all. Not only will you know what to say, but you'll also know how to say it for maximum effect.
---
👀 Sneak Peak: The Questions
Here are five of the many questions our guide covers, along with why they're vital to your success:

1️⃣ "Can you tell me a little about yourself?"
This question is a frequent conversation starter in interviews. It's your chance to introduce yourself and create a strong first impression. The guide provides tips on how to craft an engaging and memorable introduction.

2️⃣ "Why did you choose to become a Fashion Designer?"
This question probes your motivation for choosing this career path. The guide will help you articulate your passion for fashion design, making it clear to interviewers that you're in this industry for the right reasons.

3️⃣ "What is your design process?"
Your approach to design is integral to your role as a fashion designer. With this question, interviewers want to see your creativity, attention to detail, and systematic thinking. The guide offers insights into how to best showcase your design process.

4️⃣ "Can you describe a time when you had to work under pressure?"
In the high-stakes world of fashion, working under pressure is the norm. Interviewers ask this question to gauge your ability to handle stress. Our guide provides strategies for demonstrating your resilience and problem-solving skills in such scenarios.

5️⃣ "What inspires your designs?"
Your source of inspiration is what makes your designs unique. By asking this question, interviewers are looking to understand your creative process. The guide helps you effectively communicate your inspirations and how they influence your designs.

With our guide, you'll be well-equipped to tackle these questions and more, providing well-thought-out answers that showcase your skills, passion, and readiness for the role of a fashion designer.
---
🖊️ Meet the Authors

Our guide is the brainchild of two esteemed individuals. First, Mike Jacobsen, a seasoned career coach, understands the nuances of job interviews and the art of impressing employers. Mike brings a wealth of knowledge and tips to give you a competitive edge.
Joining Mike is Valeria Moretti, a renowned fashion designer with over two decades of industry experience. Valeria knows what it's like to be in your shoes and brings her expertise and insights to ensure you know what to expect and how to impress.
---
📚 Making the Cut

Interview Success is more than a guide; it's your passport to turning your fashion dreams into reality. By distilling years of professional experience into a comprehensive, easy-to-follow PDF, we've created a roadmap to fashion designer interview success that is second to none.
Order your guide now, and step into the world of fashion with newfound confidence. Your dream job awaits! 💫
💥 GET YOUR COPY TODAY AND RECEIVE OUR BEST-SELLING GUIDE AS A LIMITED-TIME BONUS! 🛒
Remember, the best time to start preparing was yesterday, the second best time is NOW! Grab your instant download today and step confidently into your interview. Good luck!

Improve your chances of a successful career! Get your own copy of our Fashion Designer Interview Guide today and unleash your potential.
Plus, if you buy today, you'll also receive our popular guide, "How To Answer The Most Popular Interview Questions (Now with over 250 sample answers!)" at no extra cost (regularly priced at £49). Don't miss out on this great opportunity!
View full details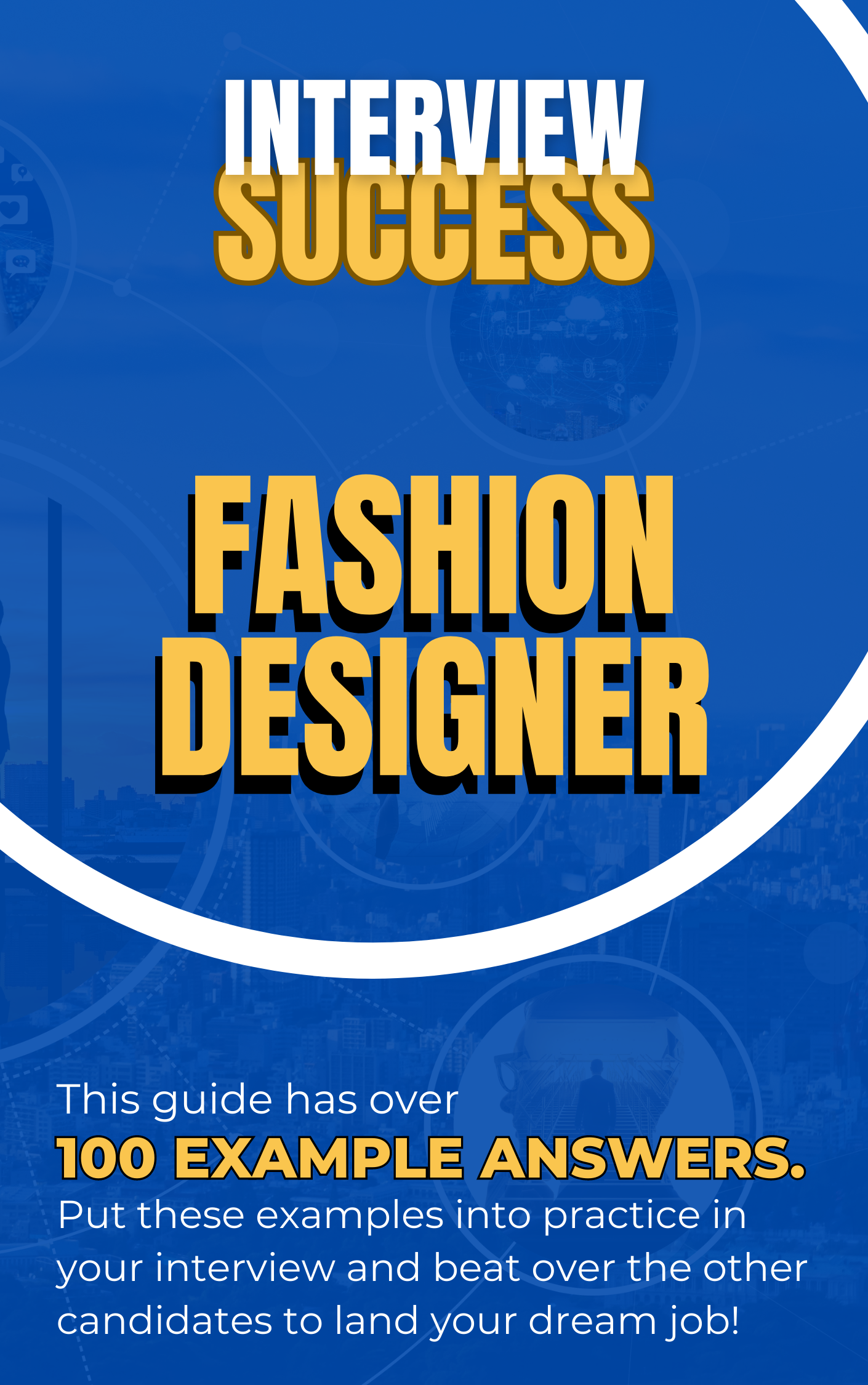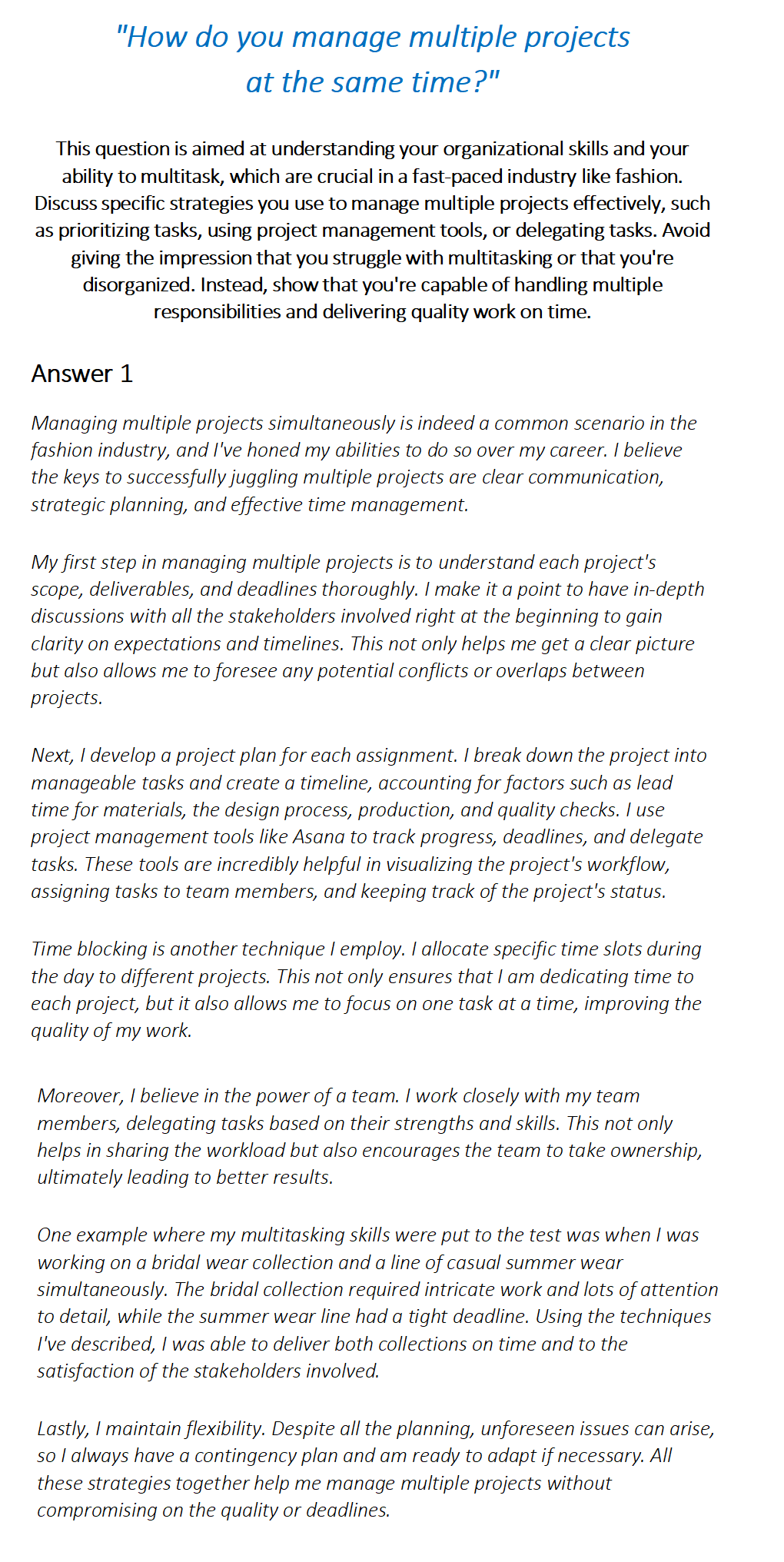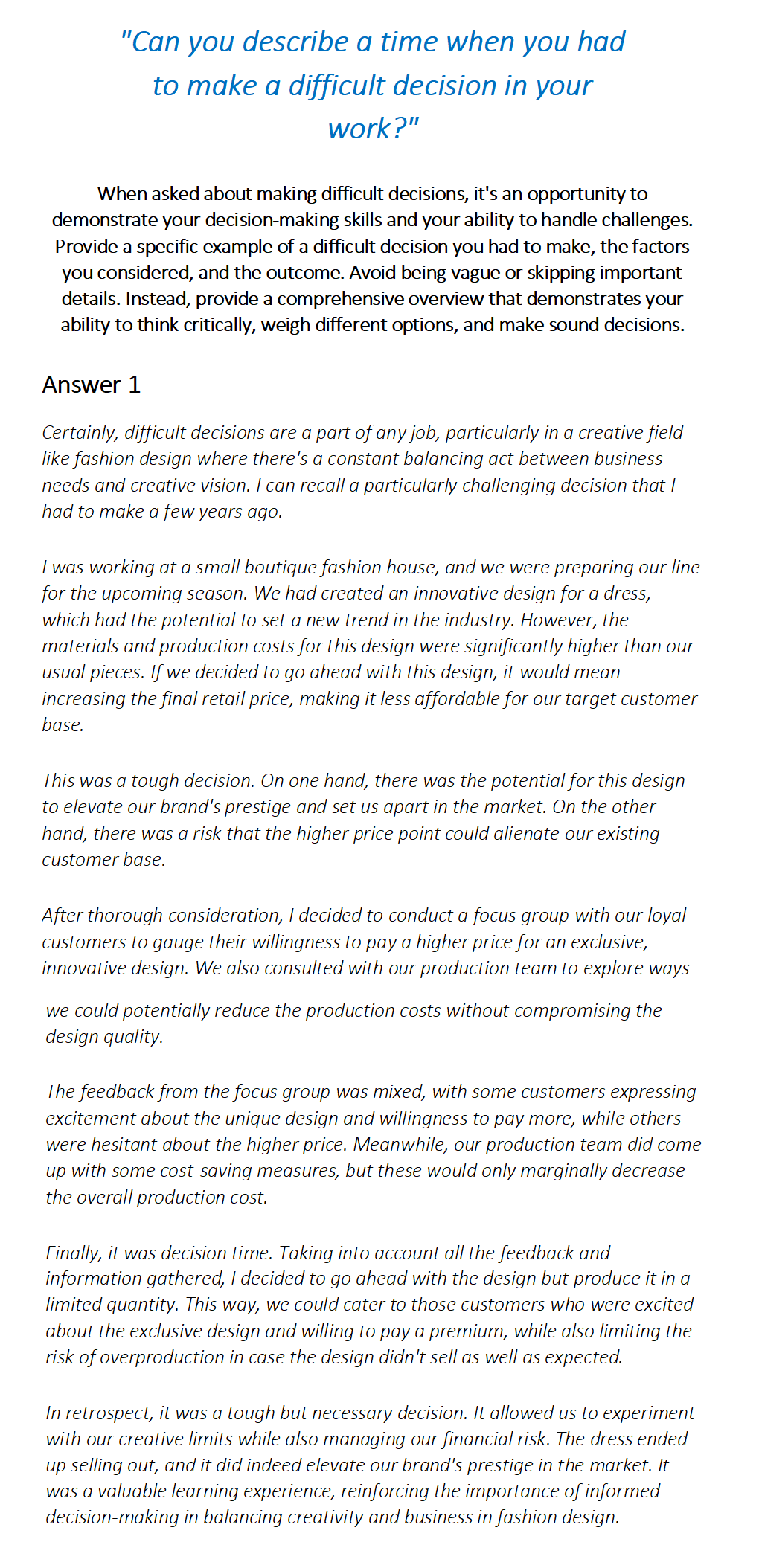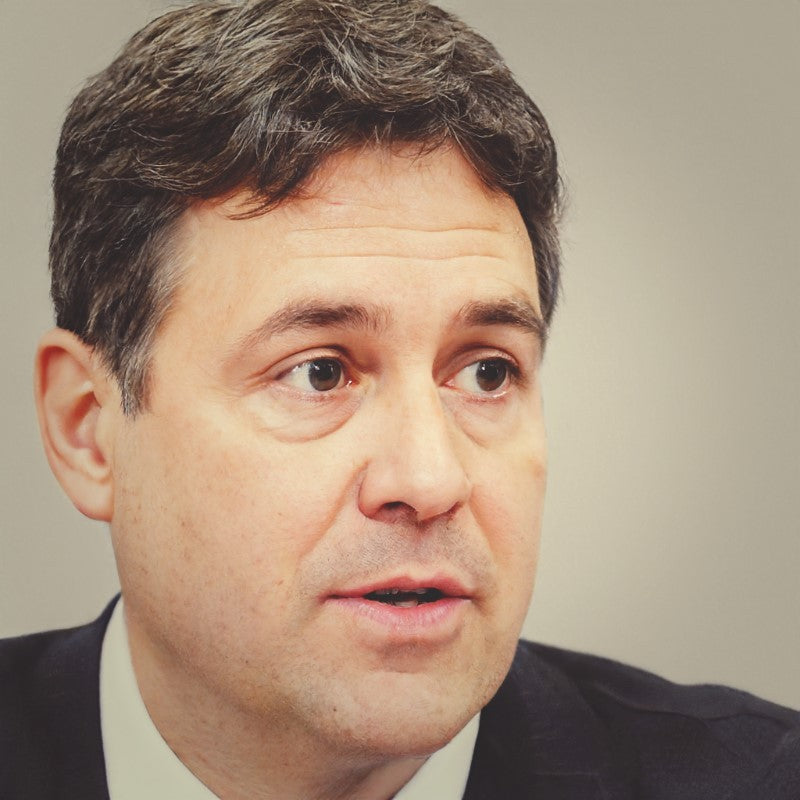 At Interview Detectives, we are led by Mike Jacobsen, a highly experienced recruitment consultant with nearly 30 years of professional expertise. With a deep understanding of the hiring landscape, Mike brings invaluable insights and knowledge to our platform. His extensive background in recruitment enables us to provide you with tailored interview guides and application tips that align with current industry trends. With Interview Detectives, you gain access to proven strategies and techniques to enhance your job application success. Trust in Mike's wealth of experience and embark on your journey towards career triumph.
Need Assistance? Connect with Mike on LinkedIn