Regular price
$63.00 USD
Sale price
$38.00 USD
Unit price
per
Sale
Sold out
"Interview Success: How To Answer Financial Controller Interview Questions (With Over 100 Sample Answers)" 
 Are you preparing for a Financial Controller interview and seeking that extra edge to stand out among the competition? Look no further! Our comprehensive Financial Controller Interview guide is just what you need to unlock your potential and ace that interview!
---
🔑 Preparing For Your Financial Controller Interview 🔑

The journey to becoming a Financial Controller is rigorous and challenging. But it's not just the academic prowess and professional experience that'll land you the role—it's your ability to effectively communicate your skills and experience in an interview setting.
The interview is your chance to shine, to highlight your strengths, demonstrate your expertise, and articulate your vision as a Financial Controller. It's where you show the interviewer not just that you can do the job, but that you're the best candidate for it.
Our guide is an exhaustive resource designed to help you navigate the interview process with confidence. We break down the interview process and delve into what the interviewer is looking for, how to structure your answers for maximum impact, and how to avoid common pitfalls that many candidates fall into.
---
✨ What's Inside the Guide? ✨

Our guide offers an extensive deep-dive into a range of crucial topics and elements of your interview preparation:
✅ Understanding the Interviewer's Perspective: Gain insights into the mind of the interviewer and learn what they're truly seeking with each question.
✅ Structuring Your Answers: Learn how to construct compelling, coherent responses that succinctly showcase your skills and experiences.
✅ Common Pitfalls to Avoid: Understand the common traps and how to steer clear of them.
✅ Over 100 Sample Questions and Answers: Equip yourself with a broad spectrum of questions and comprehensive answers to prepare for any curveball.
✅ Tactics to Handle Stress and Pressure: Acquire techniques to maintain your cool and perform under pressure.
✅ Motivating Your Team: Learn how to talk about leadership and motivation strategies in a way that aligns with a Financial Controller's role.
✅ Navigating Disagreements: Learn how to frame your experiences handling conflicts in a positive and constructive manner.
✅ Software and Regulatory Proficiencies: Discover how to best discuss your technical skills and knowledge of financial regulations.
---
🔎 Sneak Peek at the Guide's Questions 🔎

Curious about what types of questions our guide covers? Here's a sneak peek at five key questions and why they're critical:


1️⃣ "Can you explain a time when you had to make a critical financial decision?" This question is meant to delve into your decision-making skills under pressure and your understanding of risk management. In the guide, we walk you through how to craft an answer that effectively highlights your ability to evaluate financial risks, consider various outcomes, and make well-informed decisions. You'll learn to showcase your skills using real-life examples that demonstrate your critical thinking and decision-making prowess.


2️⃣ "What do you consider the most challenging aspect of financial reporting?" This question is meant to assess your familiarity with financial reporting and your ability to overcome challenges. The guide offers insight into the nuances of financial reporting and provides a framework for discussing challenges you've faced, from maintaining accuracy to staying updated on regulatory changes. We equip you with the knowledge and strategies to illustrate your competency in overcoming these obstacles and successfully delivering reports.


3️⃣ "Describe your experience with budget preparation and management." This question aims to understand your strategic approach to financial planning and budget management. Our guide not only helps you discuss your technical skills in budget creation but also showcases how you've managed budgets effectively over time. We teach you how to illustrate your attention to detail, analytical skills, and strategic thinking—all vital elements in managing budgets successfully.


4️⃣ "How do you stay updated on changes in financial regulations?" This question helps interviewers gauge your commitment to ongoing professional development and staying abreast of the ever-changing financial regulatory landscape. The guide provides tips on how to convey your dedication to continuous learning, including discussing any relevant certifications, subscriptions to industry publications, or participation in professional organizations.


5️⃣ "How do you handle disagreements with colleagues or superiors?" This question seeks to understand your interpersonal skills and your conflict resolution strategies. The guide breaks down effective strategies for answering this question, underscoring the importance of active listening, empathy, and collaborative problem-solving. You'll learn to portray real-life situations where you've successfully navigated conflict, highlighting your skills in maintaining professional relationships even during disagreements.
With our guide, you'll be able to navigate these questions and many more with confidence and skill. These comprehensive explanations and in-depth sample answers are designed to give you a competitive edge in your interview preparation.
---
🌟 Meet the Authors 🌟

This guide is the result of a collaboration between two industry experts: Mike Jacobsen, a seasoned career coach, and Sarah Mathews, a highly experienced Financial Controller.
Mike Jacobsen brings years of experience in career development and coaching, helping countless professionals land their dream jobs. His expertise in interview techniques and personal branding is an invaluable asset to this guide.
Sarah Mathews, with over 20 years of experience in financial management, brings an insider's perspective to the guide. Her extensive experience as a Financial Controller gives her a unique understanding of what employers are looking for in the role.
With their combined knowledge, you're in the most capable hands to guide you on your interview journey!
---
📚 Instant Download 📚


Our guide is available in PDF format for instant download. This 100+ page resource can be yours at the click of a button. No waiting for shipping, no hassle—just immediate access to a wealth of invaluable insights and advice.
Start preparing for your Financial Controller interview today! With "Interview Success: How To Answer Financial Controller Interview Questions (With Over 100 Sample Answers)", you're one step closer to landing your dream role! 💼🌟
💥 GET YOUR COPY TODAY AND RECEIVE OUR BEST-SELLING GUIDE AS A LIMITED-TIME BONUS! 🛒
Remember, the best time to start preparing was yesterday, the second best time is NOW! Grab your instant download today and step confidently into your interview. Good luck!

Improve your chances of a successful career! Get your own copy of our Financial Controller Interview Guide today and unleash your potential.
Plus, if you buy today, you'll also receive our popular guide, "How To Answer The Most Popular Interview Questions (Now with over 250 sample answers!)" at no extra cost (regularly priced at £49). Don't miss out on this great opportunity!
View full details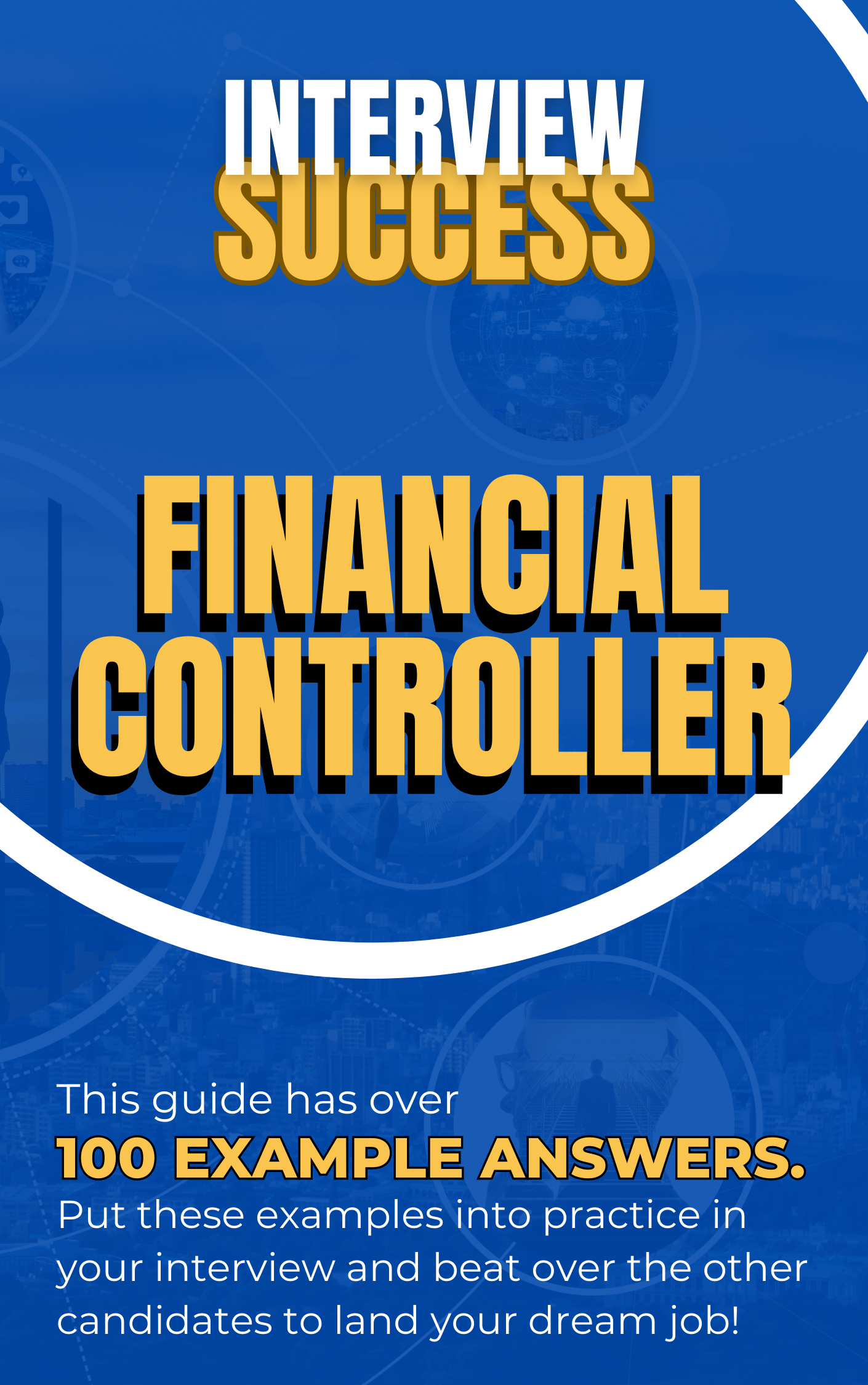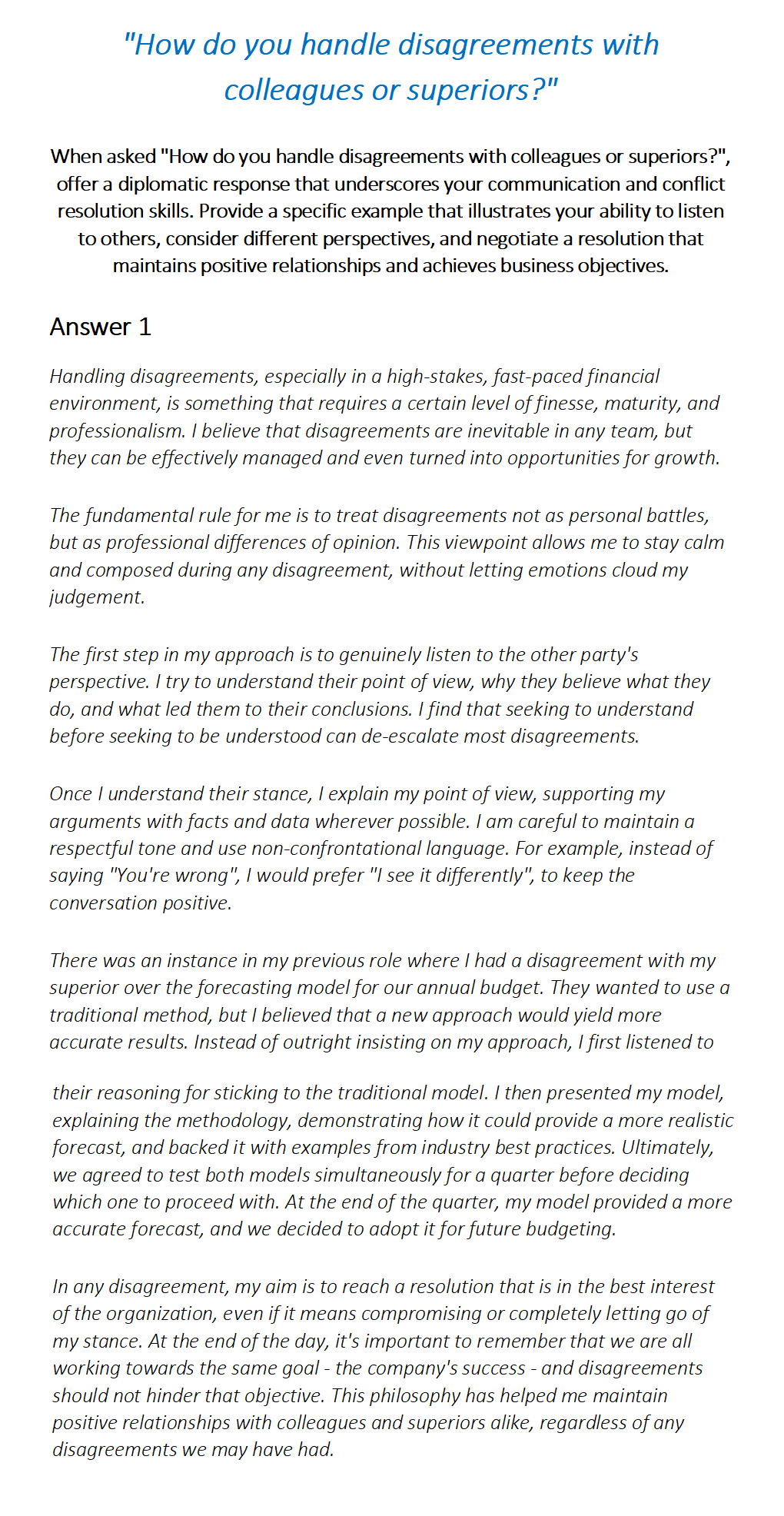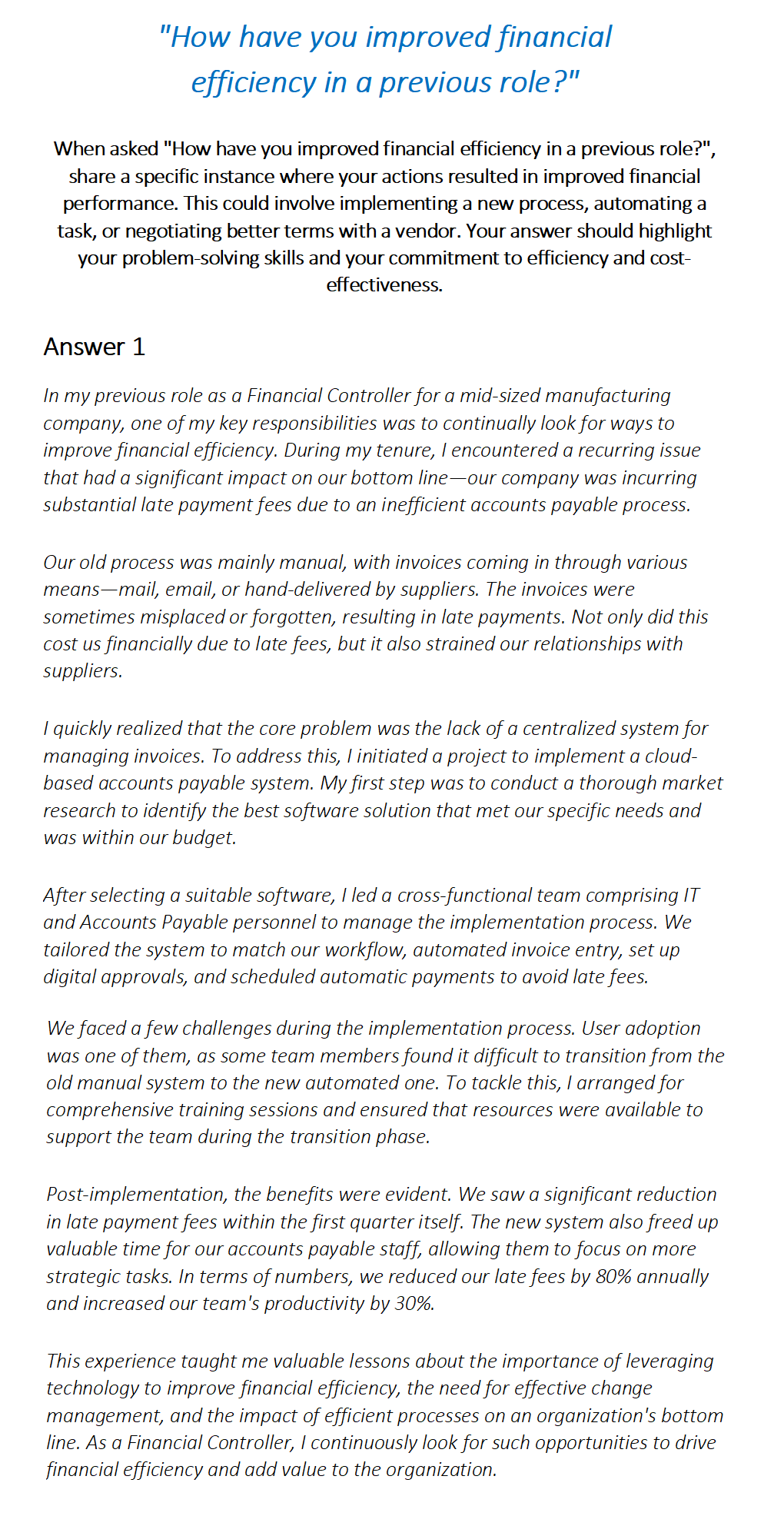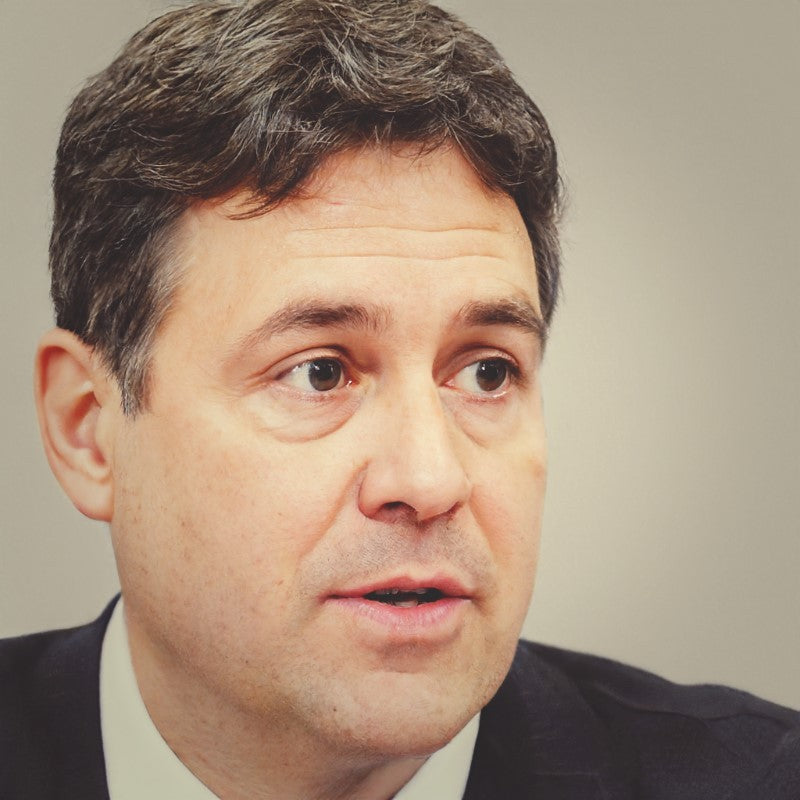 At Interview Detectives, we are led by Mike Jacobsen, a highly experienced recruitment consultant with nearly 30 years of professional expertise. With a deep understanding of the hiring landscape, Mike brings invaluable insights and knowledge to our platform. His extensive background in recruitment enables us to provide you with tailored interview guides and application tips that align with current industry trends. With Interview Detectives, you gain access to proven strategies and techniques to enhance your job application success. Trust in Mike's wealth of experience and embark on your journey towards career triumph.
Need Assistance? Connect with Mike on LinkedIn