Regular price
$63.00 USD
Sale price
$38.00 USD
Unit price
per
Sale
Sold out
🎯 INTERVIEW SUCCESS: MASTERING KROGER QUESTIONS 🎯
Your Ultimate Guide by Career Coach Mike Jacobsen
---
✨ WHO IS MIKE JACOBSEN? ✨
Behind the success of many job seekers stands one man – Mike Jacobsen. As an experienced career coach, he has dedicated years to refining interview techniques and now he brings that knowledge to you in this 111-page guide, geared specifically for Kroger interviews.
---
🚀 YOUR TICKET TO A CAREER WITH KROGER 🚀
This is not your standard interview prep material. This is a deep dive into Kroger's interview process. It's like a backstage pass to your favorite concert – only this concert could land you a life-changing career with Kroger. This guide will empower you to confidently respond to the questions that Kroger interviewers will throw your way.
---
⚡ GET INSTANT ACCESS ⚡
What's even better? The guide is in PDF format and available for instant download. Immediate access to Mike Jacobsen's insights, no waiting around!
---
💼 THE KEY TO ACING YOUR INTERVIEW: INSIDE THE GUIDE 💼
Let's take a brief look at what lies within the pages of Interview Success:
✅ Kroger's interview process – dissected and laid bare
✅ 100+ Sample answers to frequent Kroger interview questions
✅ Mike's insider scoop on what Kroger's interviewers really seek
✅ Suggestions for the kind of questions you can throw back at them
✅ And much, much more!
---
🔍 SNEAK PEEK: THE QUESTIONS 🔍
What kind of questions can you expect from the guide? Here's a sneak peek:
🔎 "Why do you want to work for Kroger?" Understand why this question is crucial and how it reveals your alignment with Kroger's values.
🔎 "Describe a situation where you exceeded customer expectations?" Unpack the essence of customer service that lies at the heart of this question.
🔎 "How would you manage a conflict with a co-worker?" Grasp how this question probes your ability to maintain harmony at the workplace.
🔎 "Tell us about a time you had to meet a tight deadline?" Learn why this question uncovers your organization skills and resilience under pressure.
🔎 "What would you do if a colleague was breaking company policy?" Decode why this question is important in understanding your respect for rules and ethical boundaries.
---
💥 UNLOCK YOUR POTENTIAL WITH INTERVIEW SUCCESS 💥
Say goodbye to interview jitters. With "Interview Success: How To Answer Kroger Questions", you'll walk into that interview room armed with confidence and knowledge. Secure your future with Kroger today by investing in this guide.
---
💼 READY TO SEAL THE DEAL? 💼
Get your hands on "Interview Success: How To Answer Kroger Questions (With Over 100 Sample Answers)" now. Your dream job awaits, and it's just one click away!
💥 GET YOUR COPY TODAY AND RECEIVE OUR BEST-SELLING GUIDE AS A LIMITED-TIME BONUS! 🛒

Remember, the best time to start preparing was yesterday, the second best time is NOW! Grab your instant download today and step confidently into your interview. Good luck!
Improve your chances of a successful career with Kroger! Get your own copy of our Kroger Careers Interview Guide today and unleash your potential.
Plus, if you buy today, you'll also receive our popular guide, "How To Answer The Most Popular Interview Questions (Now with over 250 sample answers!)" at no extra cost (regularly priced at £49). Don't miss out on this great opportunity!
View full details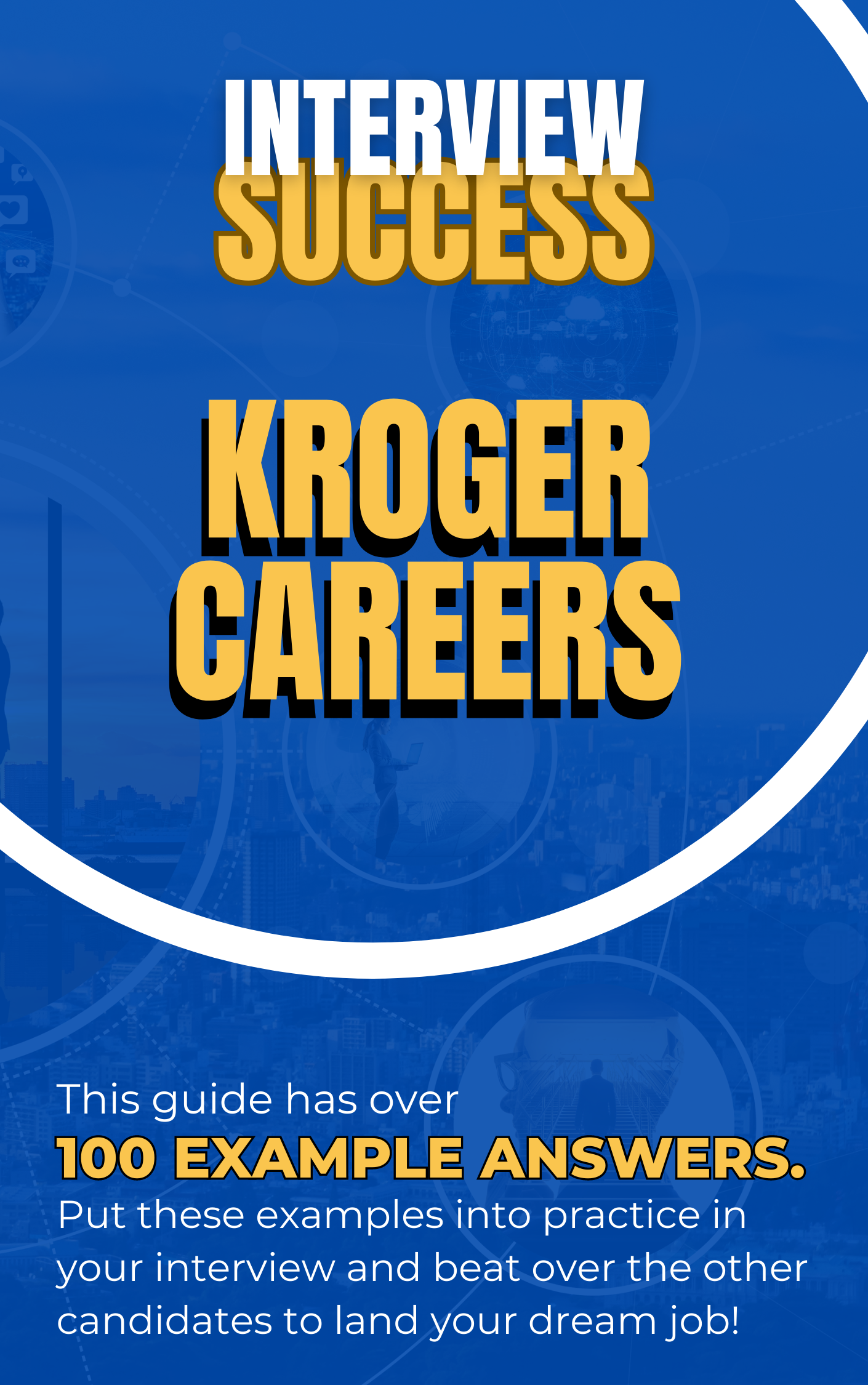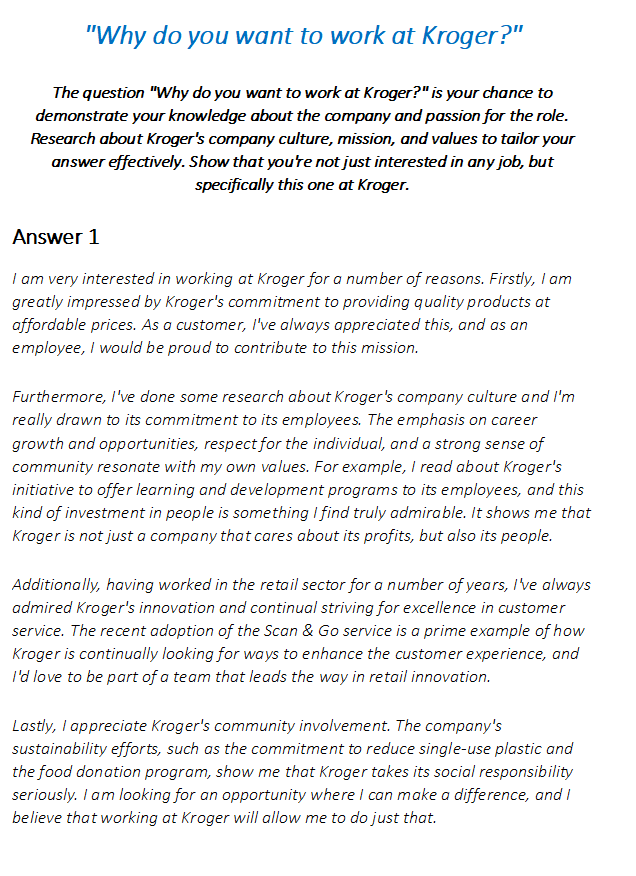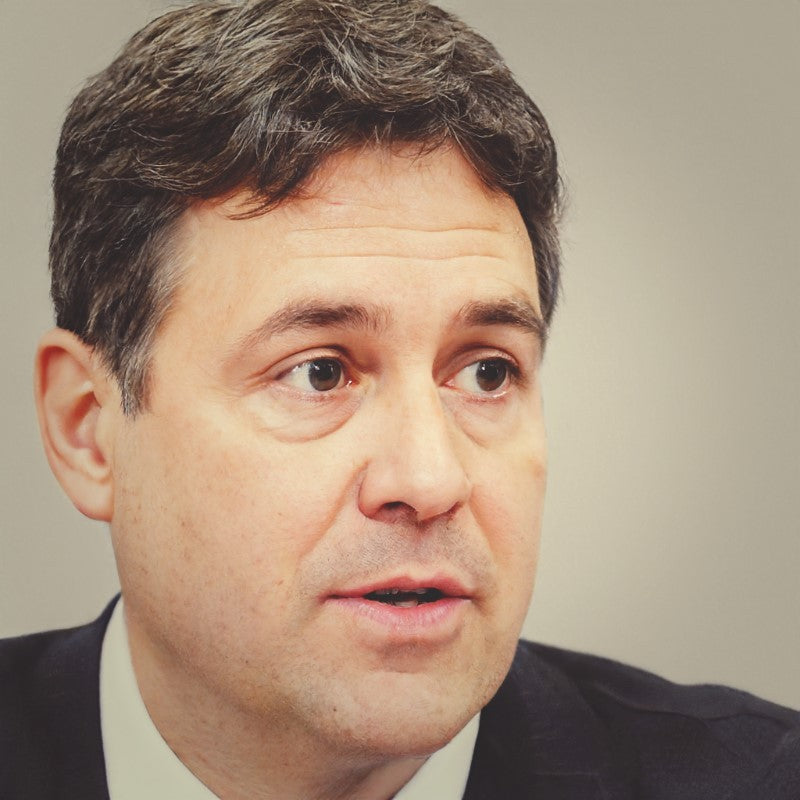 At Interview Detectives, we are led by Mike Jacobsen, a highly experienced recruitment consultant with nearly 30 years of professional expertise. With a deep understanding of the hiring landscape, Mike brings invaluable insights and knowledge to our platform. His extensive background in recruitment enables us to provide you with tailored interview guides and application tips that align with current industry trends. With Interview Detectives, you gain access to proven strategies and techniques to enhance your job application success. Trust in Mike's wealth of experience and embark on your journey towards career triumph.
Need Assistance? Connect with Mike on LinkedIn