Regular price
$63.00 USD
Sale price
$38.00 USD
Unit price
per
Sale
Sold out
Ace Your Interview with "Interview Success: How To Answer Logistics Manager Interview Questions"! 🌟
Have you been scouring the internet, nervous and unsure about your upcoming logistics manager interview? Worry no more! Our comprehensive guide, "Interview Success: How To Answer Logistics Manager Interview Questions (With Over 100 Sample Answers)" is here to arm you with confidence and knowledge to tackle any question thrown your way!
---
💼 The Interview Process
A Logistics Manager's role is more complex than ever in our globalized, fast-paced world. It's not just about coordinating transportation or managing inventory. It's about strategic planning, cross-functional leadership, technological savviness, risk management, and above all, effective problem-solving. Interviews for this role delve deep into your abilities in these areas and more.
Our guide is designed keeping in mind the multi-dimensional nature of this job. The questions and answers aren't just theoretical—they reflect real-world challenges and situations you will face as a Logistics Manager. We provide insights into what interviewers are looking for with each question, helping you frame your answers to highlight your skills and knowledge effectively.
---
✨ Inside the Guide
Our guide is a treasure trove of information and preparation material. Here's what you can expect to find:
✅ Detailed breakdowns of all the MOST popular logistics interview questions, complete with sample answers and pro tips.
✅ Comprehensive sections on behavioral, situational, and competency-based questions, allowing you to navigate these challenging question types with ease.
✅ In-depth coverage of industry-specific topics like supply chain management, warehouse operations, transportation, risk management, and more.
✅ Insider tips on highlighting your skills and experiences in the best possible light.
✅ Exclusive advice on non-verbal communication, follow-up emails, and other often-overlooked aspects of the interview process.
---
📚 Sneak Peek at the Guide
Here's a glimpse into the variety of questions you'll find in our guide, along with an explanation of why each one is essential:
1️⃣ How do you handle supply chain disruptions? - This question tests your problem-solving abilities and resilience in the face of unexpected obstacles.
2️⃣ What strategies do you use for inventory control? - Your answer to this question demonstrates your understanding of crucial logistical operations.
3️⃣ Describe a time when you used technology to improve logistics efficiency. - This question allows you to showcase your adaptability and forward-thinking approach.
4️⃣ How do you handle conflicts within your team? - Your response will show your leadership style and team management skills.
5️⃣ What measures do you take to ensure safety in the warehouse? - Safety is paramount in logistics, and this question lets you illustrate your attention to detail and your commitment to following regulations.
---
🖊️ About the Authors
"Interview Success" has been jointly authored by Mike Jacobsen, an experienced career coach, and John Bradley, a seasoned Logistics Manager with over two decades in the field.
Mike Jacobsen brings his years of expertise in guiding professionals to shine in their interviews. His sharp insights into the interview process and his understanding of what employers look for in candidates make him a valuable contributor to this guide.
John Bradley, on the other hand, has hands-on experience in managing complex logistics operations for large multinational corporations. His contributions bring an insider's perspective to the guide, enriching it with real-life scenarios and practical tips that only someone in the role would know.
---
🎁 And More...
From acing first impressions to decoding body language and navigating tricky negotiation conversations, our guide has it all! This comprehensive 100+ page PDF is available for instant download, so you can start your preparations right away. Empower yourself with "Interview Success: How To Answer Logistics Manager Interview Questions" and open the door to your dream job!
Secure your copy today and take the first step towards a successful logistics management career!


💥 GET YOUR COPY TODAY AND RECEIVE OUR BEST-SELLING GUIDE AS A LIMITED-TIME BONUS! 🛒

Remember, the best time to start preparing was yesterday, the second best time is NOW! Grab your instant download today and step confidently into your interview. Good luck!

Improve your chances of a successful career! Get your own copy of our Logistics Manager Interview Guide today and unleash your potential.
Plus, if you buy today, you'll also receive our popular guide, "How To Answer The Most Popular Interview Questions (Now with over 250 sample answers!)" at no extra cost (regularly priced at £49). Don't miss out on this great opportunity!
View full details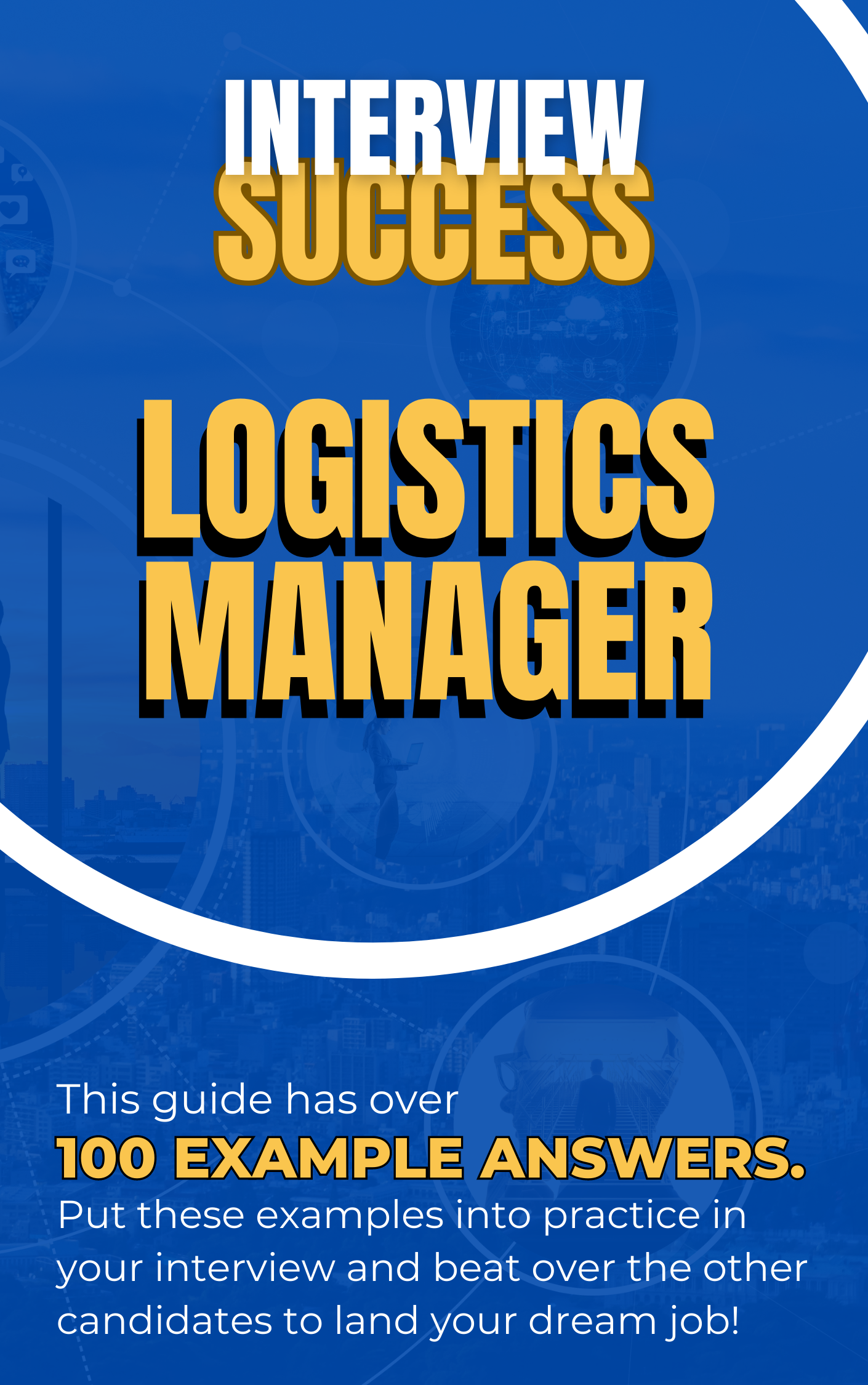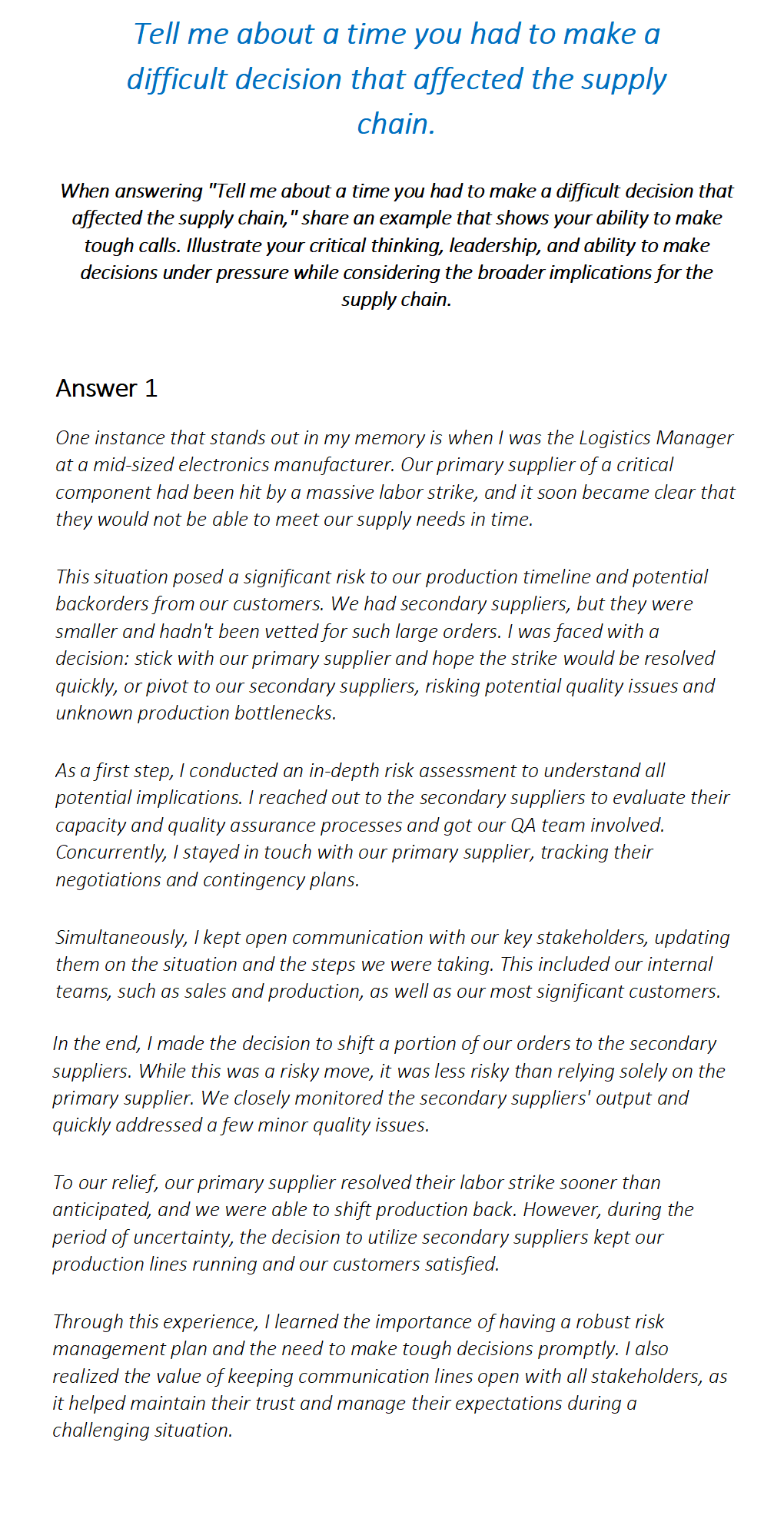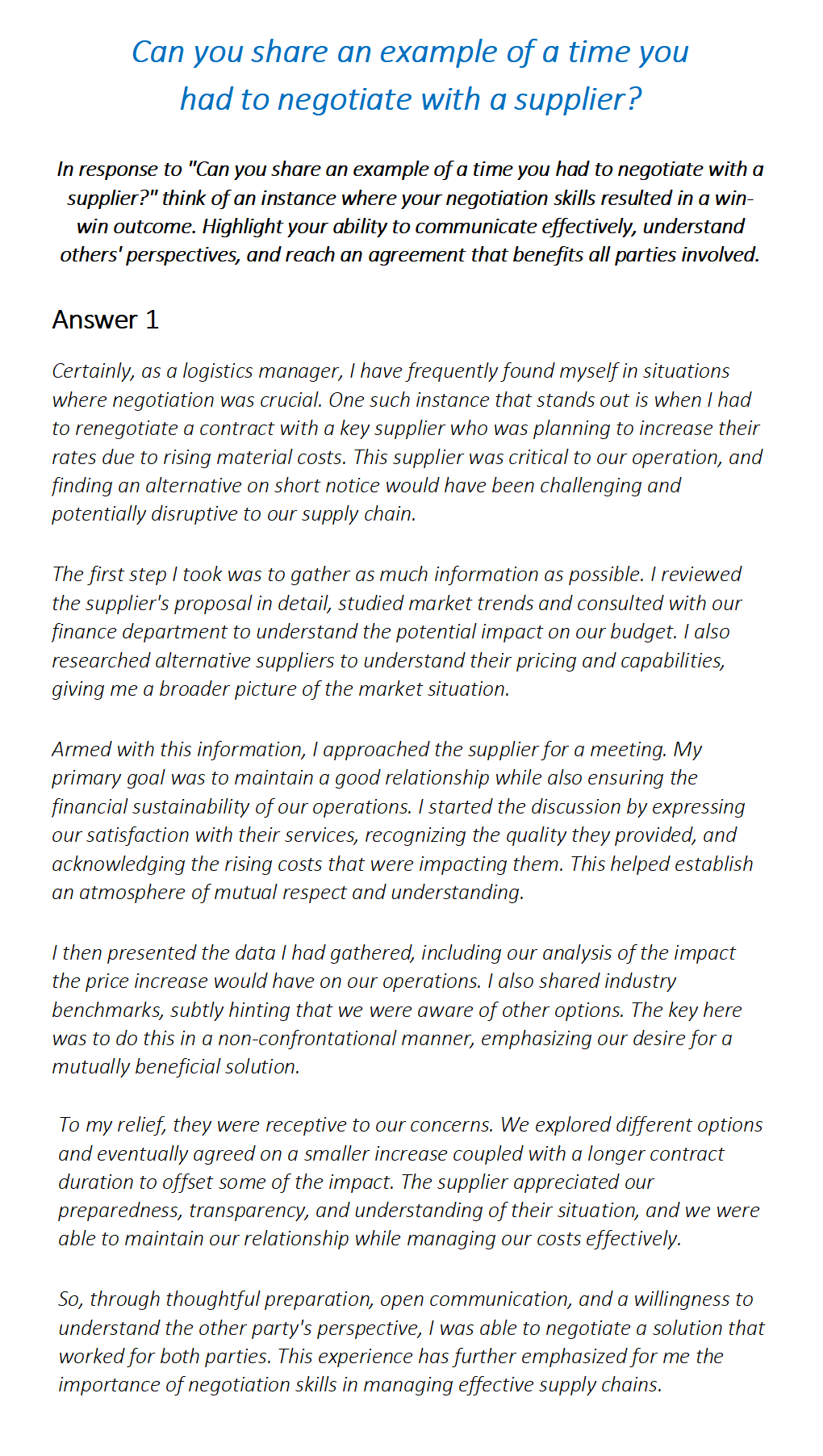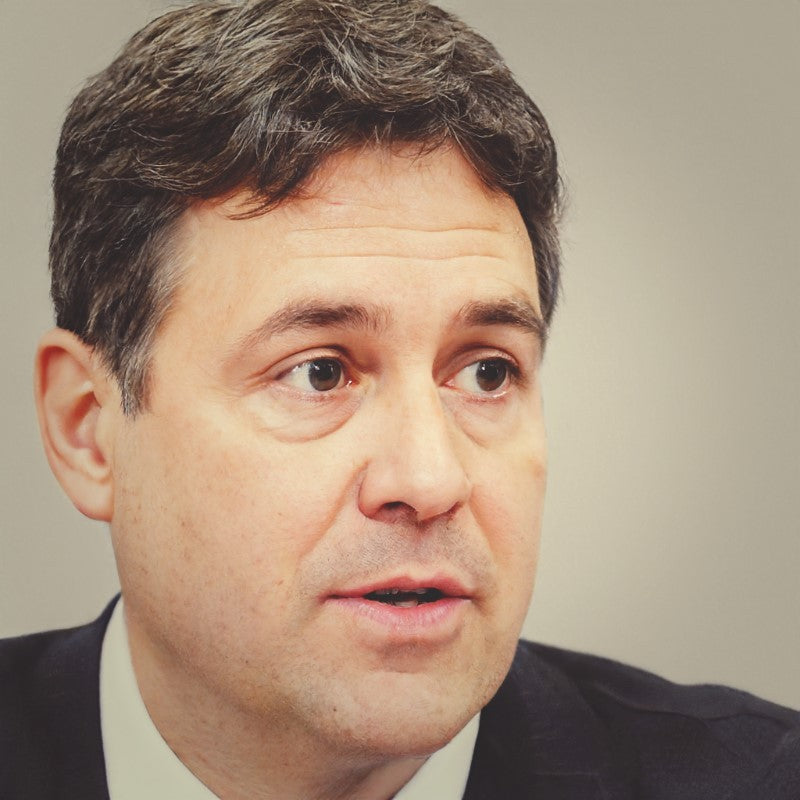 At Interview Detectives, we are led by Mike Jacobsen, a highly experienced recruitment consultant with nearly 30 years of professional expertise. With a deep understanding of the hiring landscape, Mike brings invaluable insights and knowledge to our platform. His extensive background in recruitment enables us to provide you with tailored interview guides and application tips that align with current industry trends. With Interview Detectives, you gain access to proven strategies and techniques to enhance your job application success. Trust in Mike's wealth of experience and embark on your journey towards career triumph.
Need Assistance? Connect with Mike on LinkedIn