Regular price
$63.00 USD
Sale price
$38.00 USD
Unit price
per
Sale
Sold out
Unlock the door to interview success with our Mortgage Advisor Interview guide🔑
---
🔎 Interviewing for the Role of Mortgage Advisor
When interviewing for a Mortgage Advisor role, the interviewer is looking to assess your understanding of the industry, your problem-solving abilities, and your client-facing skills. This guide doesn't merely help you prepare for common questions; it delves deeper, helping you comprehend the essence of these interviews - gauging your ability to navigate complex financial scenarios, communicate effectively, and ensure the client's best interests. By equipping you with the right tools and strategies, this guide will enable you to approach the interview with confidence and clarity.
---
🌟 A Glimpse Inside the Guide
Our guide, a collaborative creation by Mike Jacobsen, an accomplished career coach, and John Stevens, a seasoned Mortgage Advisor, promises to be a trove of insightful knowledge. This comprehensive, easy-to-follow PDF guide, boasting over 100 informative pages, is instantly downloadable, ready to become your go-to resource.
Let's break down what awaits you inside:
✅ Understanding Interviewer's Expectations: The guide will offer insights into the mindset of the interviewer and decode what they look for in a potential Mortgage Advisor. This perspective will help you tailor your responses to resonate with the interviewer's expectations.
✅ Structuring Your Answers Effectively: A well-structured answer not only communicates your thoughts clearly but also leaves a lasting impression. Our guide provides tried-and-tested strategies to structure your answers, ensuring they are concise, coherent, and impactful.
✅ Avoiding Common Interview Pitfalls: Interviews are nerve-wracking, and it's easy to stumble into common traps. We've compiled a list of these pitfalls and, more importantly, how to avoid them. This knowledge will keep you composed and confident during your interview.
✅ Interview Questions & Sample Answers: The guide contains over 20 common yet crucial Mortgage Advisor interview questions, each complemented with a detailed sample answer. These examples will provide you a concrete understanding of how to apply the strategies you learn in the guide.
✅ Post-Interview Tips: After you've navigated the stormy seas of the interview, you might wonder, "What next?" We cover that too, discussing how to follow up after the interview, further increasing your chances of success.
Each of these components is meticulously curated, designed to provide you an edge over other candidates, and ultimately, to help you shine in your interview.
---
💡 A Sneak Peek at Key Questions in the Guide
In our guide, you'll encounter crucial interview questions that have been carefully selected for their relevance and frequency in Mortgage Advisor interviews. Here's a sneak peek at some of them:
1️⃣ "What motivates you to work in the mortgage industry?" This question is designed to unearth your intrinsic motivations and showcase your commitment to the mortgage industry.
2️⃣ "How do you stay updated with changes in mortgage policies and regulations?" This question gives you the opportunity to demonstrate your dedication to staying updated with the dynamic world of mortgage policies and regulations.
3️⃣ "Can you provide an example of a time when you helped a client improve their credit score?" This question is your chance to present your problem-solving prowess with an example where you guided a client to improve their credit score.
4️⃣ "How do you handle a situation where a client may not qualify for a mortgage?" This question lets you show your aptitude in managing delicate situations where a client may not qualify for a mortgage, thereby exhibiting your exemplary communication skills.
5️⃣ "Why should we hire you over other candidates?" This question is your stage to differentiate yourself from other candidates and highlight your unique qualities and experiences.
These questions, and many more in the guide, have been chosen for their relevance and frequency in Mortgage Advisor interviews. Mastering them will empower you to respond confidently and effectively in your interview.
---
🏁Take Charge of Your Career Today!
Are you ready to step into your next Mortgage Advisor role with confidence? Are you prepared to demonstrate your knowledge, expertise, and unique value to potential employers? Then it's time to equip yourself with this comprehensive guide. Remember, success doesn't come to you; you go to it. So take this crucial step towards your dream job today. Make the "Interview Success: How To Answer Mortgage Advisor Interview Questions" guide your trusted companion in this journey! 🎯
💥 GET YOUR COPY TODAY AND RECEIVE OUR BEST-SELLING GUIDE AS A LIMITED-TIME BONUS! 🛒

Remember, the best time to start preparing was yesterday, the second best time is NOW! Grab your instant download today and step confidently into your interview. Good luck!
Improve your chances of a successful career in the Mortgage Industry! Get your own copy of our Mortgage Advisor Interview Guide today and unleash your potential.
Plus, if you buy today, you'll also receive our popular guide, "How To Answer The Most Popular Interview Questions (Now with over 250 sample answers!)" at no extra cost (regularly priced at £49). Don't miss out on this great opportunity!
View full details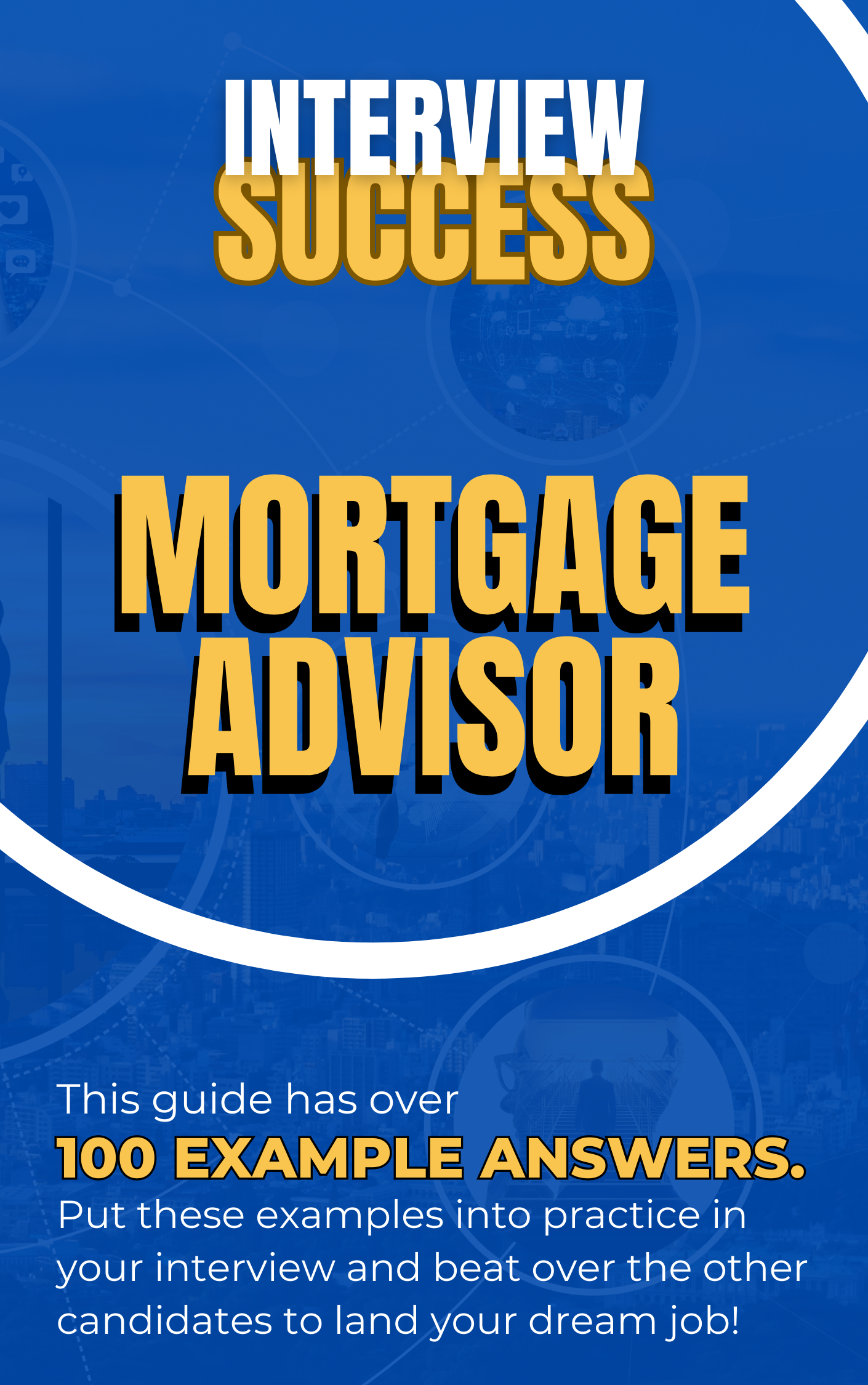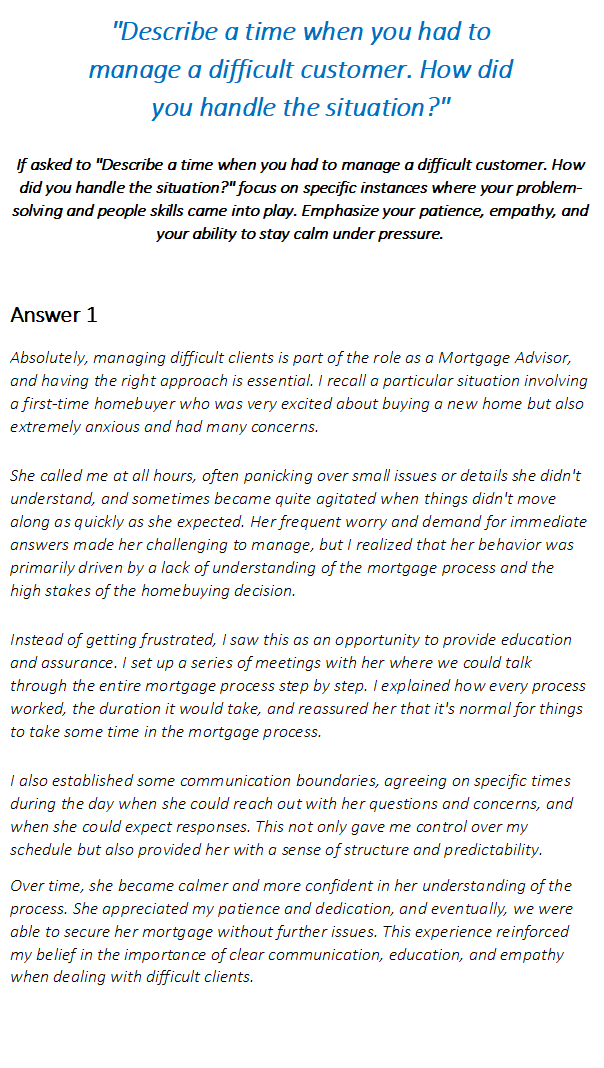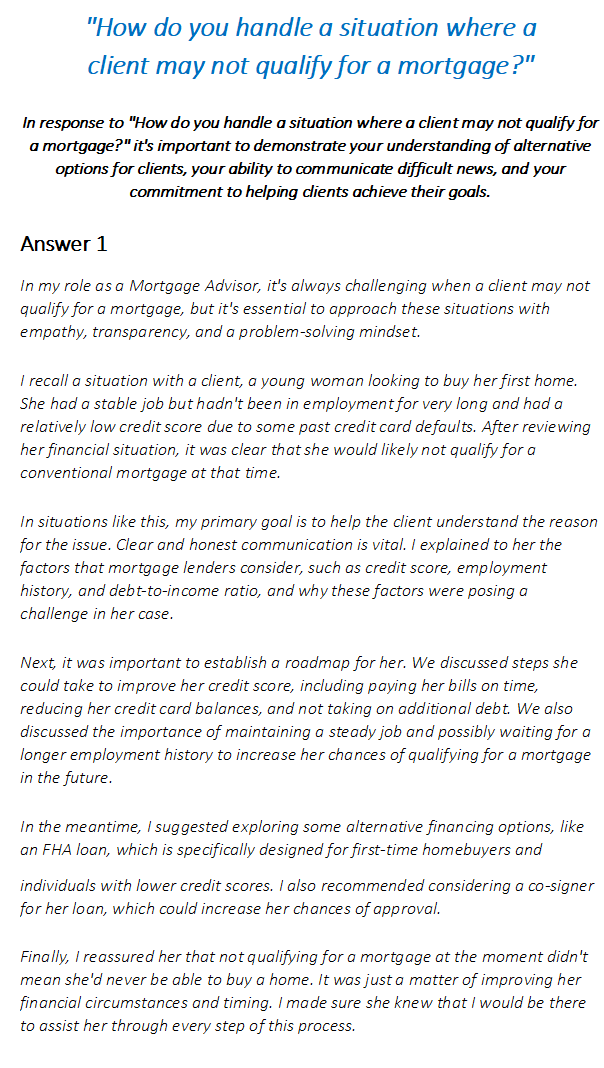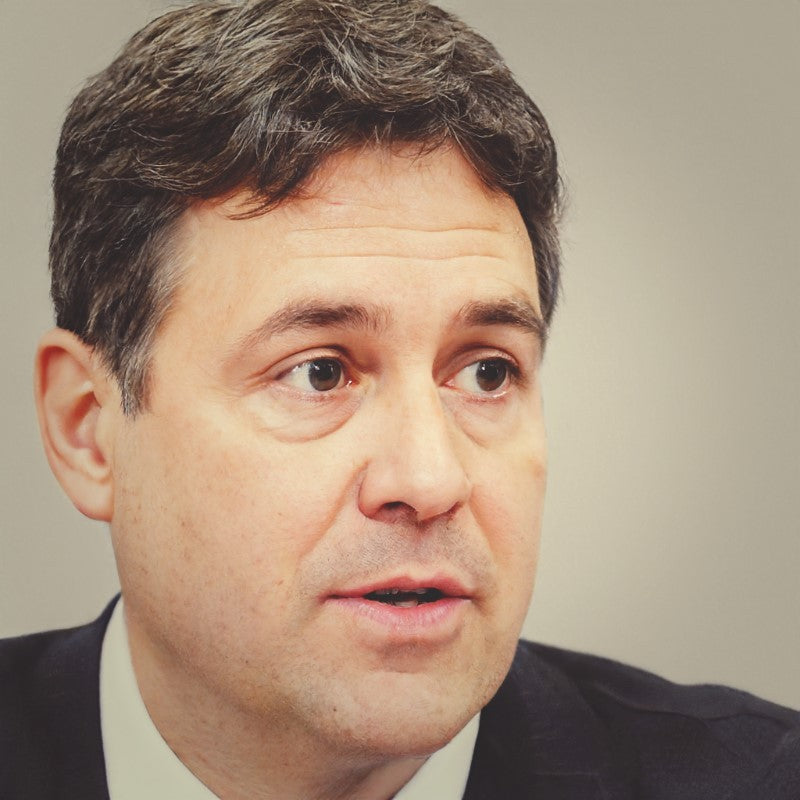 At Interview Detectives, we are led by Mike Jacobsen, a highly experienced recruitment consultant with nearly 30 years of professional expertise. With a deep understanding of the hiring landscape, Mike brings invaluable insights and knowledge to our platform. His extensive background in recruitment enables us to provide you with tailored interview guides and application tips that align with current industry trends. With Interview Detectives, you gain access to proven strategies and techniques to enhance your job application success. Trust in Mike's wealth of experience and embark on your journey towards career triumph.
Need Assistance? Connect with Mike on LinkedIn