Regular price
$63.00 USD
Sale price
$38.00 USD
Unit price
per
Sale
Sold out
🚀 Smash Your Social Media Manager Interview with Confidence! 🚀
---
Picture this: You're sitting in a pristine office facing a panel of seasoned professionals. They're looking to fill the coveted role of Social Media Manager in their company. You've done your homework and you know your stuff, but there's a nagging sense of anxiety bubbling inside you. You feel you're prepared, but you just can't shake off the nerves.
What if they ask you something unexpected? How do you articulate your abilities confidently? How do you make sure you come out on top and secure the job? It's normal to have these questions. We've all been there. But here's the thing - you don't need to worry anymore because we've got you covered!
Say goodbye to the stress and uncertainty of interviews with "Interview Success: How To Answer Social Media Manager Interview Questions (With Over 100 Sample Answers)"! Crafted meticulously by renowned career coach, Mike Jacobsen, and seasoned Social Media Manager, Samantha Greene, this guide provides you with strategic insights to navigate the trickiest of interviews with ease. 💡
---
📘 What's Inside the Interview Success Guide


This comprehensive 100+ page PDF guide, available for instant download, has been carefully curated to guide you through the landscape of a Social Media Manager job interview. Here's a sneak peek of what you will find inside:
✅ Understanding the intent behind each interview question and aligning your answers to what the interviewer is looking for.
✅ Structuring your responses for maximum impact.
✅ Knowing what NOT to say during an interview.
✅ Navigating through common struggles in interview preparation.
✅ A rich compendium of frequently asked questions in a Social Media Manager interview and sample answers that impress.
The guide covers an exhaustive range of topics and scenarios, ensuring you're equipped to answer any question thrown your way!
---
🔍 Sneak Peek at the Interview Questions in the Guide


The guide houses a plethora of questions that prospective Social Media Managers are likely to encounter in their interviews. It offers detailed, intelligent responses that are sure to impress your interviewers. Let's take a sneak peek at a few of these questions:
"Can you tell me a little about yourself?" This question is a common opener in many interviews. It's your chance to give a compelling overview of your professional journey.
"Why are you interested in a role as a Social Media Manager?" The interviewer wants to know your motivation behind applying for this role and if your interests align with the job's demands.
"How do you stay updated with the latest social media trends and tools?" A good Social Media Manager needs to be on top of the latest industry trends. This question checks your commitment to continuous learning.
"What is your experience with content creation and curation?" The employer wants to know about your hands-on experience with creating and curating engaging content for various social media platforms.
"Can you provide examples of a social media campaign you have managed from start to finish?" This question is aimed at understanding your strategic thinking and project management skills.
Each of these questions presents an opportunity to showcase your skills and suitability for the role. Our guide ensures you leave no stone unturned in impressing the interviewers. 💪
---
Get your hands on "Interview Success: How To Answer Social Media Manager Interview Questions (With Over 100 Sample Answers)" today and nail that dream job of yours! Remember, success is where preparation and opportunity meet. Equip yourself with this guide and stride confidently into your next interview. Good luck! 🍀
💥 GET YOUR COPY TODAY AND RECEIVE OUR BEST-SELLING GUIDE AS A LIMITED-TIME BONUS! 🛒

Remember, the best time to start preparing was yesterday, the second best time is NOW! Grab your instant download today and step confidently into your interview. Good luck!

Improve your chances of a successful career! Get your own copy of our Social Media Manager Interview Guide today and unleash your potential.
Plus, if you buy today, you'll also receive our popular guide, "How To Answer The Most Popular Interview Questions (Now with over 250 sample answers!)" at no extra cost (regularly priced at £49). Don't miss out on this great opportunity!
View full details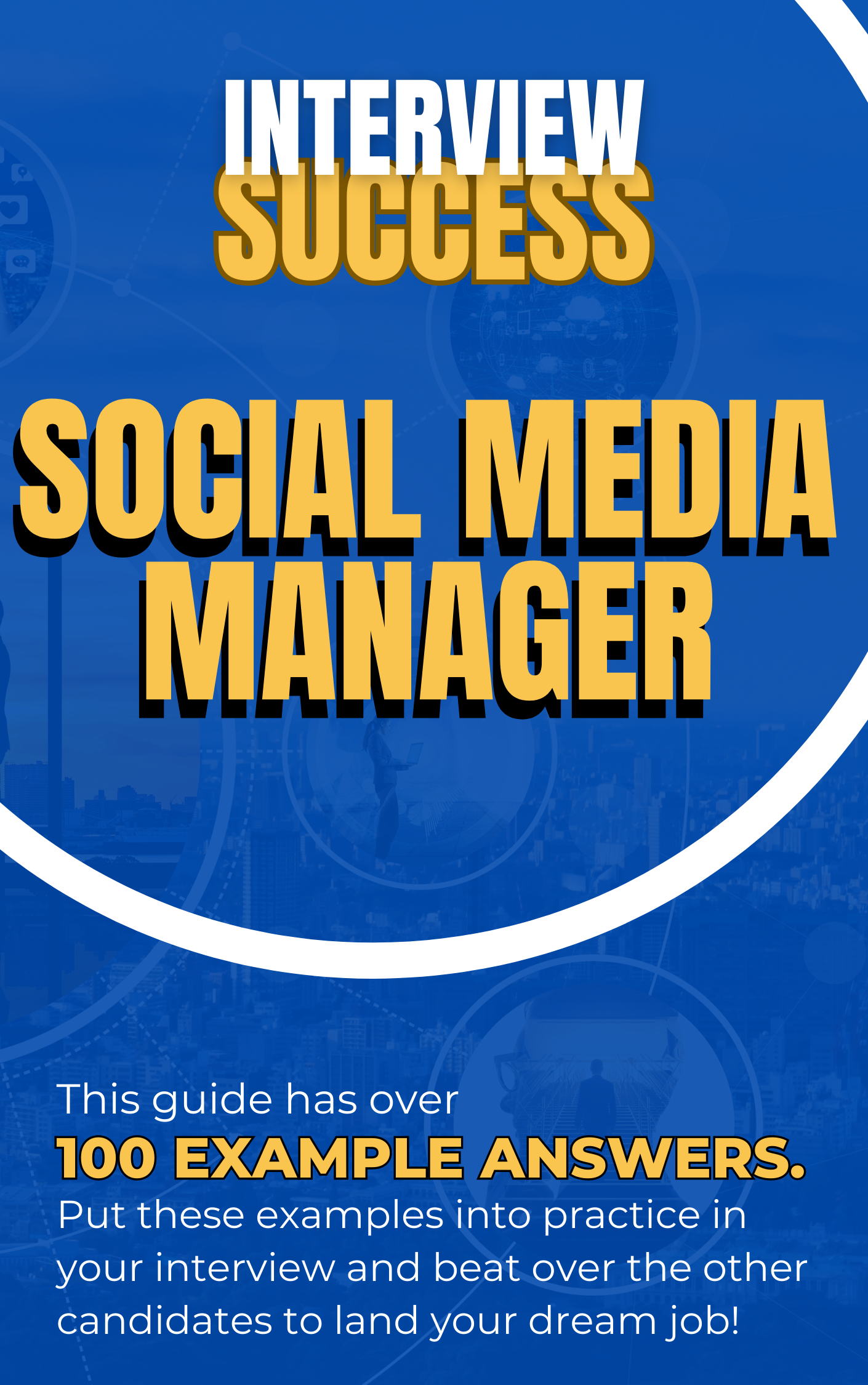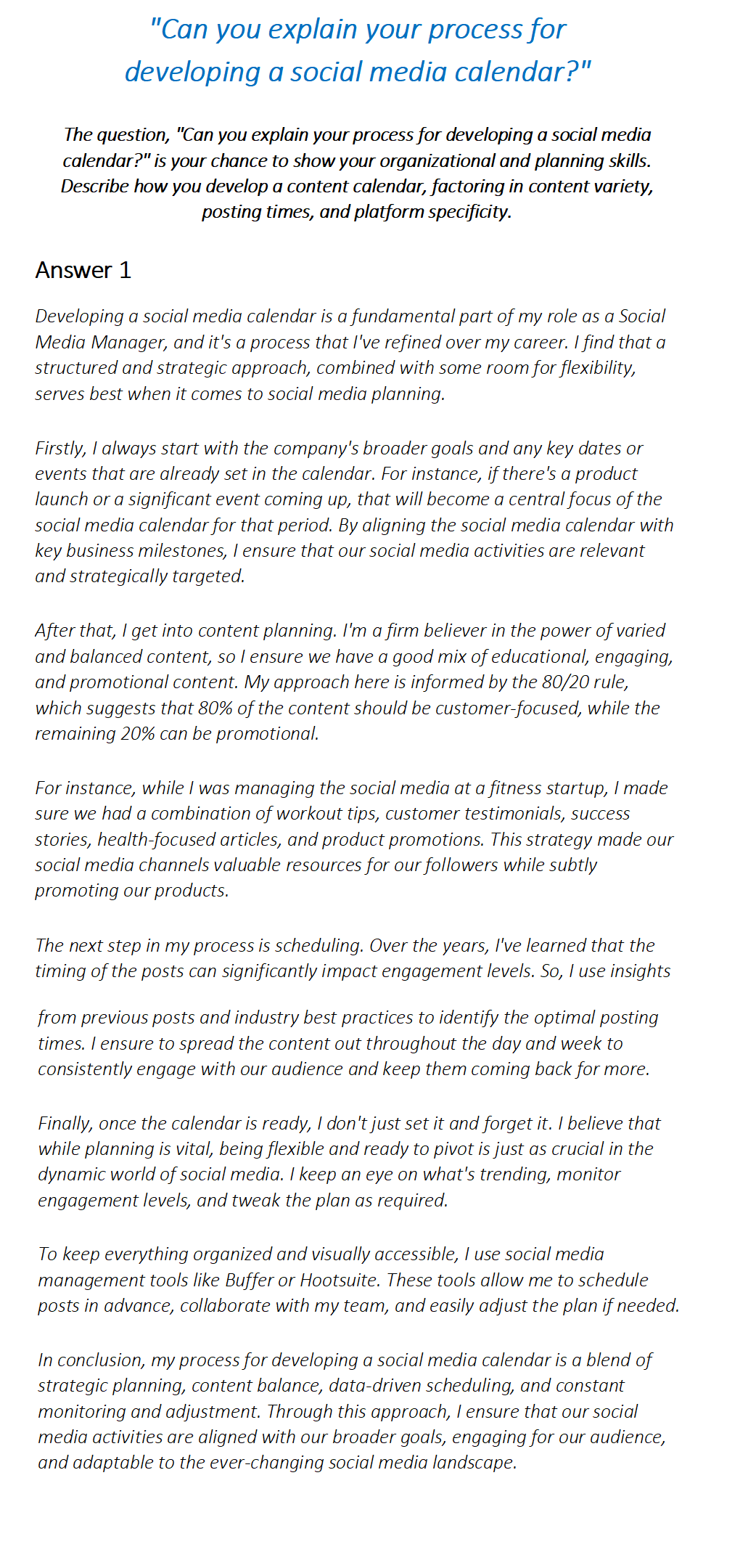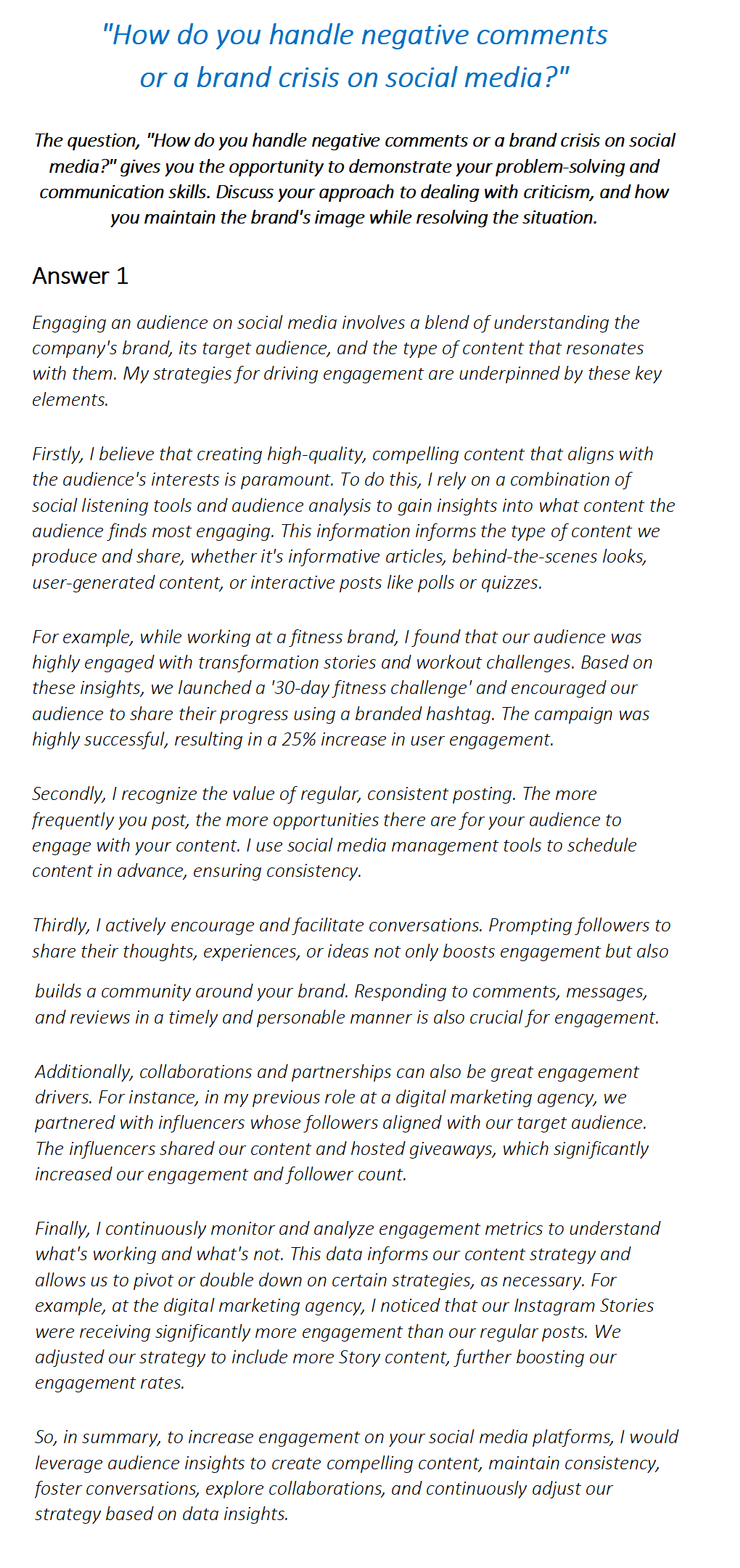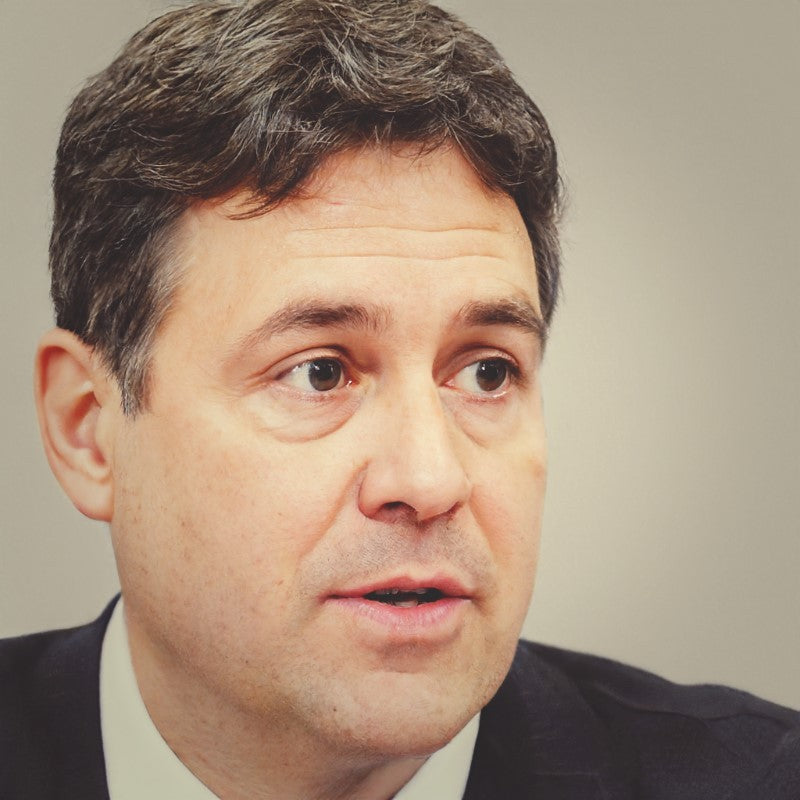 At Interview Detectives, we are led by Mike Jacobsen, a highly experienced recruitment consultant with nearly 30 years of professional expertise. With a deep understanding of the hiring landscape, Mike brings invaluable insights and knowledge to our platform. His extensive background in recruitment enables us to provide you with tailored interview guides and application tips that align with current industry trends. With Interview Detectives, you gain access to proven strategies and techniques to enhance your job application success. Trust in Mike's wealth of experience and embark on your journey towards career triumph.
Need Assistance? Connect with Mike on LinkedIn