Regular price
$63.00 USD
Sale price
$38.00 USD
Unit price
per
Sale
Sold out
Interview Success: How To Answer Test Manager Questions

🔥 Supercharge your Test Manager Interview Preparation with this Comprehensive Guide! 🔥
Are you gearing up for a Test Manager role? Want to leave no stone unturned to ensure you stand out in the interview? That's where this guide comes into play.
Penned by Mike Jacobsen, an experienced career coach, "Interview Success: How To Answer Test Manager Questions" is your key to unlocking interview success. This meticulously designed 117-page guide is packed with more than 100 sample answers to help you master the art of interview responses.
This eBook is instantly available for download. It's your ultimate companion, providing invaluable insights, strategies, and preparation tips to give you the edge over your competition.


📘 What's Inside the Guide?


👀 Understanding What The Interviewer Is Looking For
This section deciphers the hidden intent behind each question, helping you understand what the interviewer truly wants to know.


📚 Structuring Your Answers
Master the technique of structuring your answers for maximum impact. Get insights into what makes an answer stand out!


⚠️ How NOT To Answer Interview Questions
Discover common pitfalls and mistakes to avoid when answering interview questions. This section helps you steer clear of blunders that could cost you the job.


❓ Common Interview Questions & Sample Answers
This is the core of the guide - a comprehensive list of common interview questions complete with detailed sample answers. Here's a sneak peek into what you can expect:
✅ "Can you tell me a little about yourself?" - This question allows you to showcase your background, experience, and personality, setting the tone for the rest of the interview.
✅ "What motivates you as a Test Manager?" - Here's your chance to display what drives you in your role and how it aligns with the company's goals.
✅ "Describe a time when you had to deal with a difficult stakeholder." - This question lets you highlight your interpersonal skills and problem-solving capabilities.
✅ "How do you ensure your team meets its testing objectives?" - This gives you an opportunity to demonstrate your leadership skills and strategic thinking.
✅ "Tell me about a time when you faced a significant challenge in a project. How did you handle it?" - A perfect question to show your ability to remain calm under pressure and your problem-solving skills.
✅ "How have you contributed to the improvement of testing processes in your previous roles?" - Here you can exhibit your proactive approach and dedication towards continuous improvement.
✅ "What are your strategies for managing and prioritizing test cases?" - A chance to showcase your organizational skills and attention to detail.
✅ "Why do you want to work for this company?" - This question allows you to display your passion for the company and its mission.
Prepare and rehearse these questions to gain confidence and make a lasting impression in your interview!


🤔 Preparing for Follow-Up Questions
Arm yourself with strategies for handling follow-up questions or curveballs the interviewer may throw at you.


✨ Why Choose "Interview Success: How To Answer Test Manager Questions"?
Written by Mike Jacobsen, a seasoned career coach with years of experience, this guide is based on real-world insights and extensive research. Mike's expertise in career development ensures the advice given is not just theoretical but also practical and actionable.
The guide isn't just a list of questions and answers; it's a comprehensive toolkit designed to equip you with the knowledge and strategies necessary to excel in any Test Manager interview.
From understanding the interviewer's expectations, to structuring your answers, to identifying common mistakes to avoid - the guide covers all this and more. It also delves into a multitude of scenarios, including dealing with difficult stakeholders, managing team conflicts, handling project challenges, and much more.


🚀 Take the First Step Towards Your Dream Job
With "Interview Success: How To Answer Test Manager Questions", you won't just prepare for your interview - you'll own it! This guide is your ticket to showcasing your potential as a Test Manager, helping you communicate your skills, knowledge, and experience effectively.
Take charge of your career. Download your guide now and embark on the journey to interview success. Remember, a well-prepared candidate is a successful candidate! 💼🌟


💥 GET YOUR COPY TODAY AND RECEIVE OUR BEST-SELLING GUIDE AS A LIMITED-TIME BONUS! 🛒
Improve your chances of a successful interview! Grab your copy of our Team Leader Interview Guide today and unleash your potential.
Plus, if you buy today, you'll also receive our popular guide, "How To Answer The Most Popular Interview Questions (with over 100 sample answers!)" at no extra cost (regularly priced at £49). Don't miss out on this great opportunity!
View full details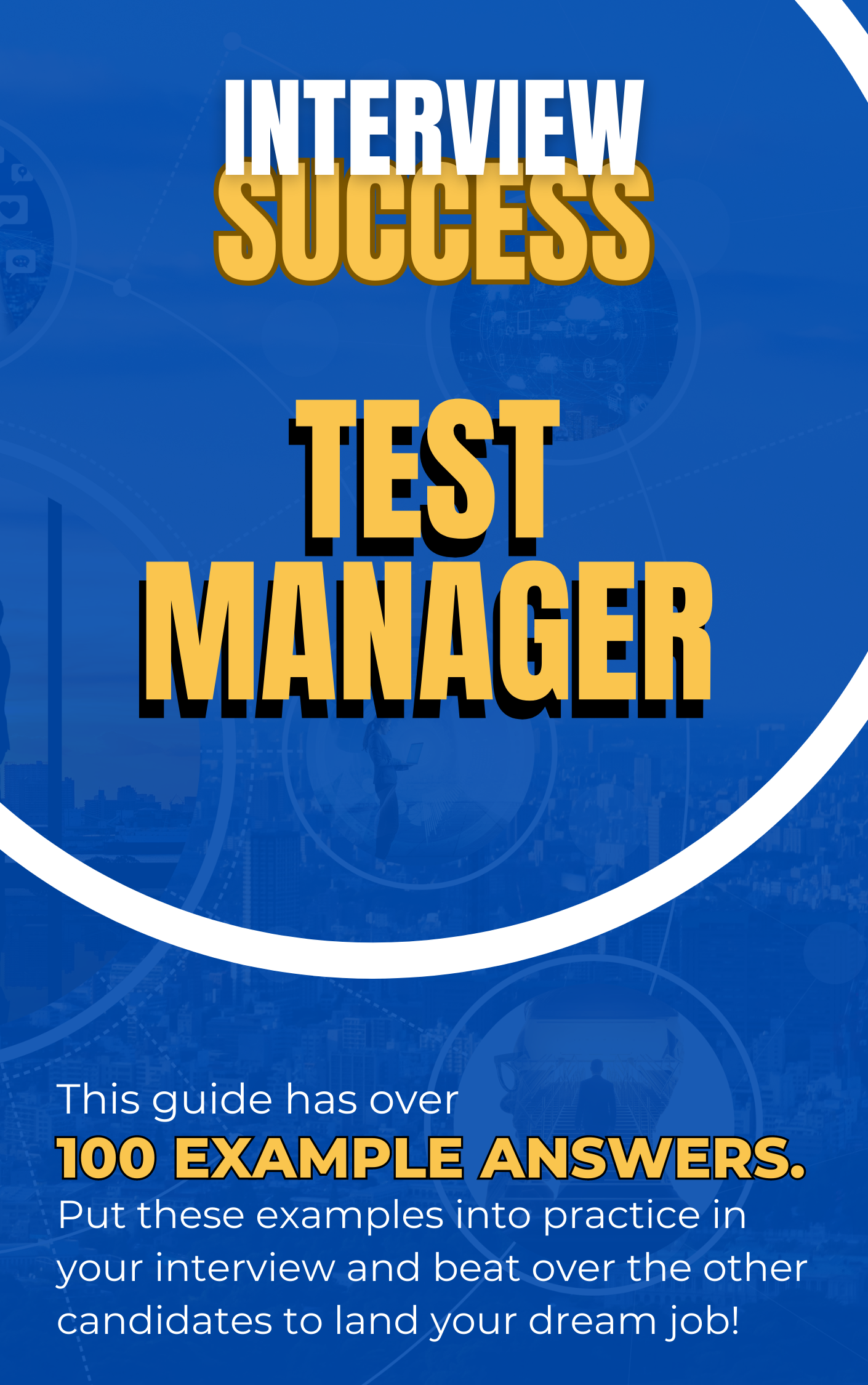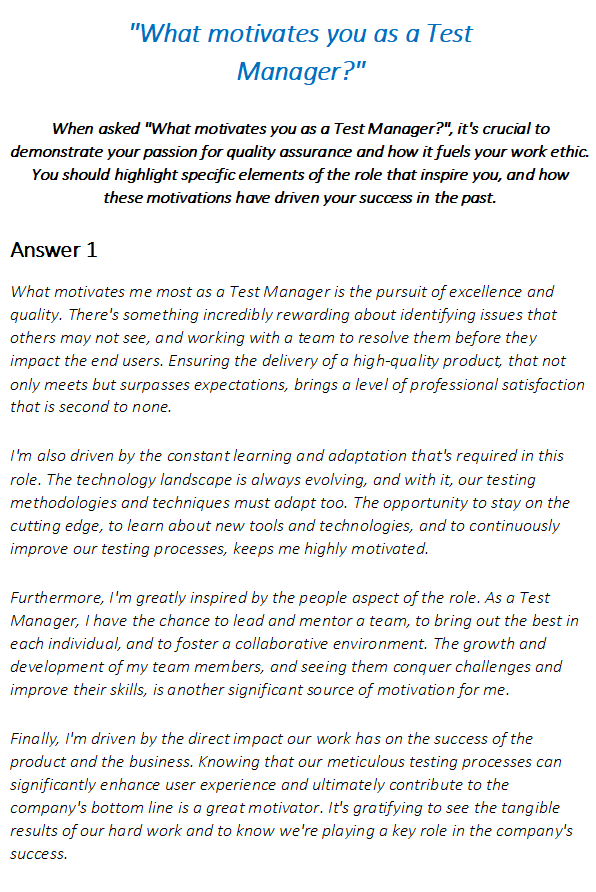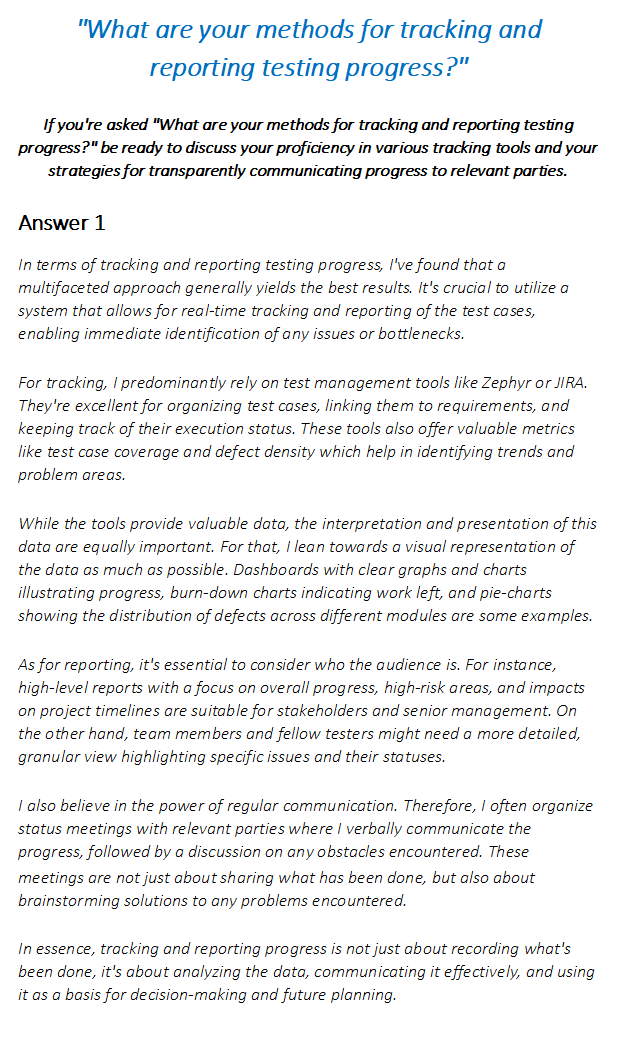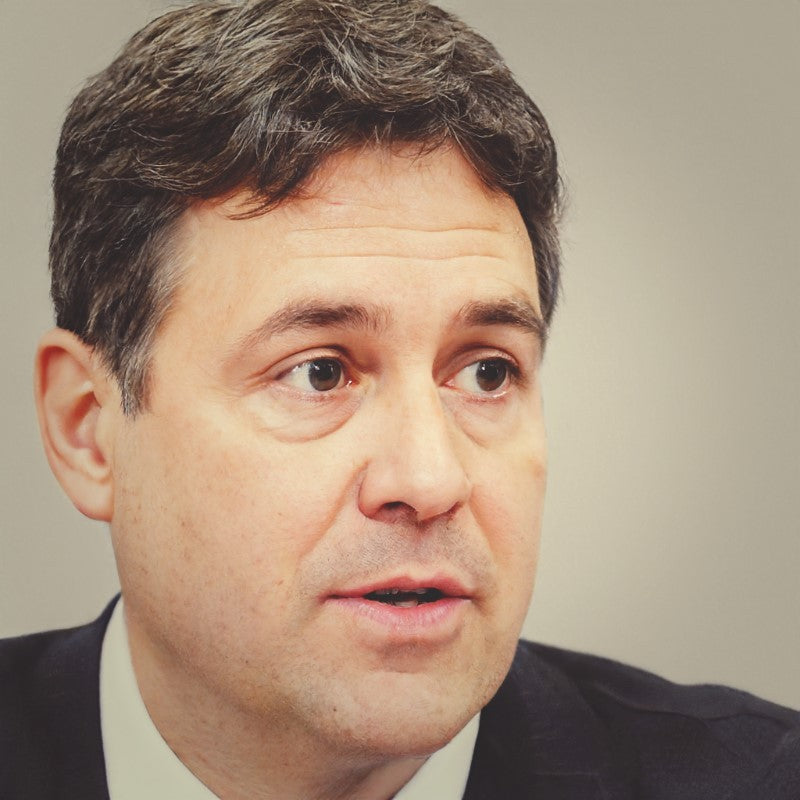 At Interview Detectives, we are led by Mike Jacobsen, a highly experienced recruitment consultant with nearly 30 years of professional expertise. With a deep understanding of the hiring landscape, Mike brings invaluable insights and knowledge to our platform. His extensive background in recruitment enables us to provide you with tailored interview guides and application tips that align with current industry trends. With Interview Detectives, you gain access to proven strategies and techniques to enhance your job application success. Trust in Mike's wealth of experience and embark on your journey towards career triumph.
Need Assistance? Connect with Mike on LinkedIn